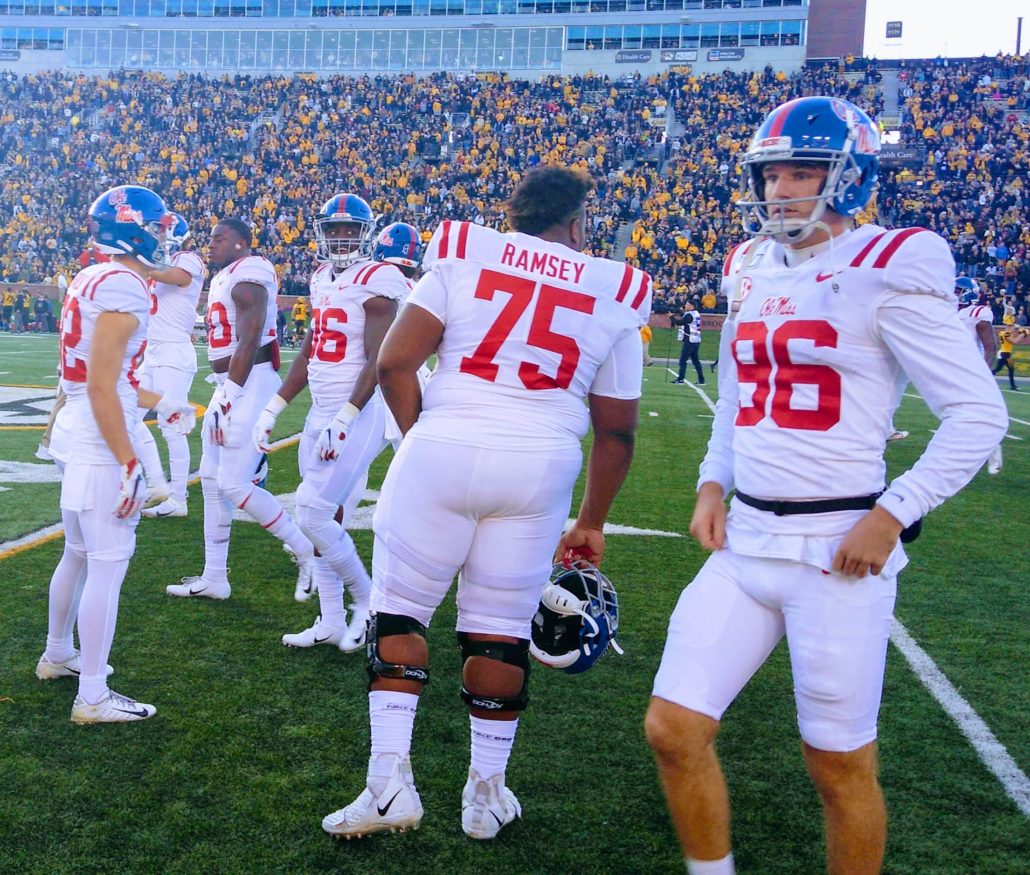 College football is a month into the 2020 season and there's still question marks regarding several teams.
Scheduling, postponed games and injuries have all played a factor with all three participating Power Five conferences. Some teams have been exposed, while others have looked promising despite having just one victory. It's still early in the season and there's a lot to find out about certain programs that have been overlooked because of the win loss column.
Arkansas (1-2): There has been an immediate upgrade in the Razorbacks under Sam Pittman's direction. No longer is Arkansas an SEC cellar dweller for other teams around the league to just pencil in a win. In hindsight, Pittman appears to have his team a year ahead of schedule. For three-straight weeks the Razorbacks went up against ranked opponents and upset one, which snapped a 20-game SEC losing streak. Not to mention last week's loss to Auburn came down to a controversial call by the officials. Each game Arkansas has increased its' point total by a touchdown. Quarterback Feleipe Franks has increased his yards, touchdown passes and completion percentage every game. The defense is still an issue as expected with a rebuilding team, and Pittman is going to need more consistency from the running game. Still, the Razorbacks are scrappy and with all of the improvement they are looking like a team that can carve out more upsets. There will be plenty of opportunity for Arkansas with the of the next four games against ranked opponents.
Duke (1-4): The Blue Devils lost their first four games, but didn't give up on their season. It's not hard to look beyond the wins and losses to see Duke played a top-10 Notre Dame team closer than expected and a ranked Virginia Tech squad down to the wire. Duke averaged 13 points per game over the first three contests, but improved to 34.5 over the last two outings. David Cutcliffe has a great offensive mind and is the longest-tenured coach in the ACC, so it's not surprising that he would eventually figure it all out. Quarterback Chase Brice has thrown for 549 yards, three touchdowns and two interceptions over the last two games. Not to mention the Blue Devils have outscored their opponents in the fourth quarter during that span. Besides Charlotte, Duke will have to grind out every game that's remaining on its' schedule. However, a light bulb has turned on with the offense, which in return should make Duke competitive in every game. As the season prolongs, certain teams get battle-tested and become better, which appears to be what has happened with the Blue Devils.
Kentucky (1-2): Over the last two seasons Mike Stoops team had a tendency of starting out slow and finishing strong. If it wasn't for a fourth quarter collapse against Auburn and a missed extra point in overtime against Ole Miss, Kentucky would be undefeated right now. Stoops' defense finally played a complete game last week and held Mississippi State to it's lowest point total since November of 2018. The Wildcats identity under Stoops has always been pounding the ball, controlling the clock and playing solid defense. He's one of the most underrated coaches in the SEC and Kentucky has a chance to make some noise against ranked teams over the next two games. Senior quarterback Terry Wilson's leadership will be vital as the Wildcats navigate through the SEC meat grinder. Kentucky's punishing ground attack can be lethal at times and racked up a jaw-dropping, 408 yards against Ole Miss. Opposing teams will try and jump out to a quick lead on the Wildcats, but Wilson will have to beat them with his arm. Kentucky is starting to sizzle up and Stoops is 10-5 over the last five years in the month of October.
Missouri (1-2): When the revised SEC schedule got released in August, the Tigers received the short end of the stick. Having to face three ranked teams right off the bat was already perceived as a tall order. Especially when you consider the Tigers were a rebuilding program with a new coach. However, Missouri played Alabama closer than expected and beat the reigning National Champs. Having the game against LSU relocated to Faurot Field was a blessing in disguise for Eliah Drinkwitz. The youngest coach in the SEC got his first signature win and showed the rest of the league he's an offensive genius. The Tigers are starting to play with that never say die attitude, which means they're going to be a scrappy bunch the rest of the way. Freshman Connor Bazelak showed promise after he finished with one of the highest quarterback ratings in the SEC last week. Bazelak's 406 yards through the air and four touchdown passes were both career highs. Senior running back Larry Rountree III had his first 100-yard rushing performance of the season against LSU. The offense is clicking at the right time, which is why it's unfortunate the game against Vanderbilt got postponed.
Ole Miss (1-2): The Rebels have been competitive in all three of their games despite playing two top-10 teams. Lane Kiffin's offense is one of the most potent units in the SEC and proved it last week with a record performance against Alabama. The Rebels racked up 647 yards and scored 48 points on the Crimson Tide's vaunted defense. Quarterback Matt Corral is blossoming in front of everyone's eyes and becoming a household name in the league. Running backs Jerrion Ealy and Snoop Conner both went over 100 yards rushing against Alabama. Both backs take a lot of pressure off Corral and provide the unit with balance. Receiver Elijah Moore is explosive as they come with the ball in his hands. Tight end Kenny Yeboah hauled in seven passes for two touchdowns and averaged nearly 26 yards per catch last week. However, on the other side of the ball it's a different story. The Rebels' defense has been flat-out awful and allowed 155 points over a three-game stretch. It's something that's going to take longer than a season to fix. Until then, the Rebels will continue to be in offensive shootouts.
South Carolina (1-2): No other SEC coach needed a win as bad as Will Muschamp did last Saturday. After all, the Gamecocks opened up the season against two ranked teams from the East before playing the bottom feeder of the division. South Carolina showed no mercy against Vanderbilt, but will need just as much effort over the next four games against West Division foes. The schedule does the Gamecocks no favors and they have arguably the toughest remaining slate of any SEC team. The pressure is still on Muschamp to get South Carolina back on the winning track. Quarterback Collin Hill has thrown for fewer yards in each game, but hasn't thrown an interception over the past two. Sophomore running back Kevin Harris has been a spark, with five total touchdowns through the first three games, including back-to-back 100-yard performances. Like Ole Miss, South Carolina's defense is still a work in progress. However, defensive tackle Kingsley Enagbare has been dominant in the trenches, with three sacks and two forced fumbles. Muschamp supposed to be the defensive guru and needs to get the unit playing at Enagbare's level.
TCU (1-2): The Horned Frogs have been a real life Dr. Jekyll and Mr. Hyde this season. TCU lost a shootout to Iowa State, then won a shootout over Texas and scored only 14 points in the home loss to Kansas State. Max Duggan looked like the best quarterback in the Big 12 against the Longhorns, but average against the Wildcats. Gary Patterson's team has the talent to be one of the best in the conference, but they'll have to perform with more consistency. The Horned Frogs' offense was held scoreless during the second and third quarter last Saturday. That's not going to get it done in the high-flying Big 12. Having the week off will give Patterson time to pick up the pieces before resuming conference play with a rejuvenated Oklahoma team. It's no mystery that the Horned Frogs have lost four of their last five conference games. If Oklahoma delivers TCU a third-straight loss at home it might be time to hit the panic button. Despite two conference losses, everything is still on the table for the Horned Frogs. Patterson is a defensive-minded coach and needs his unit to be more aggressive and attack with urgency the rest of the stretch.
Virginia (1-2): The Cavaliers looked dominant in their first game, but suffered double-digit losses over their next two. Clashing with No. 1 Clemson and an underrated NC State team would be a tough two-game stretch for any ACC team to overcome. Which is why there's still a lot of unknown regarding how bad Virginia really is. Let's not forget that the Cavaliers are the reigning ACC Coastal Champs and Bronco Mendenhall is an established coach. Virginia will clash against two top-15 teams over the next three weeks, plus two of those games are on the road. After that it's smooth sailing the rest of the way. The Cavaliers could very well go winless through October. However, Virginia's four games in November are against teams currently with a losing record. Don't be surprised if Mendenhall get things turned around starting with a win against Wake Forest this Saturday. Sophomore signal caller Brennan Armstrong is still in concussion protocol and Lindell Stone finished with the worst ACC quarterback rating last Saturday. The team will only go as far as that position will take them.
Wake Forest (1-2): Dave Clawson is one of the most underrated coaches in the ACC and should never be counted out. Wake Forest suffered a similar fate like Virginia, losing to Clemson and NC State. Unlike the Cavaliers, the Demon Deacons should've beat the Wolfpack. However, Wake Forest established momentum and got back on the winning track with a 52-point win over inferior Campbell. It's a big coincidence that the Cavaliers will be the Demon Deacons opponent this Saturday. Especially since both teams are looking for their second win of the season. Clawson's team hasn't played a game since October 2 and should be fresh for this weekend. Sophomore quarterback Sam Hartman hasn't thrown an interception all season and has 584 yards through the air and two touchdown tosses. Wake Forest has an explosive offense that can put points on the board. However, in order for the Demon Deacons to improve their defense will have to take a big step forward. Until then, Clawson's team will continue to have shootouts with average ACC competition and those games will come down to which offense has the ball last.