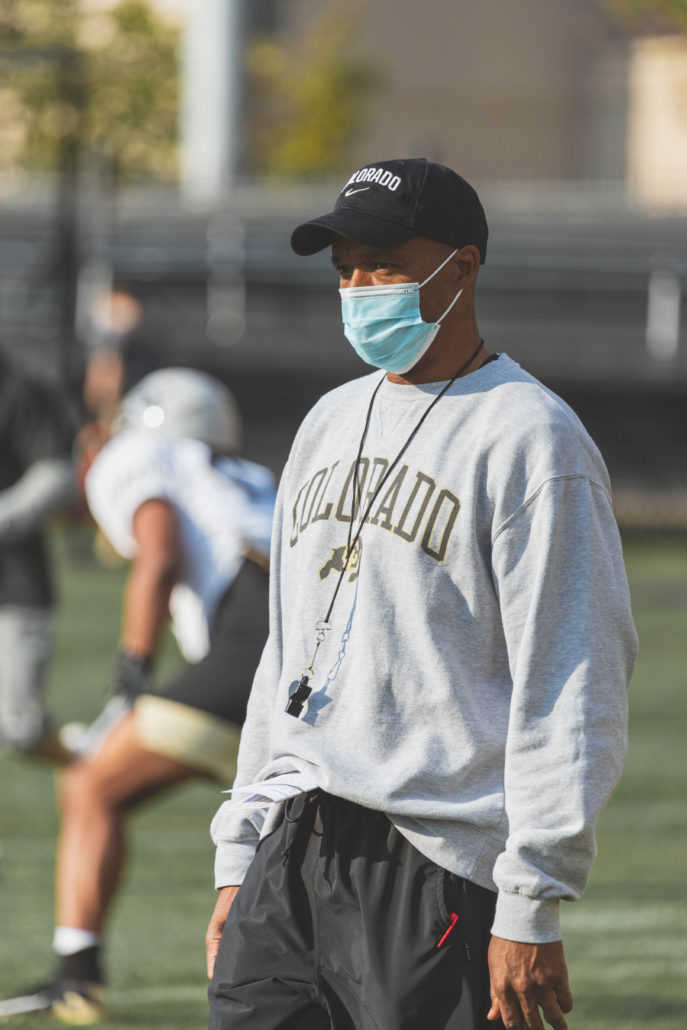 BOULDER, Co. — It has been 13 years since he last coached in the Pac-12 and back then the league consisted of only 10 teams.
Karl Dorrell has returned to a conference where he played as a student athlete. Not to mention he's back on a team that he spent six years with as an assistant. He's excited that the Pac-12 decided to play this season, after it initially postponed football. Now Dorrell is back to doing what he loves and the Colorado players have embraced him.
"My players here since I arrived have been tremendous, they're very, very attentive to the things that I've been trying to get conveyed to them in terms of where we need to go as a program," Dorrell said. "They've done everything that I've asked them to do, they've worked extremely hard."
That shouldn't come as a surprise, considering the Colorado players and fan base felt shaded by Mel Tucker's departure. However, they are relieved that they have a coach who has their best interest at heart. Dorrell is most known for leading UCLA to a historical upset over USC in 2006. The Bruins kept Pete Carroll's Trojans out of the BCS National Championship Game that year.
Fans are hoping Dorrell still has some of those old tricks up his sleeve that he can unleash in Boulder. The 57-year old coach emphasized how not having spring practice has led his team to doing things in a faster fashion approaching game one. There's no wiggle room, no bye-weeks and that'll be crucial if the pandemic forces teams to cancel games.
Still, Dorrell is pleased with the direction the Pac-12 took since he last coached in the conference. Adding Utah and Colorado also helped expand recruiting for the league. Dorrell's last season was in 2007 and he was one of two black head coach in the conference at that time. Now the Pac-12 has increased that number to five.
"What I'm very encouraged with when I was hired here was that we have the most minority head coaches in any conference in football," he said. "So that was really impressive to me, coming back and seeing how progressive that was."
Dorrell is taking over a program coming off three-straight losing seasons. Colorado came up one game short of bowl eligibility in each of those three years, which should help with motivation. Coming that close is a reminder that the program isn't the cellar dweller it's perceived as on a national scale.
Dorrell gave Sam Noyer the nod as his starting quarterback last Friday and that's just the first piece of putting together the puzzle of winning. The Buffaloes finished 104th nationally in total defense and that's something that has to improve drastically.
For a new coach getting the players, staff and fan base to buy in is usually the biggest hurdle. In hindsight, Dorrell doesn't seem like he'll have that problem. Eventually everything will come down to wins and losses, but for now all the program needs is an individual who's going to be loyal and lead by example.
Dorrell knows the naysayers don't have high expectations for the team this fall and he's okay with that. It provides a chip on everyone's shoulder. Colorado is underdogs at home this Saturday, but the cherry on top for Dorrell will be going against his alma mater.
The players are pumped and practice have been intense leading up to this weekend. The California native is not making the season-opener about him, despite it being a sentimental clash. Instead he just wants to find out more about the team he inherited.
"I don't want them to get a win for me, I've hardly mentioned anything about me and my experience at UCLA," he said. "It's really more about our preparation for this first game, obviously they know the circumstances that are involved in it."