Chris Klieman hoping team responds to adversity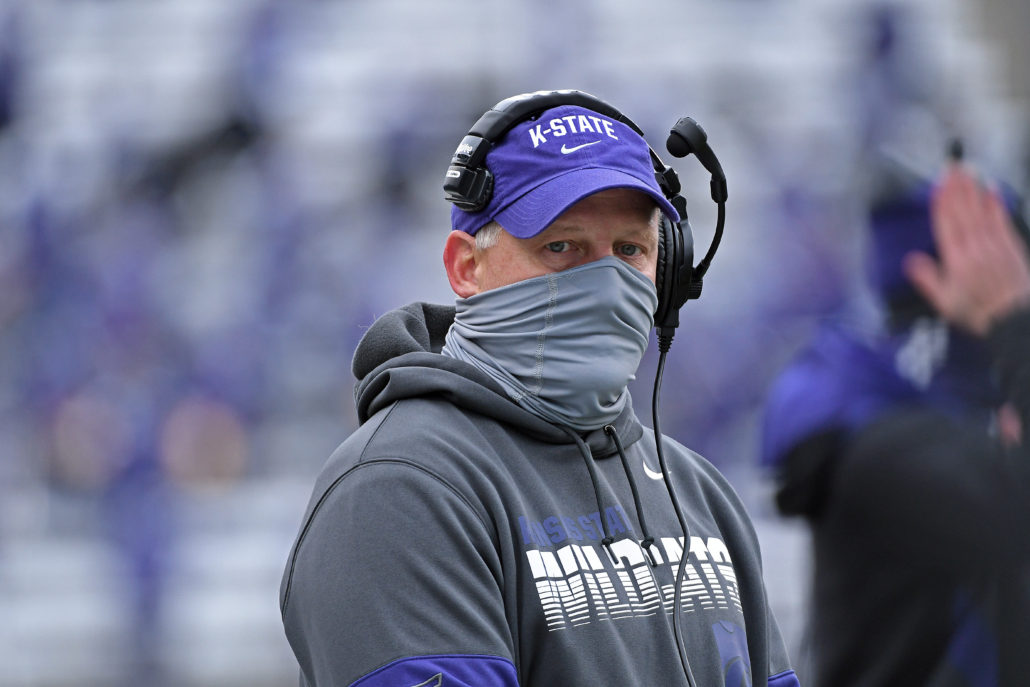 MANHATTAN, Kan. — Kansas State shared the top spot in the Big 12 standings and ranked 16th in nation around this time last week.
Then the Wildcats got blowed out, took a leave of absence from the polls and is now searching for answers. Although Chris Klieman took his team's road loss on the chin, it still exposed the Wildcats' weaknesses. True freshman quarterback Will Howard played like one and threw three interceptions and the defense allowed a season-high, 37 points.
West Virginia led in number of plays, first downs and time of possession over Kansas State. The players have been humbled and are eager to pick up the pieces.
"We'll find out how we respond when adversity strikes," Klieman said. "We'll find out the character and resolve of our guys, you have to attack the adversity."
Now Kansas State will be hosting a ticked off Oklahoma State team, coming off a overtime loss and want to prove it was a fluke. The Wildcats can't afford to have their heads down and should be expecting the Cowboys' best.
Kansas State's defense allowed a 100-yard rusher to Texas Tech and West Virginia, but Oklahoma State's Chuba Hubbard might be the best running back the unit will see all season. After all, Hubbard steamrolled the Wildcats for a jaw-dropping, 296 yards on the ground last year. Klieman emphasized in practice how his defense needs to tackle well or it could be another long day this weekend.
"We didn't fit things very well in the run game last year," he said. "Obviously, that's been a point of emphasis and will continue to be throughout the week, we have to make sure that he doesn't have a huge day, or everything opens up."
The Wildcats need to get back to what they do best and that's special teams. Clutch kicking, punting for solid field position, blocks and returns are all what Kansas State was missing last game. Klieman knows it's vital when going up against a team with more talent.
"For us to be successful, we need to be able to flip the field somewhere along the line, whether that's a punt return, kick return or whatever it may be, so that we can get a shorter field for our offense," Klieman said. "Guys understand leverages and using their tools in blocking players."
Klieman knows his defensive line is the strength of the team and Kansas State has to make a statement in the trenches. Anything for the team to help their young signal-caller.
The running game got shut down last week and Deuce Vaughn wasn't able to make a big play. The staff will need to come up with ways to get Vaughn touches against the Cowboys. That'll take the pressure off of Howard and keep the defense honest.
Regardless, Kansas State thrive as underdogs. The loser of Saturday's matchup will likely be out of the Big 12 Title race. Which is why the Wildcats still have everything to play for and control their own destiny. Klieman wants his players to understand that their season is not a 100-yard dash, but instead a marathon. So learning from the mistakes is the key to a team's overall morale.
"You have to evaluate that and make your corrections, but you can't sit and dwell on it because you need to move on," he said. "In this league, everybody has the ability to put points on the board and everybody has the ability to play good enough defense and stop you, so we just need to learn from it, get better and move forward."
If the Wildcats are victorious Saturday, it'll be the second victory over a ranked team this season.