Deuce Vaughn's versatility giving Wildcats a spark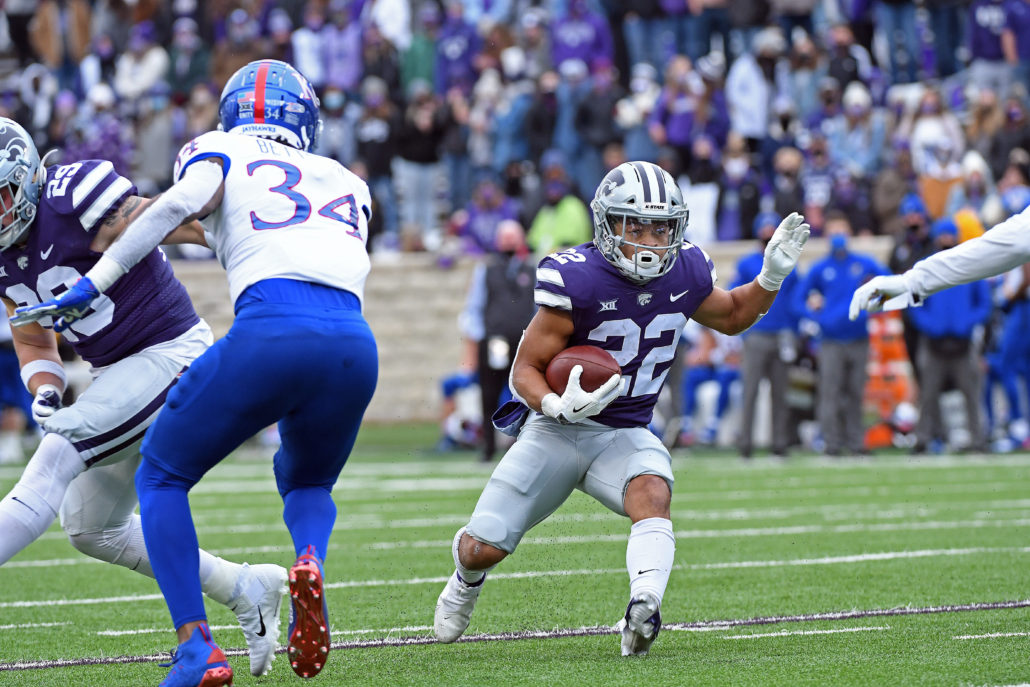 MANHATTAN, Kan. — Kansas State's all-purpose running back has been a huge surprise to the Big 12 this season.
Not because the true freshman was a three-star prospect out of high school, or that he weighs a mere 168 pounds on his five-foot-five frame. Deuce Vaughn has arguably been one of the hottest players in the league, week in and week out, and in hindsight it seems like he's just getting started.
After all, Vaughn has scored a touchdown in four of the Wildcats' five games this fall, despite opposing defenses game-planning around him. Coach Chris Klieman is not surprised by the success Vaughn is having. Which is why he's trying to utilize him in to fullest in Kansas State's offense.
"We've felt all along as a staff that he's a difference maker that we would have to start game planning for and we're finding more ways to get him the football," Klieman said. "The players know when he gets the ball in his hands special things can happen."
The Texas native had a career-high, 129 receiving yards against Oklahoma. That earned him Big 12 Newcomer of the Week honors. Not to mention Vaughn rushed for 113 yards in the win over Texas Tech. Vaughn's rare blend of speed and quickness is the reason why he has scored five total touchdowns through five games.
Klieman believes Vaughn is playing with a lot of confidence. The Wildcats are going to need that now that Vaughn has made himself a household name in the conference. However, Vaughn isn't taking anything for granted. He always reminds himself of the odds he had to overcome throughout his playing career.
"I always been overlooked because of my height, but I use it as a chip on my shoulder," Vaughn said. "I feel that's why we're such a great team, for some reason we all came here to show everybody that we can play football and we're really good at executing."
The No. 16 Wildcats are one of two remaining undefeated teams in Big 12 play. What's jaw-dropping, is Kansas State's offense is getting it done with two true freshmen in the backfield. Quarterback Will Howard and Vaughn continues to compliment each other. Vaughn feels that the young team is just getting their feet wet.
"We're we're going to play as one and we're going to play as a team," Vaughn said. "I love this team, I love my coaches and I know they love me, so we're going to go out every single week and do it for each other."
Saturday Kansas State will travel on the road for the third time this season to take on West Virginia.