Penn State left with many questions after 0-2 start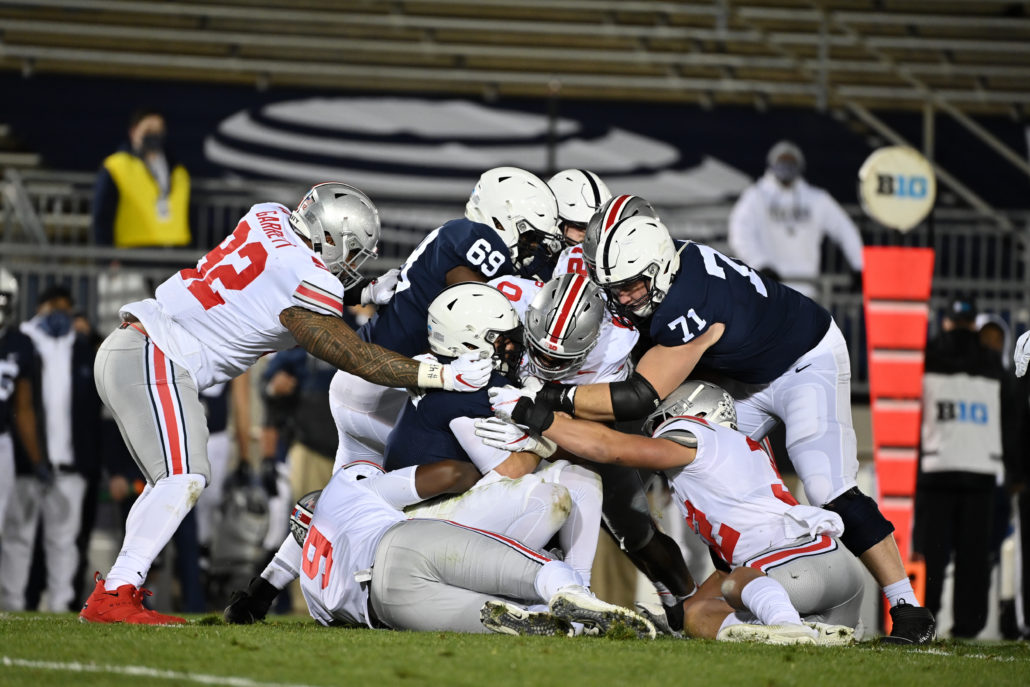 STATE COLLEGE — For the first time since 2012 the Nittany Lions have opened the season with two losses and are the only winless team in the Big Ten East.
It's uncharted territory for Penn State, considering it has been a perennial top-10 program throughout James Franklin's tenure. After Ohio State cruised to a 38-25 victory Saturday night, there's no denying who's the best team in the league. In hindsight, the two teams look like they're going in opposite directions this season, but there's plenty of football left.
In a game where the Nittany Lions were inconsistent on both sides of the ball, Franklin thought special teams didn't play a huge factor. Instead Sean Clifford got sacked five times, the running game was a non-factor the defense couldn't get pressure on Justin fields.
"Offensively we really struggled in the first half being able to run the ball and pretty much the entire game protecting Shawn," Franklin said. "He was getting hit way too much and had people in his face way too much."
Franklin knew his team had to score touchdowns to hang around in the game. However, his offense only converted three third downs and finished with 281 total yards. He did make adjustments in the second half and Clifford got the ball out quicker to his receivers.
Still, having the top-two running backs out really hurt the offense. The Nittany Lions finished with a mere 44 yards on the ground and had no balance. The lack of running game put non-stop pressure on his quarterback.
"At the line of scrimmage I don't think we won that matchup," Franklin said. "We weren't able to get them off schedule, we weren't able to get tackles for loss or sacks, same with the offensive line."
Not having the 'White Out' took away that intimidating atmosphere and Justin Fields took advantage. He threw for 318 yards, four touchdowns and no interceptions. Ohio State's signal-caller looked like a Heisman contender on the No. 3 team in the nation. The Buckeyes did a great job at mixing up the run and pass and protected Fields.
"He is talented and it's not just Justin, it's all the pieces around him as well," Franklin said. "I think we got a pretty good pass rush, but we weren't able to get him a whole lot tonight."
Now that the smoke has cleared the Nittany Lions are looking like one of the biggest underachievers this season, considering they came into the season as a top-10 team. Now Penn State could potentially be in danger of falling out of the AP Poll for the first time since October of 2016.
Franklin emphasized how he couldn't evaluate Clifford's performance because the quarterback was under so much pressure. That time will come when the team watches film. Franklin was still impressed with Clifford's toughness and how he hung in there despite taking a beating.
The Nittany Lions won't have time to hang their heads after this humbling loss. A surging Maryland team, with a dynamic young quarterback is next on the slate for Penn State.