James Franklin embracing Saturday's pressure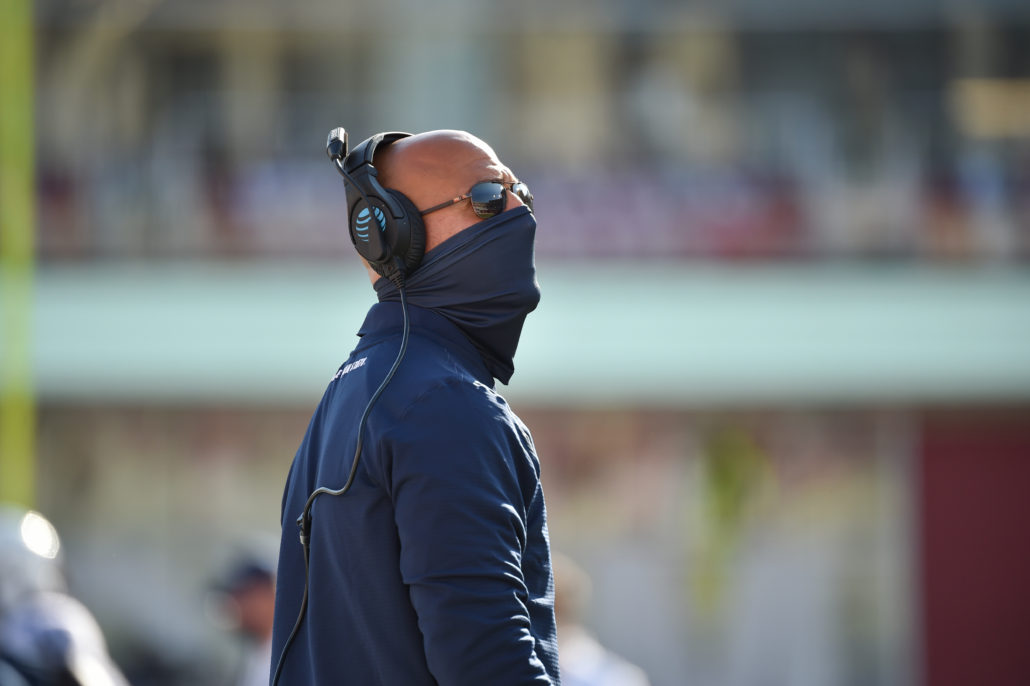 STATE COLLEGE — James Franklin is in his seventh season with Penn State, but this is the first time he has ever faced misfortune.
The best linebacker in the Big Ten opted out, the Nittany Lions' top-two rushers are done for the year and the team is coming off their first season-opening loss since 2012. Not to mention Penn State will be hosting No. 3 Ohio State this Saturday, but there won't be a 'White Out' because no fans will be in attendance.
In hindsight it seems like the odds are stacked against Franklin's team and they're trying to avoid an 0-2 start for the first time in eight years. Still, the Nittany Lions aren't backing down.ESPN's College Gameday will be in the building for the fourth-straight season and 11th overall for the series.
People may think the Nittany Lions' backs are against the wall, but Franklin believes this all will provide exposure for the program, which goes a long way in terms of recruiting.
"It's going to be a tremendous challenge, we look at it also as a tremendous opportunity," Franklin said. "We've had some great battles with Ohio State and we're one of the few teams that beat them over the last couple of years."
Franklin emphasized how nothing has changed with his players and staff approaching this matchup. They're motivated for the clash like they always are. That doesn't mean the 48-year old coach didn't have to go back to the drawing board after last week's humbling overtime loss.
Franklin admitted his players were hurt over the weekend, which he thought was natural. However, the captains and staff rallied the team together and they moved on. Although it's going to be strange to see Beaver Stadium vacant. Franklin is confident it'll still have the aura that makes visitors cringe.
"Coming into Beaver Stadium, a place that we played extremely well over the last couple of years, our home record is as good as anybody in the country," he said.
Playing at home should help Sean Clifford feel more comfortable, after he threw two interceptions in the first half against Indiana. He'll have to find more targets to spread the ball around to because the Buckeye defenders are going to double cover Pat Freiermuth.
Franklin knows containing Ohio State's quarterback will be vital. After all, he's arguably the most dynamic player in College football and threw two touchdowns against the Nittany Lions' defense in last year's game.
"Obviously you look at what they been able to do offensively with Justin Fields and what they were able to do against Nebraska," he said. "He threw for like 95 percent in the game and was able to create some explosive plays not only with his arm, but with his feet as well."
Containing Fields won't do nothing if Penn State can't fix its' own problems. If the penalties, turnovers and inconsistency continues, it could be a long night for the No. 18 Nittany LIons. The game will likely come down to how Clifford is going to fare against the Buckeyes' defense. Penn State will have to score points to stay in the game and it'll likely turn into a shootout. Franklin is familiar with Ohio State's defense and is expecting much of the same from the unit.
"They don't do a lot, but what they do they do really well," Franklin said. "They have enough variations to keep you honest and they're obviously, extremely, extremely skilled."