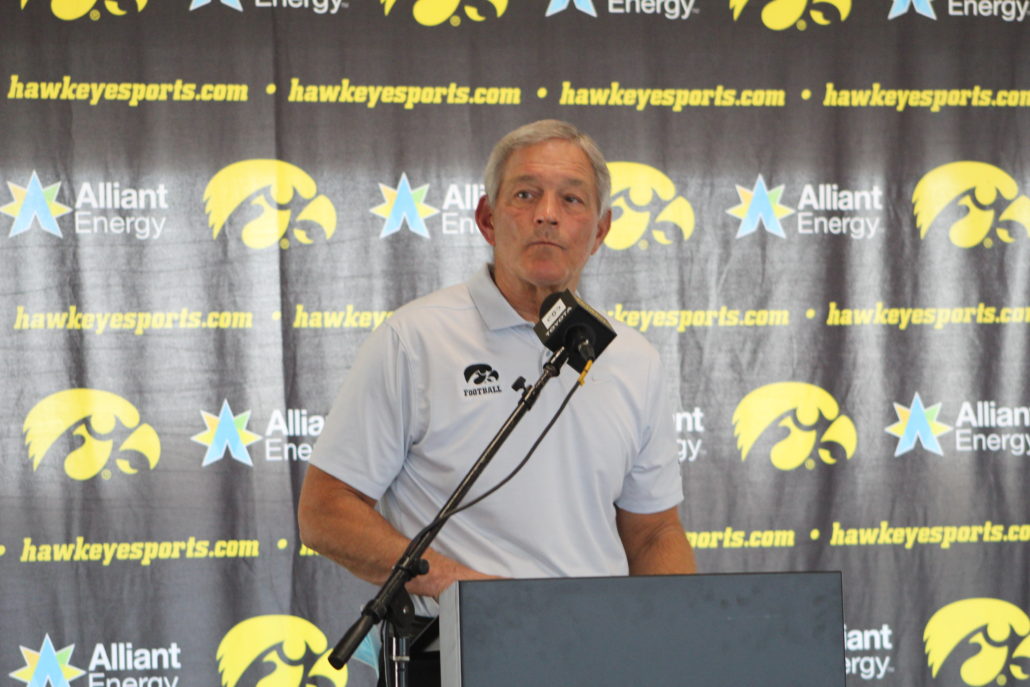 IOWA CITY, Ia. — It's no mystery that Iowa struggled with consistency in last week's loss to Purdue and afterwards Kirk Ferentz wanted his team to have a short-term memory.
The Hawkeyes had to pick up the pieces and get back in routine after their first season-opening loss since 2013. That required the players and coaching staff to get on the same page and recognize what went right and wrong.
"We continue to practice the 24-hour rule, so on Sunday we come in and look at the film," Ferentz said. "You see the good things that you did, but also most importantly you try to learn from the bad things, the things that didn't go right and the things that need to be addressed and improved upon."
The Hawkeyes had to put the film study in the rearview mirror in order to move on mentally and physically from the loss. Chauncey Golston, Nick Neimann, Tyler Linderbaum, Mekhi Sargent, and Keith Duncan are all captains on the team, and will be required for leadership during time of adversity.
A surging Northwestern team looms this Saturday for Iowa. Unlike last season, the Wildcats have some offensive firepower. Which is why the Hawkeyes wouldn't have had time to hang their heads even if they wanted to. Ferentz and Pat Fitzgerald have history together and both are the longest-tenured coaches in the Big Ten.
Ferentz has a great amount of respect for Fitzgerald's personnel and admires Northwestern's new quarterback Peyton Ramsey. After all, he witnessed the signal-caller's talents first hand when Iowa played Indiana in 2018. Ramsey's knack for operating an offense reminds Ferentz of former Penn State quarterback Trace McSorley
"Best way I can describe him, at least from an outsider looking in, I think the guy is a winner," Ferentz said. "Seems like he does a lot of really good things for his football team from what we saw from them again Saturday night and he's very impressive."
However, the Hawkeyes may have bigger fish to fry. Having 10 penalties in the opener was inexcusable for a Ferentz-coached team.The defense needs to focus on the Wildcats' backfield. especially after the unit allowed a 100-yard rusher for the first time in four games against Purdue. Northwestern's Drake Anderson had 103 yards on the ground on just 10 carries in the win over Maryland.
Iowa's offense will need to make the biggest improvement. Hawkeye fans weren't happy with Spencer Petras debut, considering the offense put the ball on the turf three times. Not to mention dynamic receiver Ihmir Smith-Marsette had no catches.
Ferentz wants to get his playmakers more touches, but it's going to take patience from everyone involved. Still, the Hawkeyes are trying to avoid an 0-2 start in conference play for the first time since 2017. So the level of urgency is through the roof.
"Yeah, we want to get everybody involved," he said. "When guys, skill players typically if they don't get the ball enough, they're going to be frustrated and that's fine because they want to help the team and what have you."
Iowa will be approaching Saturday's clash in all hands on deck mode. As long as every Hawkeye remembers there's no time to look back once the 24 hours have expired, everything should fall into place.