Will Howard feeling comfortable in Wildcats' offense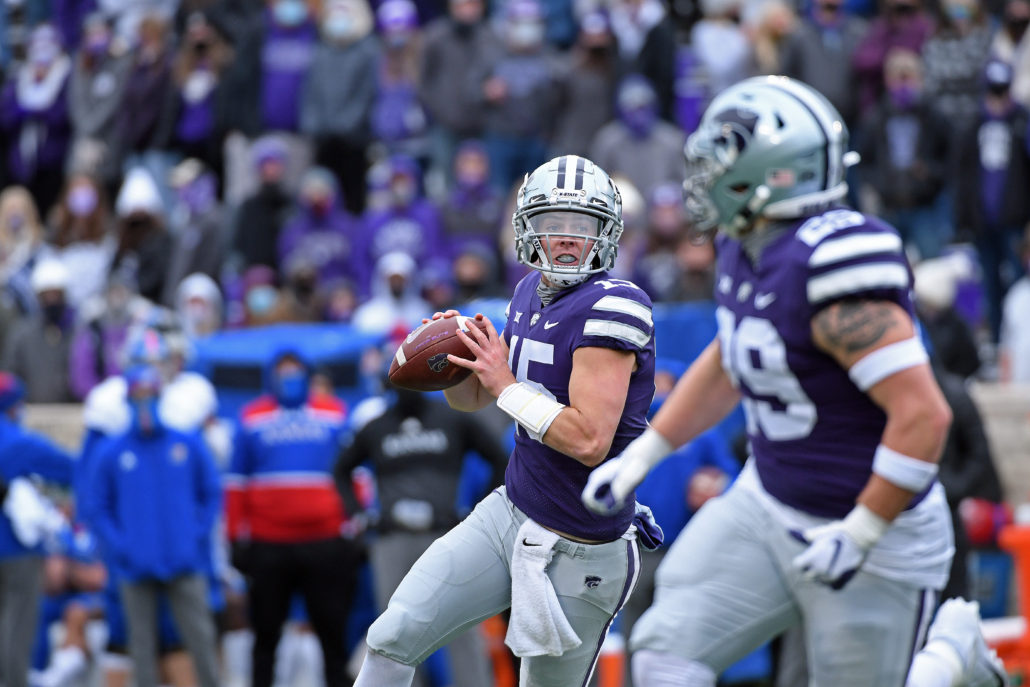 MANHATTAN, Kan. — With just two starts under his belt, the true freshman quarterback has looked like a seasoned veteran.
After Kansas State's 55-14 annihilation of Kansas, Will Howard let the rest of the Big 12 know he has arrived. He threw for 243 yards and two touchdowns against the Jayhawks, which were both career-highs. Not to mention Kansas State got to keep the Governor's Cup for a 12th-straight year and it was the program's largest margin of victory over a conference opponent since 2010.
Not too shabby for a former three-star prospect straight out of high school. However, Howard wasn't happy with his performance in the first half and felt the offense wasn't playing to their potential. After all, Kansas State had scored on two punt returns, two field goals and a pick-six by halftime. Which is why Howard was determined not to play down to his competition the remainder of the game.
"In that second half I felt like I was fitting in and the offense started really flowing for me," Howard said. "I definitely feel like after having that bye-week, time to gel together as a unit, then going out and doing what we did was good."
Howard wanted to come out and make a statement and the offense delivered. Kansas State is now one of the hottest teams in the Big 12, with no disrespect to Oklahoma State. The Wildcats currently sit atop the league with the Cowboys and they both are ranked in the top-20.
Coach Chris Klieman has to be amazed that his young signal-caller has looked so promising. A great quarterback makes others around him better and that's what Howard feel he's doing. The six-foot-three, 230-pounder has held his own after being thrown to the wolves. He knows the chemistry is improving with his receivers and the rest of the offense.
"I believe the sky's the limit for us and we can do so many things," he said. "There's a lot of plays out there for us and we need to continue attacking."
Still, Howard knows he's nowhere near where he wants to be. Which is why he's constantly building his football IQ on the field and in the film room. All Howard can do right now is enjoy the moment and take nothing for granted.
Everything is still new to Howard, plus he just got his first taste of the in-state rivalry. Although he's a Pennsylvania native, he quickly recognized what the Governor's Cup meant to both teams involved. Everyone was fired up and Howard enjoyed every minute of it.
"You could tell with the kids from Kansas on this team and the passion they brought," he said. "Coach Klieman let them talk in the huddle and lead us out the tunnel."
The schedule gets tougher for Kansas State with three of the next four games on the road. Regardless, Howard feels confident in the position the Wildcats are in, but doesn't want his team to get complacent. In the meantime Howard wants to keep winning, gaining experience and leading his teammates.