Pat Freiermuth focused on attaining goals this fall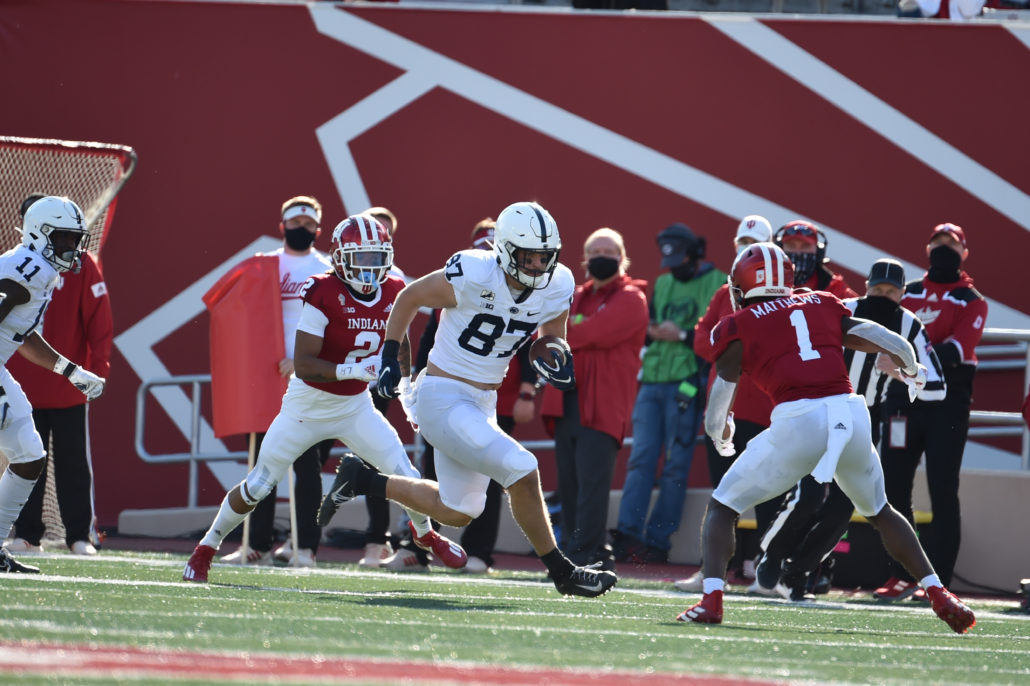 STATE COLLEGE — Penn State's offense performed different last week no KJ Hamler or Journey Brown around to take the pressure off Sean Clifford.
However, the Nittany Lions have an individual that demands attention out in coverage and keeps opposing defenses from keying in on the quarterback. All-Big Ten tight end Pat Freiermuth picked up right where he left off last season, with a game-high, seven catches in Penn State's loss to Indiana.
Freiermuth made history on the Nittany Lions' first drive and recorded his 16th career touchdown catch. It's a school record by a tight end and he passed Mike Gesicki, who congratulated Freiermuth with a call afterwards. It was just one of the goals he wanted to accomplish this season.
"I'm thankful and appreciative for the whole program and staff, who helped me get to this point of being able to break that record," Freiermuth said. "It's a great honor to be a record holder at Penn State, it's such a great established program."
The six-foot-five, 258-pounder refuses to be complacent and knows there's more records to be broken. He's still disappointed that Penn State didn't capture the victory. It was the first time since 2015 that the Nittany Lions' opened the season with a loss. Not mention a humbling reminder to Freiermuth that there's plenty of room for improvement. Now the Massachusetts native is hungrier than ever before.
He's going to need all of that fuel as Penn State prepares to take on Ohio State in Happy Valley under the lights. The matchup will be one of the conference's biggest games of 2020, but there won't be a 'White Out' this time around because of the pandemic. It's unfortunate, but one of the reasons Freiermuth been excited about his junior year is to beat the Buckeyes. Which is something that hasn't been accomplished since he arrived on campus.
"The White Outs are crazy like I've said before multiple times, it's really hard to describe," he said. "I'm really going to miss those fans, but a 'White Out' on Halloween weekend would've been absolutely insane."
Despite last week's loss, Freiermuth feels that the team's best football is still ahead of them. The Nittany Lions finished with nearly 500 yards of total offense, executed most of their plays and converted over half of their first downs. It was all promising to Freierumuth and he believes the team will bring their best effort at home Saturday.
"I think we're capable of protecting the ball, being one of the most explosive offenses in the country and making big plays in big time moments," Freiermuth said. "I think this a great opportunity to do that against the No. 3 team in the country in prime time."
The goals of winning a Big Ten Championship and a berth in the College Football Playoff are still on the table for Penn State. Regardless, the team must reevaluate and it starts in the film room. Clifford struggled early on last week, but eventually got back on track and Freiermuth remains confident in his quarterback. After all, they both are their own worst critics and true leaders rally their teammates during times of adversity.
Discipline will be key, considering Penn State had 10 penalties in game one. Freiermuth knows in order to stop the fundamental mistakes players have to hold themselves accountable. Everyone has to look at themselves in the mirror, realize their backs are against the wall and come out swinging.
As for Freiermuth, everything is still going according to plan individual wise.
"My three goals obviously are to break all the tight end records here at Penn State, be an All-American and win the Mackey Award," he said. "I just got to do what I can control and be that guy on offense who's relentless in all three phases."