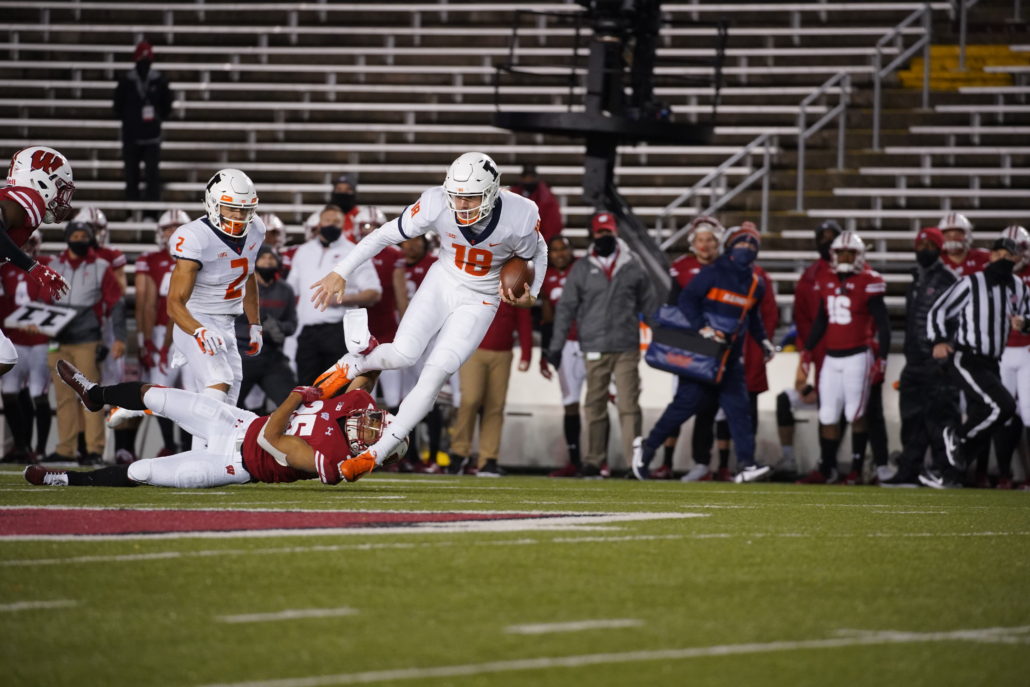 MADISON, Wis. — An opportunity for momentum and a chance to make a statement ended in disappointment for the Illinois quarterback.
The humbling 45-7 loss to Wisconsin Friday night was the first time in eight games that Illinois' offense was held scoreless. The Fighting Illini's only touchdown of the game came on a fumble return in the first half. Brandon Peters struggled with his accuracy and finished with a mere 87 yards through the air.
It became apparent in the second half that the Illinois' offense wasn't in sync. Peters was frustrated with his performance and couldn't generate any consistency. He targeted receiver Josh Imatorbhebhe most of the night and no other wideout stepped up to take the pressure off the signal-caller.
"I was just throwing to where my reads took me," Peters said. "I don't drop back and just look at one guy."
Illinois only put up 218 yards of total offense, turned the ball over twice and failed to convert all three fourth down attempts. There was a controversial measurement by the officials that halted a promising Fighting Illini drive. Peters appeared to have moved the chains, but was ruled down because his elbow touched the turf.
Still, Peters isn't making excuses for himself. Instead he knows what needs to improve and takes responsibility for the offense's shortcomings. The Indiana native knows his offensive line must protect him better as the team navigates through the Big Ten gauntlet.
"I think the biggest thing going forward is we got to keep our heads up," he said. "We have to keep working, trusting the system and that the coaches will get it right.
Peters was satisfied with Coach Lovie Smith's game plan. However, he didn't anticipate his backup being in the game for an extended period of time. Although the six-foot-five, 220-pounder didn't have a great night throwing the ball, he did impress with his mobility. Peters led the team in rushing with 75 yards on the ground and averaged nearly 11 yards per carry.
Which is a head-scratcher to why Smith didn't dial up more quarterback draws, especially on third downs. Regardless of the matter, Peters wants the offense to do a better job at converting.
"We got to stay ahead of the chains, we got to move the chains," Peters said. "If you look at the time of possession it killed us, I mean it was bad."
When the smoke cleared Peters was outshined by Wisconsin's freshman quarterback Graham Mertz. Now all the team can do is pick up the pieces and go back to the drawing board. Great leadership is needed in times of adversity and Peters has the responsibility of keeping his teammates dialed in.