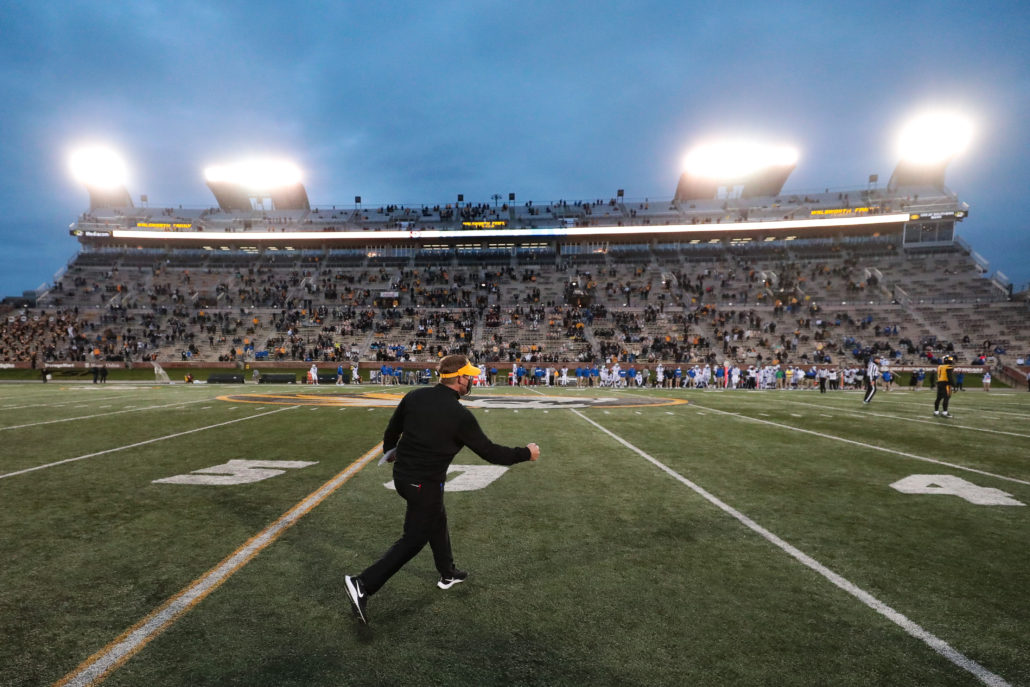 COLUMBIA, Mo. — Missouri is down to 64 scholarship players approaching a key SEC East showdown this Saturday at the Swamp.
The lack of individuals has nothing to do with pandemic complications. Instead injuries, transfers and opt outs. However, Eliah Drinkwitz isn't using any of the Tigers' shortcomings as an excuse or weakness. He's playing the cards that he was dealt and experiencing short-term success.
After they dropped their first two games, the Tigers rebounded with two-straight wins and established momentum. Drinkwitz was pleased with his teams' performance against Kentucky and thought they played solid in all three phases.
Now Missouri has turned the page and is strictly focused on Florida. Although the Gators haven't played a game in nearly three weeks, they're still a top-10 team and hungry for a win. It's a daunting task for any team in the SEC, but nothing the Tigers haven't already seen this fall. Which is why Drinkwitz has his squad all dialed in for the matchup.
"It's a tremendous challenge, it's the fourth top-25 team that we're going to play in our first five games," Drinkwitz said. "I'm not sure anyone else in the country has played that tough of a schedule."
Factor in the Tigers' lack of players, plus the SEC meat grinder that they have to navigate through and there's no denying the amazing job Drinkwitz has done thus far. Missouri has lost five of its' last six road trips, but won the last trip to Gainesville.
It might be Drinkwitz first year on the job, but it's evident the players are all buying in. Which shouldn't come as a surprise, considering the system is working. Despite experiencing both wins and losses, it has benefited the Tigers, made them adapt and now they've won games with their offense and defense. Drinkwitz believes that's a perfect sign of great coaching.
Missouri continues to make tremendous strides in front of the entire leagues eyes, including the maturation process of freshman quarterback Connor Bazelak. He threw for 218 yards, no touchdowns and an interception over the first two games. Then turned around and had 406 yards through the air, four touchdowns and no interceptions against LSU and Kentucky.
"I think he did an outstanding job, he was incredibly efficient on third downs, made the right decisions and took off running when he needed to," Drinkwitz said. "He knows that he needs to improve, but that's the thing I love about him is that he always is trying to get better."
Larry Roundtree III got off to a slow start, but the senior running back is coming off back-to-back 100 yard games and climbing up the school's rushing charts. Drinkwitz has utilized the workhorse and Roundtree had a jaw-dropping, 37 carries in the win over the Wildcats. He believes his veteran rusher has a rare talent, which makes him unique.
"I think knowing Larry has the ability to rush for that many yards is obviously a great thing," he said. "For us offensively we're always going to be predicated on running the football, so that's a huge plus."
Drinkwitz has a great offensive mind and the SEC is starting to find that out the hard way. In hindsight he has Missouri a year ahead of schedule instead of rebuilding. Some may view the Tigers as overachievers thus far, but there's no denying that they have surprised.
Other first-year coaches around the SEC are struggling, including Lane Kiffin and Mike Leach. There's nothing like a quick turnaround and America loves a comeback story, especially in College football. Drinkwitz makes sure his players operate under two rules, which is being on time and that the team comes first. As long as the Tigers abide by that, they'll continue to flourish.