Ranking the Big Ten's best quarterbacks of 2020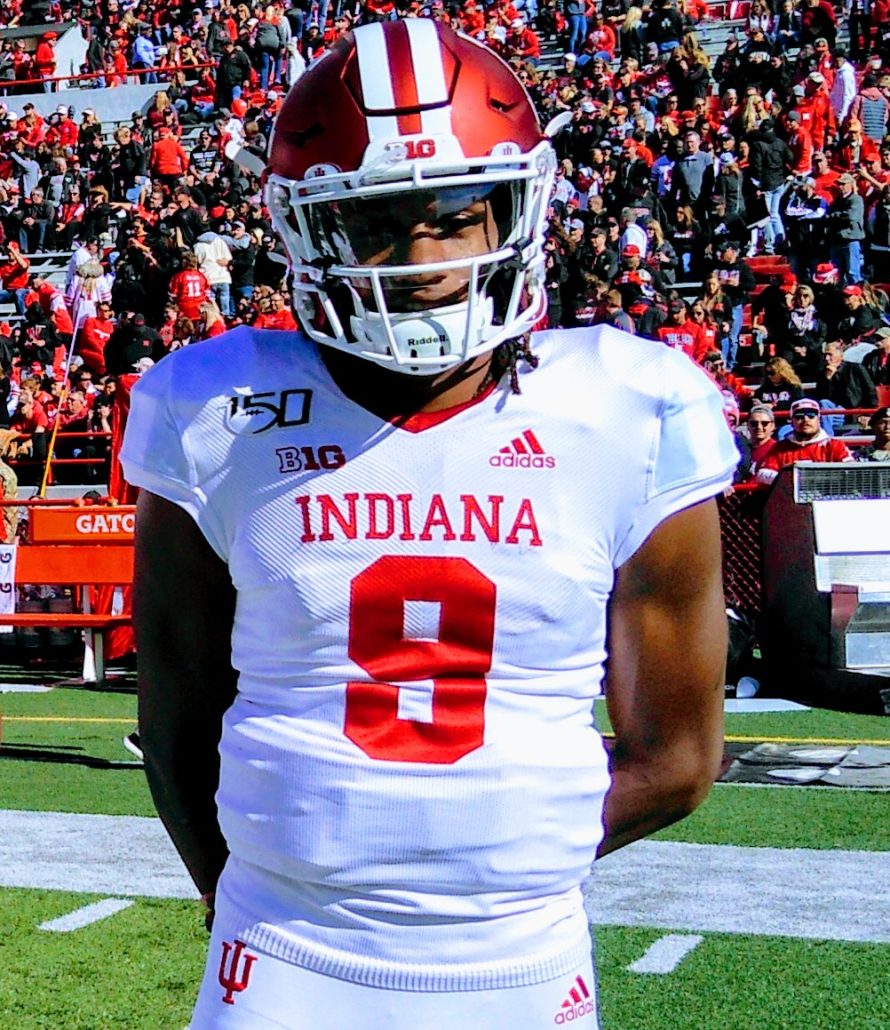 Several teams around the league are still having heated quarterback battles.
However, the Big Ten has a couple of Heisman candidates at the position and is ready to play ball. Being a successful signal caller in the league takes grit, leadership and determination. Great quarterbacks make others around them better and make tough plays look easy.
Here are the best Big Ten quarterbacks entering the first week of play and all have the potential to become household names by the end of the season.
14. Rocky Lombardi, Michigan State: Mel Tucker is one of many coaches keeping the name of his starting quarterback under wraps approaching Saturday's clash with Rutgers. However, having an experienced signal caller in a coach's first year on the job is beneficial. Lombardi has three starts under his belt and played in 13 other games. Although Lombardi is in a three-way battle with Patyon Thorne and Theo Day for the job, he has the inside track because of his experience and production. He'll need to improve his touchdown to interception ratio after throwing for three scores and five picks over the past two seasons. The Spartans allowed a Big Ten-best, 18 sacks last year and return several starters along the offensive line. So rather Tucker's starter is Lombardi, Thorne or Day, they'll be well protected behind center.
13. Noah Vedral, Rutgers: The Scarlet Knights finished 13th in the Big Ten in passing efficiency and third down conversions last season. Not to mention Rutgers tied for worst in the league, after throwing 15 interceptions. If any coach knows how to fix the program's problems, Greg Schiano does. He lured Vedral in from Nebraska during the off season and the signal-caller was an immediate upgrade to Rutgers' roster. After all, Vedral has valuable experience, in which he played in eight games at Central Florida in 2017 and another seven with Nebraska over the past two seasons, including two starts. Despite having one career passing touchdown, Vedral seems the most capable of taking the Scarlet Knights' offense by the helms. Although Vedral is getting pushed by Artur Sitowski for the job, he has protected the ball better. Verdral's long journey means he won't settle. Still, Schiano may play both quarterbacks in the opener.
12. Taulia Tagovailoa, Maryland: He's no longer living in his brother Tua's shadow at Alabama. Tagovailoa wound up transferring from the program and is now competing for the Terrapins' starting job against Lance LeGrande. After Josh Jackson decided to opt out on the season, it left Maryland's quarterback position up for grabs. Although Jackson has been in the system for a year, Tagovailoa has ties to Coach Mike Locksley that dates back to their time with the Crimson Tide. The former four-star recruit also has an accurate arm like his older brother, and completed nine of his 12 passes during eight games of mop up duty last season. Locksley is still keeping the lid tight on who his starting signal caller will be, and both players may see action Saturday. Whoever Locksley gives the nod to will have a tall mountain to climb reviving Maryland's abysmal offense. The Terrapins finished dead last in the Big Ten in third down conversions and 13th in sacks allowed.
11. Graham Mertz, Wisconsin: Last year's starter Jack Coan injured his foot in practice a couple weeks ago, had surgery and is out indefinitely. Mertz was the next man up for the Badgers and he's poised to make his first career start Friday against Illinois. The former four-star prospect showed an accurate arm in garbage time against Central Michigan and Kent State last season. Coach Paul Chryst's system has been successful in the league for years. The Badgers are a run-oriented team that makes opposing defenses pay with the play-action pass. That doesn't mean the quarterback is a glorified game manager, but instead he's not asked to put the team on his shoulders and carry them to the finish line. For the first two games Mertz will be going against two defenses that finished 10th and 11th in the league in total yards allowed last season. Losing receiver Quentin Cephus and running back Jonathan Taylor hurt Wisconsin's offense. However, having sure-handed tight end Jake Ferguson will help any new quarterback transition into the starting role.
10. Spencer Petras, Iowa: For the first time in three seasons the Hawkeyes will have a new starting quarterback. However, following in the footsteps of Nate Stanley will be a tall order for any new signal caller, considering he's No. 2 in the program for career passing yards and total touchdowns. Petras has great upside though and gained valuable knowledge backing up Stanley last season. Iowa wasn't good at running the ball last year and Petras is going to need help from that group to take some of the pressure off of his shoulders. The passing attack should be a team strength this time around for Iowa, because of the quality receivers and tight ends to throw the ball to. Ihmir Smith-Marsette and Brandon Smith form one of the best wide receiver duos in the Big Ten and they don't dub the Hawkeyes 'Tight End U' for nothing. Petras is still looking for his first career touchdown pass with the program. A rebuilding Purdue secondary is on the slate and Petras should be able to get off to a fast start.
9. Jack Plummer, Purdue: He threw for 1,603 yards and 11 touchdowns as a freshman last season with the Boilermakers. Now Plummer finds himself in a heated battle with Aidan O'Connell for the starting job against Iowa. Jeff Brohm won't be coaching from the sidelines because he contracted the virus and his brother Brian will be calling the plays. Brohm has already decided who his starting signal-caller is going to be. However, he very well may play both Plummer and O'Connell against the Hawkeyes. It's hard to ignore what Plummer accomplished last season. He threw for 420 yards and three touchdowns in the blowout win over Maryland, in which Plummer earned Big Ten Offensive Player of the Week honors. Not to mention he had 242 yards through the air and two touchdowns in the win over Nebraska. The icing on the cake for Plummer is his 327-yard, two-touchdown performance in last year's game against Iowa. Having Rondale Moore and David Bell to throw the ball to will make life easier for whoever is the starter.
8. Joe Milton, Michigan: He has pretty much secured the job although Jim Harbaugh hasn't made an official announcement. Harbaugh doesn't want to let the rabbit out of the hat and that's probably the best approach for scouting purposes with Minnesota. However, the quarterback position has been the achilles heel for Michigan's offense under Harbaugh. Star wide receiver Nico Collins opting out of the season hurt. However, everyone has been boasting about Milton's potential, from his arm strength down to his mobility. After all, he was a sought after four-star prospect out of Florida two years ago. Michigan's offense finished in the middle of the Big Ten pack in passing efficiency and third down conversions. Milton's dual-threat capability gives him the ability to extend plays and convert short third downs. Milton will be judged on how he performs in the big games against ranked opponents this fall. Minnesota, Wisconsin, Penn State and Ohio State are all ranked and will provide Milton an opportunity to impress in the spotlight.
7. Adrian Martinez, Nebraska: He had a promising true freshman campaign, but suffered a sophomore slump. Martinez battled injuries behind poor offensive line play, so it was no surprise that his numbers slipped. Losing star receiver J.D. Spielman was a setback for the Huskers' offense. Martinez is in year three in Frost's system and will be operating under a new Offensive Coordinator. He showed accuracy issues last season, but the junior quarterback does have receiver Wan'Dale Robinson back in his arsenal. Robinson earned freshman All-America honors by carrying the ball and catching passes in 2019. Frost continues to stay committed to Martinez and named him his starter over Luke McCaffrey against Ohio State. Martinez will have a shorter leash this time around, but his athletic ability can't be ignored when he's healthy. The problem is part of his production requires Martinez to take unnecessary hits that wears and tears on his body as the season progresses. Which is why there'll be more responsibility required from the running backs to take the pressure off of Martinez. With the right protection and minimal dropped balls, Martinez should thrive.
6. Peyton Ramsey, Northwestern: Like Vedral, Ramsey is another quarterback that transferred from one Big Ten school to the next. Having immediate eligibility was a plus and he brings instant credibility to Northwestern's offense. Ramsey is a solid-signal caller, who plays with guts. Not to mention he has two years worth of starting experience in the Big Ten. Ramsey threw for 5,329 yards, 32 touchdowns and 18 interceptions the past two seasons with the Hoosiers. During that span he had 606 yards on the ground to go along with 12 rushing scores. Ramsey helped lead Indiana to eight wins, including five in Big Ten play for the first time since 1993. The Wildcats had one of the worst offenses in the league last season. Clemson transfer Hunter Johnson didn't have the immediate splash Coach Pat Fitzgerald had hoped for. However, Ramsey's experience, leadership and production is more than enough to get Northwestern back on the winning track. It's not far-fetched if Ramsey ends up the best quarterback in the West after all the smoke clears on the season.
5. Brandon Peters, Illinois: The Michigan transfer proved his worth after a full season as the Fighting Illini's starter. Peters pulled Illinois out of the dungeon after a 2-4 start and led the team to a bowl game for the first time since 2014. He led Illinois to the one of the biggest upsets last season against Wisconsin. Not to mention Peters orchestrated the epic 27-point fourth quarter rally over Michigan State, which was the program's largest come-from-behind victory. He's the reason why Illinois fans are optimistic this fall about Lovie Smith having his first winning season. Peters scored 21 total touchdowns in 2019 and would've had a couple more if it wasn't for penalties. He's a gamer that has a never say die attitude, which makes the Fighting Illini one of the most scrappiest teams in the Big Ten. Peters is one of the few quarterbacks in the league that can pick his team up and carry them to the finish line. He also embraces the underdog role and plays with a chip on his shoulder. Friday under the lights against a top-15 Badger team Peters will have an opportunity to show why he's one of the most underrated quarterbacks in the conference.
4. Michael Penix Jr., Indiana: He's arguably the Hoosiers' most athletic quarterback since Antwaan Randle El. Penix suffered a sternoclavicular joint injury that prematurely ended his season in 2019. However, he still racked up over 1,500 total yards and scored 12 touchdowns in eight games. Which is why Penix is one of the most dangerous dual-threat quarterbacks in the Big Ten. Indiana scored 31 or more points in seven of the eight games he played in. He'll have a plethora of weapons to spread the ball around to this fall. Wide receivers Whop Philyor and Ty Fryfogle combined for 115 receptions, 1,606 receiving yards and eight touchdown catches last season. Junior Peyton Hendershot is one of the best tight ends in the conference and running back Stevie Scott has 1,982 yards on the ground and 20 rushing scores over the past two seasons. With a healthy Penix lined up behind center Indiana's offense has the potential to be scary good and should be able to put up video game numbers. Facing a talented Penn State defense off the bat will tell the rest of the Big Ten everything they need to know about Penix.
3. Sean Clifford, Penn State: Trace McSorley left behind some big shoes to fill, but Clifford fit the same size. The Cincinnati native beat out Tommy Stevens for the starting position and never looked back. He led the Nittany Lions to 11 wins, including a New Year's Six Bowl victory. Clifford threw for a career-high, 398 yards in the win over Maryland. The six-foot-two, 216-pounder threw for three or more touchdowns in five games, including four scores against Buffalo and Michigan State. Clifford can also hurt defenses with his legs and had 402 yards on the ground to go along with five rushing scores. However, not having workhorse Journey Brown to hand the ball off to this fall will put added pressure on Clifford. Star tight end Pat Freiermuth will be Clifford's ultimate safety blanket and creates mismatches out in the open field. Penn State is currently ranked No. 8 in the AP Poll entering Saturday's road clash with Indiana and Franklin has tremendous confidence in his signal-caller. Nittany Lion fans are expecting Clifford to improve his 28-touchdown performance from 2019. Regardless of how he performs against Indiana, Clifford will be judged against Ohio State.
2. Tanner Morgan, Minnesota: He took the Big Ten by storm last season and led the program to 11 wins for the first time since 1904. The Golden Gophers were in some thrillers early last season, but survived most of them thanks to the play of Morgan. He led Minnesota to four fourth quarter come-from-behind victories against South Dakota State, Fresno State, Georgia Southern and Auburn. Morgan led the conference in passing yards per game and had 30 touchdown tosses. Unfortunately for Morgan, star wide receiver Tyler Johnson is currently catching passes from Tom Brady. However, Rashod Bateman is back and is one of the best players in the league. Morgan will also be operating under a new Offensive Coordinator. Still, he has tremendous upside and a dark horse Heisman contender. Coach P.J. Fleck has a ton of confidence in his quarterback and the Golden Gophers are projected as one of the best teams in the West. Morgan will get his opportunity against Michigan Saturday to show the College football world that last season was no fluke. If he can continue being clutch for Minnesota everyone will be aboard Morgan's bandwagon.
1. Justin Fields, Ohio State: No other Big Ten quarterback made it known that he wanted to play this fall like Fields did. After all, he's a Heisman candidate in the middle of the season and hasn't even taken a snap yet. The Buckeyes are again a top-five team entering their first game and it's National Title or bust. Fields is last year's only Heisman finalist that's back to play in 2020. He exceeded expectations and led the conference in passing yards and passing touchdowns. The Georgia native was named both the Big Ten's Quarterback and Offensive Player of the Year. Fields also had a 41-3 touchdown-to-interception ratio, which was the best in the FBS. The six-foot-three, 228-pounder earned second-team All-America honors and was one bad throw away from the Buckeyes clinching a berth in the National Championship Game. Despite Wyatt Davis opting out of the season, Fields will be operating behind one of the best offensive lines in the country. Coach Ryan Day's system is quarterback-friendly and Fields should put up video game numbers again. Fields will be licking his chops going up against a Nebraska's defense that struggled making stops last season.