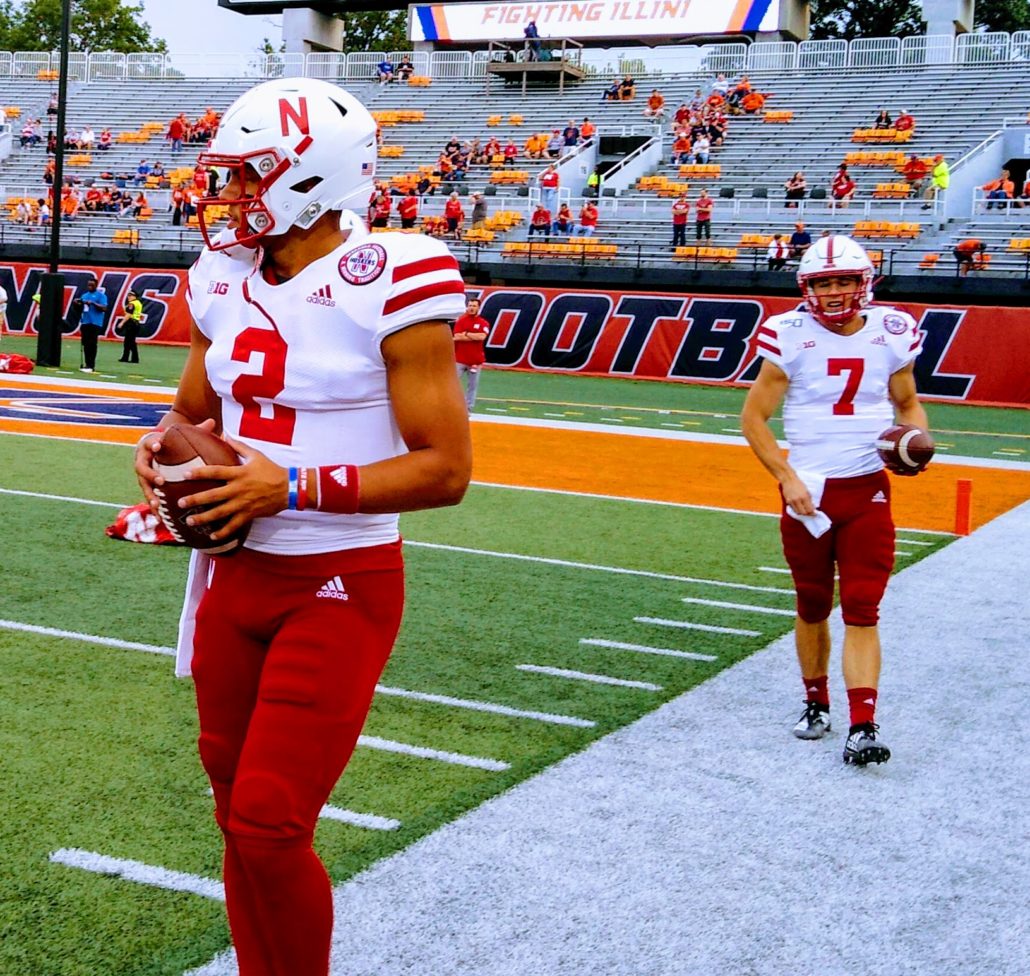 During Scott Frost's first year back at his alma mater he basically had to pick his poison when he chose Adrian Martinez as his starter over Tristan Gebbia.
One quarterback got the praise and glory, while the other had to take a backseat and swallow his pride. Gebbia wound up transferring to Oregon State and Martinez got banged up in the first game. Nebraska had minimal options at quarterback and started 0-6 for the first time in program history.
Frost quickly found out that two is better than one. So when he announced Monday that Martinez would be his starting signal-caller over Luke McCaffrey, it spoke volumes. Considering Martinez got the nod for a third-straight year and after two losing seasons, showed commitment.
Having depth at quarterback is vital, especially with every Power Five program going through pandemic complications. However, the challenge for Frost this time around will be keeping McCaffrey content after accepting the consolation prize. In today's College football world quarterbacks usually transfer for greener pastures after losing heated position battles. It becomes more enticing for the individual when they can become immediately eligible.
Although Martinez will start on the road against Ohio State, Frost will have some packages designed for McCaffrey. Something similar to the touchdown plays McCaffrey ran against Indiana and Iowa last season. The fact that McCaffrey knows he's going to get some opportunities against the No. 5 team in the nation should be highly motivating for the true sophomore.
After all, Husker fans felt Martinez suffered a sophomore slump because he had the position locked down and no one pushed him. Which is why having that competition was beneficial for all parties involved and should've made everyone that much better.
Regardless of the matter, it's still the next man up mentality. McCaffrey is one snap away from entering the game. Not to mention the uncertainty with positive test results means nobody's job is promised. Nebraska's offensive line was the problem early on last season and if the unit hasn't improved the offense will continue to be inconsistent.
Frost's scheme is quarterback-friendly, but has to be operated with efficiency. The weight of responsibility is going to fall on Martinez and McCaffrey will have to be there to take up the slack if needed. It's unfortunate Noah Vedral is no longer on the roster because it would've provided depth. In hindsight, Frost appears to have extreme confidence in both Martinez and McCaffrey.
Still, Saturday's game will be a measuring stick for how far both players have come. Frost will be watching closely to see how his quarterbacks perform against one of the best defenses in the Big Ten. No one is giving the Huskers a chance in the matchup, so they have everything to gain and nothing to lose.