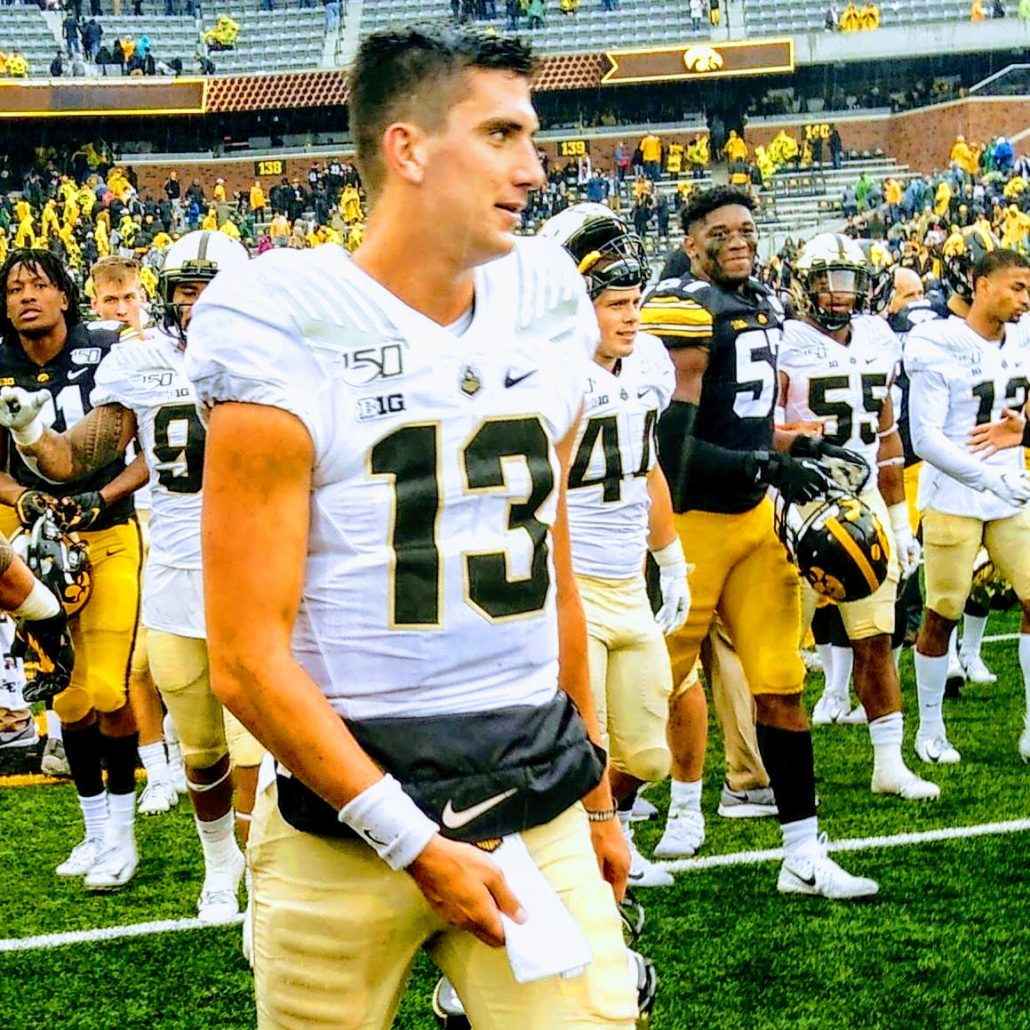 WEST LAFAYETTE, Ind. — The 49-year old coach just had a positive COVID-19 test and will miss Purdue's opener against Iowa.
However, Jeff Brohm was able to keep a lid on who'll be his starting quarterback and won't name one until gameday. Brohm has been in self isolation since his confirmed result and been working remotely with his staff and players. The Boilermakers are in a three-way battle at quarterback and the competition has been fierce.
Last year's starter Jack Plummer threw for 11 touchdowns while battling injuries. Juniors Aidan O'Connell and Austin Burton combined for nine touchdown passes last year. Regardless of the matter, Brohm already knows who his starter will be.
"It's been a good competition," Brohm said. "I think we have three capable guys right now that can go in and compete, and obviously we have to do some good things around them, as well, but we will not announce that until game time."
Losing Bryce Hopkins will hurt, but the Purdue quarterback will have a plethora of weapons in his arsenal, including dynamic receivers Rondale Moore and David Bell. Moore opted out and back into the Boilermakers' season, plus he hauled in 143 passes for 14 touchdowns over the past two years. Bell was named the Big Ten's Freshman of the Year in 2019 and had 83 catches.
Brohm has a plan set in place if he can't be on the sidelines with his team Saturday. Brother and Offensive Coordinator Brian Brohm will take over head coaching duties and will call the plays against the Hawkeyes.
"Brian has been with me the last four years," Brohm said. "As a former quarterback, I think he knows how I think, and I think he'll go out there as well as our offensive staff and they'll do a good job of putting our players in the best position to succeed."
The Hawkeyes won 26-20 over the Boilermakers in Iowa City last season, but lost their last trip to West Lafayette by two points. Plummer threw for 327 yards and two touchdowns against Iowa at Kinnick Stadium. So whoever will be Purdue's starting signal-caller, he'll have the potential to repeat the same success.
Still, Iowa's defense has always been a solid bunch under Kirk Ferentz and the unit controlled last year's game. Brohm knows Saturday's matchup is going to be a great measuring stick for Purdue's offense. All three quarterbacks will need to be ready if their name is called, but should be prepared to share some snaps.
"We do think between the three quarterbacks competing now for a starting spot, which we have named one internally, the other guys have some different elements that we want to make sure that we have a plan together if we need a spark for the team," he said.
The Boilermakers have lost every Big Ten opener under Brohm and six of their last nine conference games. Which is why Brohm won't be letting his positive test be a distraction to the team and he's keeping his players focused on the task at hand.