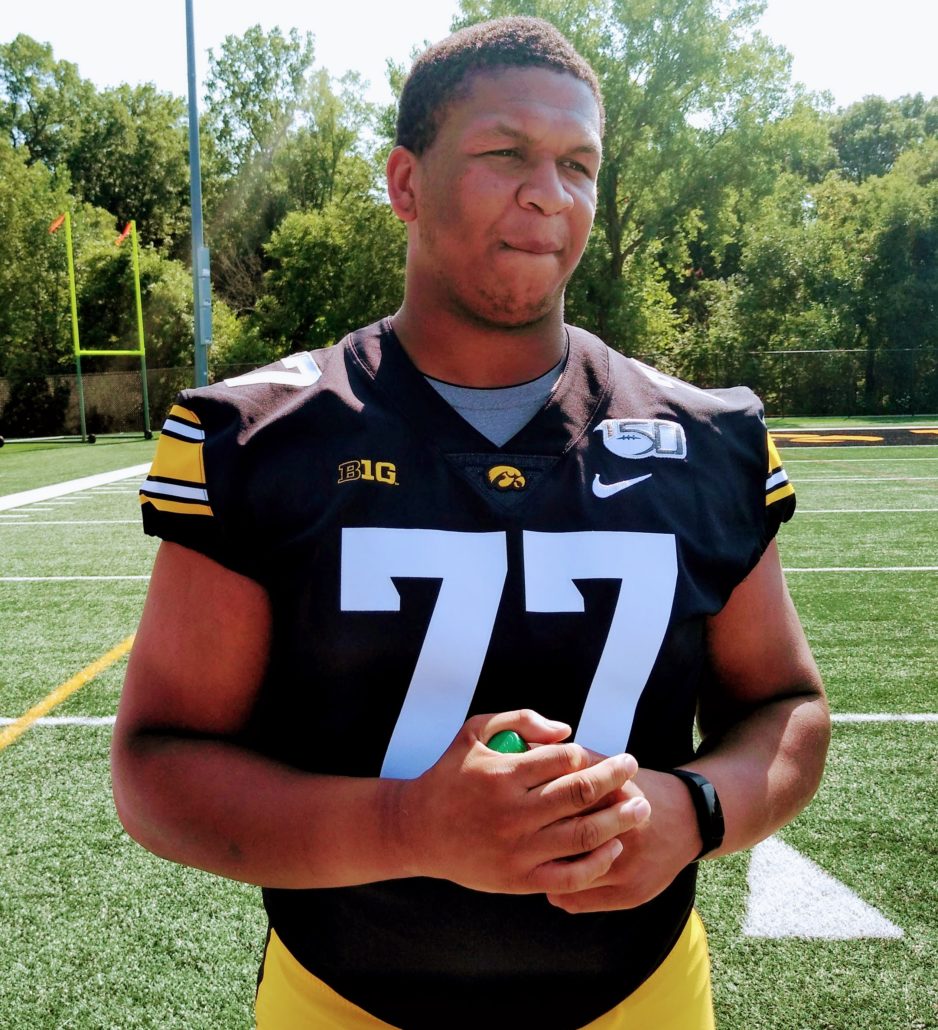 IOWA CITY, Ia. — Iowa's two-time All-Big Ten offensive tackle is paying more attention to his body as he approaches his final year on the gridiron.
With Tristan Wirfs protecting Tom Brady's blind side, Alaric Jackson will now be anchoring the big boys up front. This time around he looks slimmer, but still carries the 320 pounds on his six-foot-six frame. He's looking forward to the upcoming season and after shaving some body fat Jackson feels more loose and agile.
It might seem odd to others that an offensive lineman would become a vegan, but Jackson is all about creating his own path on and off the field.
"I feel like it's there to lead a different lifestyle for football honestly," Jackson said. "To each its' own for the most part, I don't think it's unusual or anything, I'm just used to eating food instead of meat that's all."
The Detroit native has remained focused throughout the off season, despite the Hawkeyes having a turbulent one over the summer. Former players came out with allegations of mistreatment, Chris Doyle resigned and the program went under an internal investigation. All of this while dealing with pandemic complications and ongoing social injustice around the country took its' toll on Jackson.
Several people thought all of the drama that occured with the program would've made Jackson opt out of the season. He didn't think about the decision because it was never a defined choice. Instead Jackson thought it all bought the team closer together and the players rallied behind their coaches.
"They've been working hard for us and we've been working hard for them," Jackson said. "I think it's been going good heading into the season."
Jackson will be blocking for a quarterback this time around, but he has the same confidence in Spencer Petras as he had with Nate Stanley. He hasn't noticed a change in Iowa's offense and believes the wheels are going to keep rolling. After all, the Hawkeyes finished third in the Big Ten, with only 23 sacks allowed last season.
Cole Banwart, Tyler Linderbaum and Kyler Schott all help Jackson bring credibility to the Hawkeyes' offensive line because of their experience. Jackson is confident the unit will open up holes and protect Petras.
"Honestly I don't see a big change because we haven't played our first game yet," Jackson said. "Other than that Spencer is a great leader, great teammate, it's just a different name on the roster to me."
After battling injuries last year, Jackson just wants to remain healthy and that's why his dieting is important. Considering he's the only senior starter on the offensive line, leadership will fall heavily on Jackson's shoulders. Still, he knows it comes with the territory and is ready for the challenge.
" We work together as a team, as a offensive line it's not just one man, it's a five-man unit," he said. "We work hard to win games, make holes and we'll ball be fine in the end."
Iowa opens up Big Ten play on the road at Purdue Saturday and Jackson is excited about the matchup. He'll be going up against the Boilermakers' star edge rusher George Karlaftis, who sacked Stanley in last year's game. The big boys up front will have a huge responsibility, but all the experience amongst the unit should be beneficial.
As for Jackson, he's the big man on campus in his veteran mode. He knows there's a lot on his shoulders, but he just wants to lead by example and help Iowa to a great season.
"Just being a good teammate, looking forward to the first game and been working hard all year long," Jackson said. "So as long as we win games, everything will play out for itself."