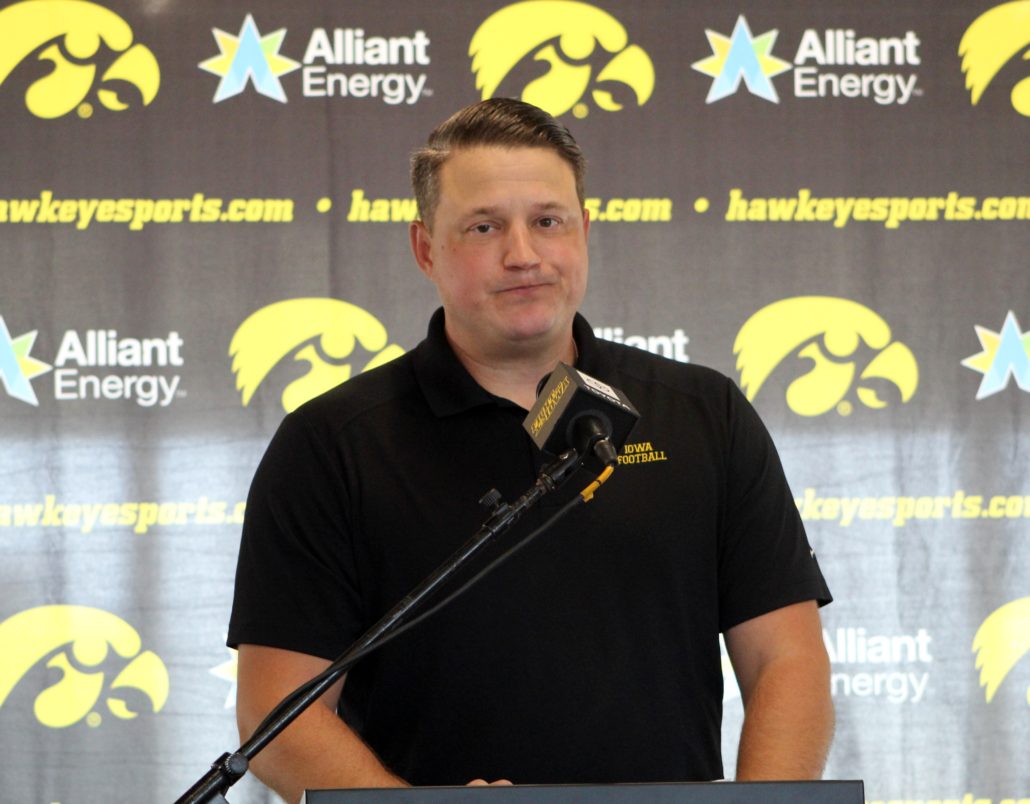 IOWA CITY, Ia. — It was a roller coaster off season for Iowa's Offensive Coordinator, in which his name made headlines for all the wrong reasons.
The Hawkeyes have dealt with pandemic complications, an internal investigation and an upcoming season of uncertainty. The aftermath of it all made Brian Ferentz take a deep look in the mirror to reflect on what's important. After all, his goal for every player that comes through the program is to have a positive experience, success on and off the field and earn a degree.
Which is why Ferentz was appalled after former Hawkeye players accused him of mistreatment. However, he laid his cards out on the table and grateful for the entire ordeal.
"It was surprising, difficult and at times very painful to hear those things," Ferentz said. "I want to make sure that I say how appreciative and how much I admire and respect the courage of those players to come forward and tell their truth."
Iowa football has and will always be a huge part of his life. After all, he was born across the street from the campus. Ferentz understands he's a work in progress and that there's extra responsibility on him because he's the coach's son. Everything has opened his eyes like never before and he knows growth takes time. The 37-year old coach is soaking everything up like a sponge and focusing on the learning aspect.
Ferentz has already found out that there's a thin line between teaching with emotion and being abrasive. The blue collar approach has to have boundaries. Coaching is a privilege and mainly about the players to him. It all comes down to an individual continuing to build relationships. Ferentz believes it's important to have empathy in order to move forward and that's how he has been able to put it all in the rear view mirror.
Now he's excited about the Hawkeyes' offense this fall and believes the group has the potential to be special. Nate Stanley got drafted, Peyton Mansell transferred and now Spencer Petras is Iowa's last standing quarterback. Ferentz continually praises his upside and believes the sophomore signal-caller has a high ceiling.
"I've been very pleased with his progress, development and his growth throughout the course of this year," he said. "Our comfort level with Spencer is that we know he can operate the offense and obviously we feel good about his physical skill set."
Petras will have a plethora of weapons to operate with. A three-headed monster at running back, an experienced offensive line and a dynamic duo at wide receiver. Ferentz will also implement two fullbacks into his scheme. Iowa finished tenth in the Big Ten scoring, rushing and total offense last season. So Ferentz knows there's plenty of room for improvement with his unit and adding a few wrinkles will help.
Mekhi Sargent, Tyler Goodson and Kelly Ivory-Martin provide depth in the backfield. All three running backs have special attributes and skill sets. Sargent is the leader, Goodson grinds out the production and Kelly-Martin provides versatility. All three will be required to block, catch the ball out of the backfield and move the chains on third downs.
Ferentz is very confident about his receivers and believe they are the deepest and most veteran group he has this fall. Ihmir Smith-Marsette is one of the most electrifying players in the league. Brandon Smith is the sure-handed veteran, who leads by example. Iowa wasn't dubbed 'Tight end U' for nothing, and pass catching should continue to be a team strength.
Losing Tristan Wirfs on the offensive line hurt. Still, the Hawkeyes will again field a solid unit up front. Alaric Jackson is a two-time All-Big 12 performer. Cole Banwart is back healthy after surgery and Tyler Linderbaum gained experience as a freshman. Iowa only allowed 23 sacks last season, which was third-best in the Big Ten.
Ferentz is hoping Iowa's offense will make a splash this fall and he's proud with how far everyone has come.
"The clock is ticking, but we're excited to continue our preparations for the upcoming season and we got a lot of time together," Ferentz said. "This has certainly been a unique year as far as preparation goes, but it has been a lot of fun."