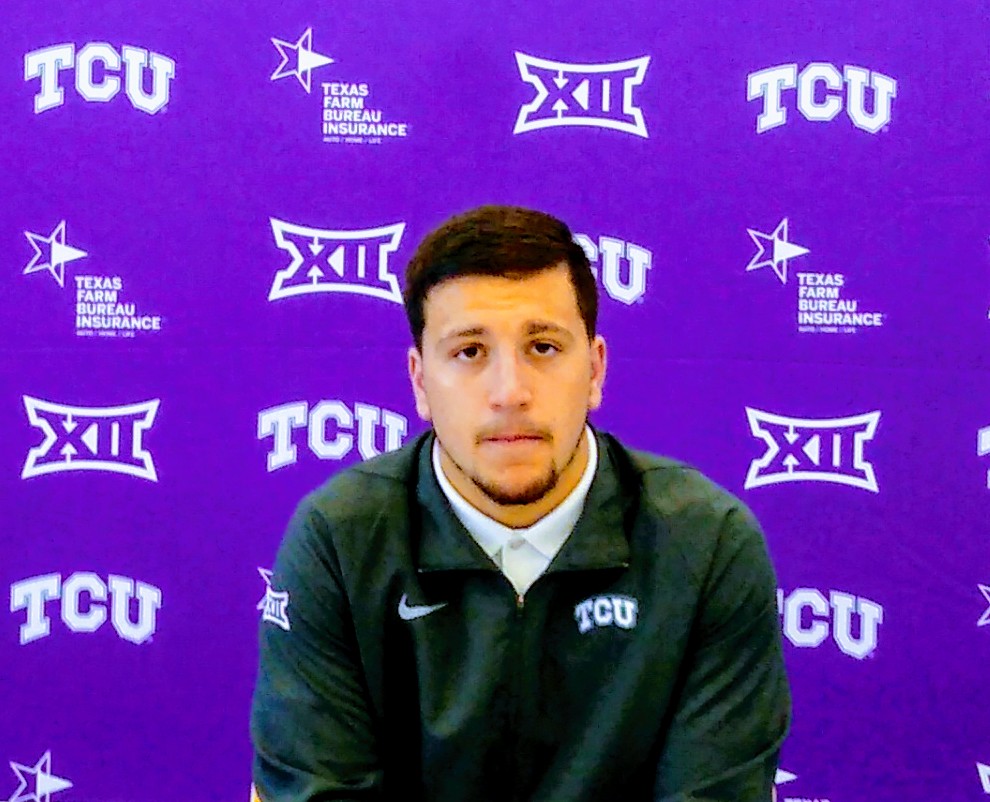 The senior linebacker made the biggest play of TCU's season when he forced a fumble at the goaline against Texas.
It eventually secured a 33-31 victory for the Horned Frogs Saturday and now their season is back on the upswing. It shouldn't come as no surprise that Wallow came up big when his team needed him to. After all, he's the heart and soul of TCU's defense and this is his third season holding down the front seven.
Gary Patterson is a defensive-minded coach and that has been the team's identity his entire tenure. The Horned Frogs' season usually hinges upon how far their defense can take them. Wallow has been the cornerstone for Patterson to build his defense around and the two-time All-Big 12 performer has instincts that are second to none.
The New Orleans native always finds a way to get to the ball and led TCU in tackles last season. He has picked up where he left off with 15 total stops through the Horned Frogs' first two games. At this point if Wallow keeps up the pace, he'll likely be a Butkus Award finalists. No defender from the Big 12 has brought home the hardware for the nation's best linebacker since Texas A&M's Von Miller did in 2010.
The conference has turned into a league with no defensive credibility. Several games are looking like basketball finals when the final second ticks off the clock. All of the focus and spotlight goes towards the offenses, while defenses take a back seat. One unit is celebrated while the other is appreciated. Which is why it meant so much that Wallow made the game-clinching stop in a shootout game.
The Horned Frogs' win over the Longhorns wasn't really an upset considering Patterson is 6-2 in the last eight games of the series. Taking down a top-10 team is special, but TCU has no time for celebration. A confident Kansas State team looms on Saturday's slate and TCU lost last year's clash.
If the Horned Frogs don't want to suffer a hangover from last week's monumental win, Wallow's leadership will be needed. The six-foot-two, 230-pounder has to keep his teammates focused and not complacent. The Big 12 is full of parity and up for grabs this fall after Oklahoma's two losses.
TCU hasn't won a conference title since joining the Big 12. However, with Max Duggan orchestrating the offense for an entire game and Wallow making plays on the other side of the ball, the Horned Frogs are in perfect position. Saturday's clash against the Wildcats will be a great measuring stick for the Horned Frogs' defense. Now Wallow and company need to prove last week's win was no fluke.