Wyatt Hubert remaining humble through prosperity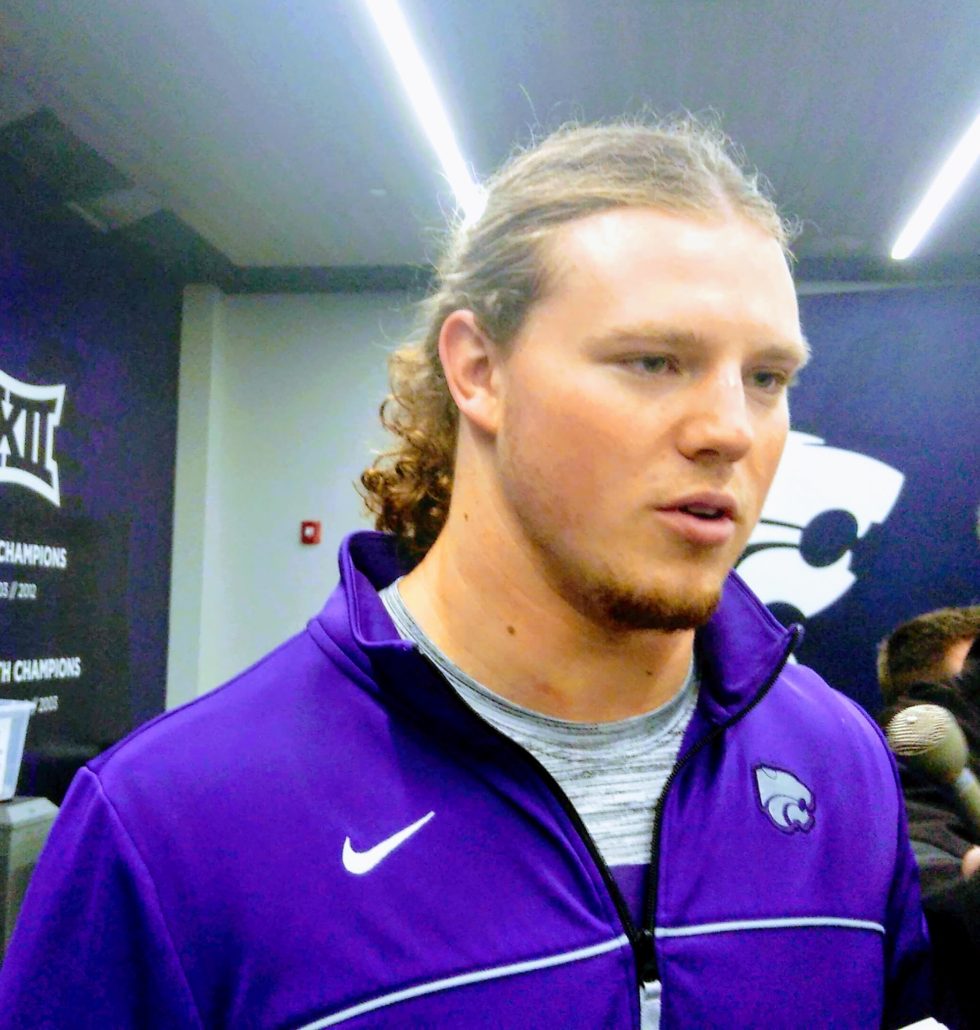 MANHATTAN, Kan. — Kansas State's first game was an aberration compared to how the team been performing over the last two.
The Wildcats had to take a deep look at themselves in the mirror after their loss and responded through adversity. When a team picks up the broken pieces and puts everything back together it usually means everyone is on the same page. Junior edge rusher Wyatt Hubert has been on the frontline through it all.
The two-time All-Big 12 performer has seen the Wildcats at their lowest and highest moments during his career. Which is why nothing is new to him and he approaches every game like he has been there before. Kansas State is 2-0 in conference play for the first time since 2014, but Hubert is still keeping his teammates focused. It's what leaders do and they never settle for complacency.
The Wildcats have rallied behind Chris Klieman and everything is trending up for the program.
"We definitely know our potential," Hubert said. "Those last two wins that we had, we were so cohesive and came together so tight and played so well as a team."
The heart and soul Kansas State's defense knows his team can play even better. To Hubert it's not about being perfect, but instead fighting for all four quarters and 60 minutes will leave you victorious. Every game the Wildcats are going against all odds and Hubert wants his teammates to continue playing with a chip on their shoulder.
Despite dealing with pandemic complications and the uncertainty it brings, Klieman continues to field a competitive team week after week. Several new players have blossomed into their positions and Hubert likes what he has been seeing in practice.Running back Deuce Vaughn had a 100-yard performance, quarterback Will Howard filled in nicely for Skylar Thompson and corner T.J. Smith tallied four tackles against Texas Tech and all of them are true freshmen.
"Those guys have definitely stepped into their role, and the stage isn't too big for them," Hubert said. "I want to give credit to a lot of the older guys who have taken those guys under their wings and helped them develop into great players."
Now Kansas State is taking its' show on the road for the second time this season against a TCU team playing with extreme confidence. Max Duggan has looked like an All-Big 12 signal caller the past couple of weeks and poses a serious threat to the Wildcats' defense. Hubert is the enforcer of Kansas's State's front seven so Duggan has his full attention.
"Their quarterback is a dual threat that can run and throw, has very hot feet in the pocket and isn't afraid to pull the ball and run," Hubert said. "Like I said, as long as we play our defense, stay true to our gaps and stay gap disciplined, we'll be fine."
The six-foot-three, 270-pounder had a sack in each of Kansas State's first two games and two quarterback hurries against Texas Tech. Hubert is constantly double-teamed, but wants to continue wreaking havoc off the edge and doing anything to disrupt the timing of opposing offenses.
Games are always won in the trenches and that's where Hubert hopes to dominate this Saturday. Although the Wildcats have enjoyed success over the past two games the Kansas native is not taking anything for granted. Hubert will do his due diligence in making sure everyone stays on the same page.
"As long as you do that, you can keep winning every game," he said. "We just attack every day at practice and hope to keep the ball rolling."