Iowa State hoping its' black jersey mojo continues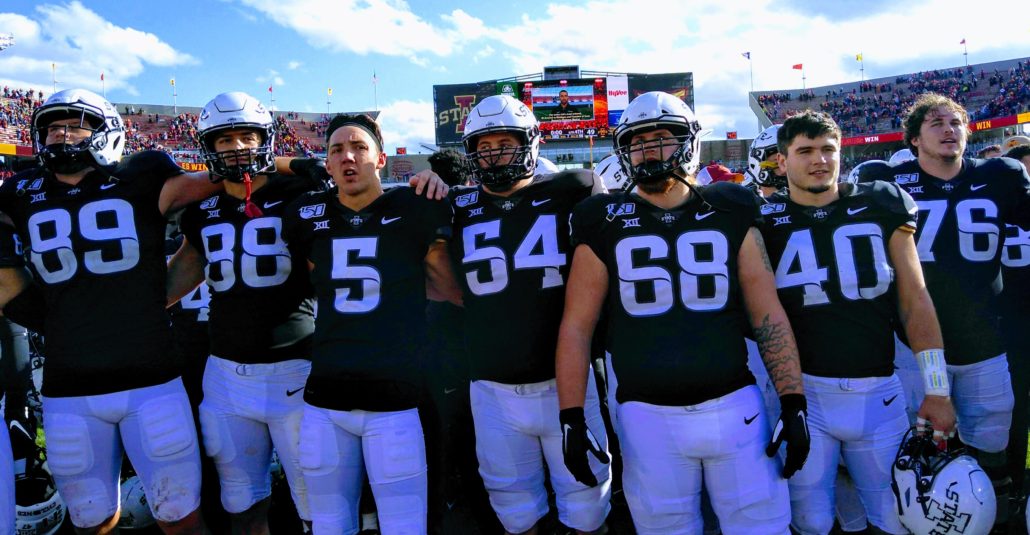 There's something special about Iowa State when the team wears the black jerseys, just ask West Virginia, TCU and Texas.
The Cyclones didn't start rocking their alternate uniforms until 2018. However, Matt Campbell's team gained notoriety because they've won every time they stormed the field in black. Iowa State hosts No. 18 Oklahoma this Saturday and will again have on the infamous uniforms.
Not to mention the game will be under the lights and all eyes will be on Jack Trice Stadium. A matchup with a ticked off Sooners team will be the ultimate litmus test for the Cyclones, but they play with extreme confidence at home in black. Iowa State will only have 15,000 fans in the stands Saturday, but they'll try their hardest to make their presence felt for the road team.
It's all perfect timing for the Cyclones, considering they're coming off a thrilling road win over the Horned Frogs. Iowa State showed a big improvement from game one to two, including an increase in points and yardage. The Cyclones last night game at home in their black uniforms they won over the Longhorns with a field goal as time expired.
As a matter of fact Iowa State in the black uniforms have outscored its' last three opponents 102-59 at Jack Trice. The Cyclones are looking solid with their balanced attack on offense and a bend, but don't break defense. True sophomore running back Breece Hall has been the most impressive thus far, with 257 yards on the ground and four rushing scores.
Campbell will need to get his young rusher into a rhythm early on against the Sooners' defensive line that'll be looking to establish dominance in the trenches. Quarterback Brock Purdy has played on another level in his black jersey, throwing for 855 yards, seven touchdowns and one interception.
Iowa State's defense has been able to get to opposing quarterbacks this fall, with a jaw-dropping, nine sacks through two games. Senior edge rusher JaQuan Bailey holds down the big boys up front, linebacker Mike Rose is the enforcer in the front seven and Greg Eisworth cleans up everything that makes it to the third level of the defense.
Matt Campbell is 1-3 against the Sooners and has never beat them at Jack Trice. Iowa State should've won last year's game against Oklahoma if it wasn't for a failed two-point conversion. Which should only add more fuel to the fire in this series. Oklahoma quarterback Spencer Rattler had a terrible second half in the loss to Kansas State and he wants to redeem himself.
As of right now the Sooners will playing for pride and the Cyclones wants to prove game one was a fluke. Emotions will be high and everyone is anticipating a shootout. Both offenses should be able to do some damage. Regardless of the matter, night games at Jack Trice are always entertaining and with the black jerseys on full display expect the Cyclones to give it their all.