Why Notre Dame boasts the ACC's best secondary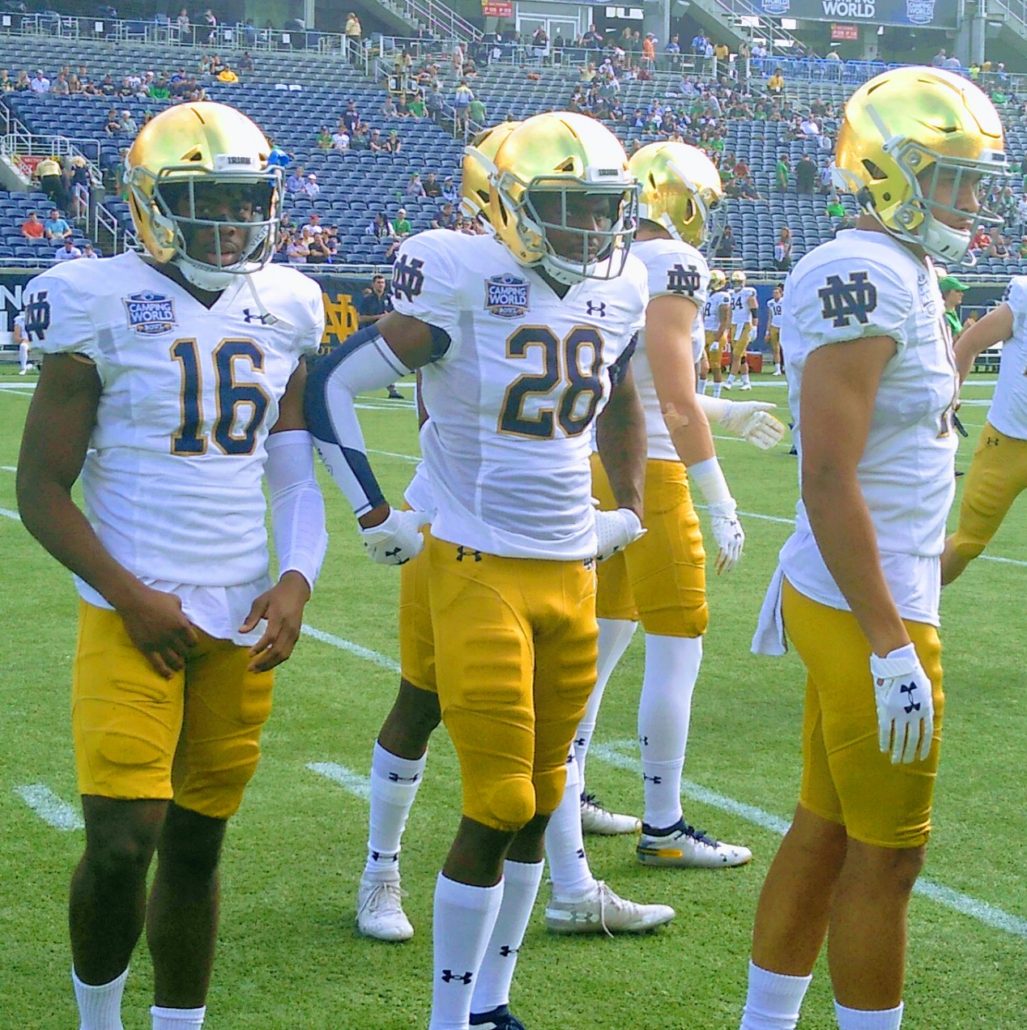 For a team coming off back-to-back double-digit win campaigns, it's easy to overlook their glaring improvement.
Notre Dame went from finishing 44th in pass defense in 2018, to third last season and return key pieces for the secondary to be successful again this fall.
It's going to be tough replacing Troy Pride's speed, as well as Jalen Elliot's leadership. However, Notre Dame's back four on defense has the potential to be even better this time around.
It all starts with true sophomore phenom Kyle Hamilton. He was Notre Dame's No. 1 recruit last season, who turned out to be the real deal and picked off four passes from his safety position. Tariq Bracy and Shawn Crawford are both veterans and ball hawks. The duo combined for 62 total tackles and form arguably the best cornerback tandem in the league.
Not to mention the unit has depth, with young studs KJ Wallace and Isaiah Rutherford waiting in the wings. They are the reason third-year safeties coach Terry Joseph and first-year cornerback coach Mike Mickens have to be pleased with the versatility.
Now the two coaches can get creative with their schemes and plug players in the right place to make plays. There's nothing like having a safety who excels in pass coverage, or corners who can blanket half of the field and contribute in run support.
The ACC welcomed the Fighting Irish with open arms and now Brian Kelly's team will be getting every opponent's best. Despite Notre Dame's unique skill set in the secondary, the unit won't clash with dangerous receivers until game five or face an elite quarterback until November. The Fighting Irish will still be playing with extreme confidence.
After all, Kelly's boys ended 2019 on a six-game winning streak. As for now Notre Dame is an official member of the ACC. The team is ranked in the top-10 in both major polls. Plus the players want to prove they belong and the Fighting Irish gives the ACC more credibility. Now the critics can no longer just say the league is just Clemson and everybody else.
There's no better way for Notre Dame to make a statement to the ACC than to play great defense. Several other teams around the league have had star players in their secondary opt out of the season because of the pandemic.
Virginia Tech's star corner Caleb Farley, plus North Carolina's defensive backs DJ Ford and Bryce Watts were all vital. Florida State's leading tackler Hamsah Nasirildeen is still recovering from an ACL injury. Clemson has All-ACC corner Derion Kendrick, but the rest of the secondary is unproven.
That leaves Notre Dame with the most well-rounded secondary in the ACC entering the league's first week of play. It's hard to argue against that when Hamilton, Crawford and Bracy combined for 103 tackles, five interceptions and broke up 15 passes last season. Throw in corner Nick McCloud, with his experience at NC State and the ceiling for Notre Dame's secondary is through the roof. However, the opener against Duke will be a litmus test.
If Notre Dame's defense can contain David Cutcliffe's veteran offensive mind, it'll raise some eyebrows for the back four. It's only a matter of time before the rest of the ACC takes notice of this group's potential.