Teams with the most to prove in week two action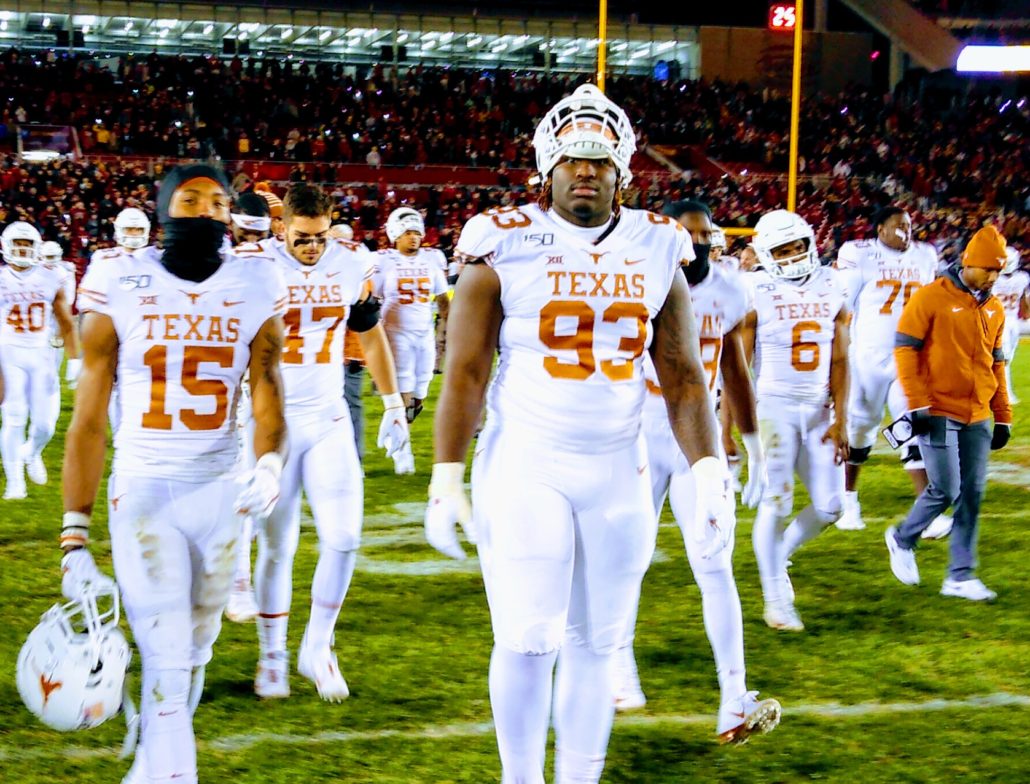 Now that Labor Day is in the books, we're finally approaching the first big week of College football.
It's still any given autumn Saturday and fans need to be grateful that these games are even being played. We'll all get our first glimpse at the Big 12 and ACC, including the No. 1 team in the land. With the SEC still two weeks away from kicking off, star players from the other two Power Five conferences will have an opportunity to get a head start on the Heisman race.
Although there will be minimal fans in the stands and no tailgating in the parking lots at most of these venues, the stakes remain the same for all the teams playing. Some games are expected to be blowouts, while others could potentially be dogfights. Regardless of the matter, no team is too powerful to overlook an opponent and all will need to be ready.
MiamI: Last season the Hurricanes fielded an elite defense, but their offense was abysmal. The last three games were tough to watch and Miami suffered its' first losing season since 2014. So Manny Diaz fired Offensive Coordinator Dan Enos and replaced him with Rhett Lashlee. Under Lashlee's direction last year SMU finished seventh nationally in points per game. Miami fans are hoping he'll provide an immediate spark to the unit and there's talent across the board. Not to mention the highly-anticipated debut of D'Eriq King and there's no better way to showcase your talents than under the Thursday night lights. Despite the fact that the Hurricanes haven't finished with a winning record in conference play since 2017, there's still some buzz surrounding this year's team. UAB is fresh off a 10-win campaign, projected as Conference-USA's best team and scored 45 points in last Thursday's victory. The Hurricanes can't afford to overlook the Blazers as they do present a challenge. However, Diaz is in his second year on the job and Miami should be improved.
Iowa State: For a second-straight year the Cyclones will start off the season as a ranked team. Matt Campbell's squad is loaded on both sides of the ball and hope to rebound after a disappointing 2019 campaign. Iowa State suffered double-digit losses in its' last two games, but the players aren't looking in the rear view mirror. High expectations have now become the norm in Ames. However, the Cyclone players must remember that their opponents will bring their best efforts when going up against a ranked team. Louisiana won 11 games last season, return a plethora of starters and is projected as the Sun Belt's No. 1 team. The Cyclones have a tendency to play down to their competition and lost two of their last four season openers. Not to mention Iowa State needed overtime to put away Northern Iowa last year. Although there won't be any fans in the stands at Jack Trice to cheer on the home team, Iowa State still needs to be ready. The Cyclones got everything to lose while the Ragin' Cajuns have everything to gain in this clash.
North Carolina: For the first time since 2016 the Tar Heels will enter the season as a ranked team. Mack Brown proved he hasn't lost his touch after a great one-year turnaround and now there's some buzz back in Chapel Hill. So much so that North Carolina is a three-touchdown favorite over an ACC opponent. Syracuse is no cupcake by any means, but North Carolina will be fielding arguably its' most talented team since 1997. Brown has several studs on offense, including true sophomore gunslinger Sam Howell. The Tar Heels receivers are one of the best groups in the ACC and everyone is anticipating a potent passing attack from Howell. Syracuse's defense lost two elite edge rushers and the unit finished 115th in the FBS in total yards allowed. This could potentially be a bad matchup for the Orange, but they haven't lost a season opener since 2013. It'll be interesting to see if the Tar Heel can handle being the hunted. North Carolina needs to show its' ranking is no fluke and that the team is one of the league's best with a statement win.
Texas: The Longhorns have lost two of their last three season openers, but they'll be facing an inferior opponent this Saturday. The burnt orange nation wants to put to rest an underachieving 2019 campaign. The Longhorns came into last season as a top-10 team, but finished 25th. Now Texas is highly-ranked again entering the fall and the biggest favorite of any FBS team in action this week. Tom Herman didn't replace both of his Coordinators for nothing. It's Sam Ehlinger's highly-anticipated senior season and he's a Heisman hopeful. Each game is about style points for the hometown kid. Everyone is expecting Ehlinger to put up video game numbers against a UTEP team that has a mere three wins over the past two years. The Longhorns were awful on defense last year, but the unit has a new look this fall and will play more aggressive. There may not be pressure on Herman to win big, but Longhorn fans been waiting for Texas to truly be back. No doubt the Miners are an ideal matchup for the Longhorns to iron out all the wrinkles.
Clemson: Anytime you're the No. 1 team in the nation there's enormous pressure. Everyone will be gunning for the Tigers. However, this isn't new territory for Dabo Swinney's team, considering they entered last season as numero uno. Trevor Lawrence has a chance to cement his legacy as one of the greatest College football quarterbacks. Travis Etienne already sits atop the school's all-time rushing list. Swinney and Brent Venables are the Batman and Robin of the sport. Clemson hasn't lost a conference game since 2017, which is the longest steak in school history. Dave Clawson on the other hand has also built Wake Forest into a competitive program and won 30 games over the past four seasons. However, the Demon Deacons are 0-4 against the Tigers during that span and outscored 178-33 in those meetings. Everyone will be watching Swinney's team on the road in prime time. The 50-year old coach will have his players in their bring your own guts mode. The Tigers want to leave no doubts as to why they are No. 1 in both major preseason polls.
Notre Dame: All eyes will be on the Fighting Irish this Saturday. For the first time in program history Notre Dame will kickoff 2020 as a member of a Power Five conference. Not to mention this will be the second-straight year the Fighting Irish will enter the season as a top-10 team. Brian Kelly's team hasn't lost a season opener since 2016 and they want to make a statement out of the gates. It helps with the transition that Notre Dame is familiar with playing ACC opponents. David Cutcliffe is one of the longest-tenured coaches in the Power Five and like always Duke is flying under the radar. The Blue Devils pulled off the upset over the Fighting Irish in 2016. Which is why Kelly will have his team focused. Ian Book has Heisman aspirations and he's one of the most experienced signal-callers in the FBS. There's no denying Notre Dame has more talent than Duke. Not to mention the Fighting Irish won by 31 points the last time the two programs clashed. Look for Kelly's team to send a message to the rest of the ACC, with a great performance that shows they belong.
Kansas: The Jayhawks are basically hosting their opponent in Pac-12 time. College football fanatics are hoping Les Miles saves the best for last and Kansas against Coastal Carolina will be the final game on Saturday's slate. The Jayhawks have won three of their last four season openers and all of those victories came against FCS competition. Coastal Carolina is the easiest foe on Kansas' schedule, so this is a must-win for Miles. However, the Chanticleers are no pushover and won a low-scoring affair over the Jayhawks last season. Don't be surprised to see Miles pull out some hat tricks to get some points on the board for his team. A win in the opener will be huge for the Jayhawks and they'll have momentum heading into Big 12 play. A loss for Kansas would be devastating and all too familiar with the program's history. Miles has an arsenal that contains a 1,000-yard rusher and two receivers that combined for 15 touchdown catches last season. All the new quarterback has to do is be a game manager and Kansas should cruise to a double-digit victory.
Florida State: The Seminoles had a roller coaster off season after dealing with the pandemic and a divided locker room. Now everyone is on the same page and ready to get back to football. For a program that's on its' third coach in the last three years Florida State fans still have high expectations. Willie Taggart brought the Seminoles to their knees and now Mike Norvell needs to make the once proud program relevant again on a national level. Florida State is far more talented than Georgia Tech on paper. However, the Seminoles have lost their last three season openers and nothing is promised. Meanwhile Geoff Collins suffered his own growing pains with the Yellow Jackets last season. It wasn't easy trying to convert Georgia Tech from the triple option attack to a balanced scheme. Both teams want to rebound from lackluster campaigns in 2019 and a win in the opener will go a long way. It doesn't help that Florida State will be without star safety Hamsah Nasirildeen against Georgia Tech. Still, the Seminoles are a traditional powerhouse so there's more pressure on them to win Saturday, new coach or not.
Kansas State: Chris Kleiman had a solid first season in Manhattan and the Wildcats are planning on keeping the wheels rolling. This will be the second time in the past four years that the Wildcats will play a team from the state of Arkansas for their season opener. Skylar Thompson is one of the most experienced quarterbacks in the league and poised for an All-Big 12 caliber season. His leadership will be vital because the Wildcats have a lot of new faces on offense. Arkansas State is a scrappy opponent and played a talented Memphis team close last Saturday, but still allowed 37 points. In turn that should help the Wildcats in terms of preparation and what to expect. Klieman won't expose a big part of the playbook with Oklahoma looming in two weeks, but Kansas State needs to iron out the kinks against Arkansas State. The Wildcats' defense, led by star edge rusher Wyatt Hubert should be able to keep the Red Wolves at bay. If not and the game is close in the fourth quarter, Kansas State has a veteran kicker in Blake Lynch, who knows how to deliver in the clutch.
Louisville: Scott Satterfield surprised the College football in his first season and was named the ACC's Coach of the Year. Now the league is wondering what he can do for an encore. The Cardinals are flat out loaded on offense, with dual-threat quarterback Micale Cunningham, plus a 1,000-yard rusher and receiver. On the defense is where Louisville must improve tremendously after finishing dead last in the ACC in points allowed. There's plenty of experience returning and the battle with Western Kentucky will be a great measuring stick for the Louisville defenders. The Hilltoppers carved out nine victories in Tyson Helton's first year on the job, are riding a four-game win streak and considered one of the best teams in Conference-USA this fall. However, Western Kentucky have lost its' last 11 games against Louisville. The Cardinals should be receiving more respect in the polls with the caliber of player they have on the roster. Still, with a 12th-straight win over Western Kentucky, people will have to give Louisville some consideration before opening up conference play against Miami.