10 quarterbacks poised for a monster Saturday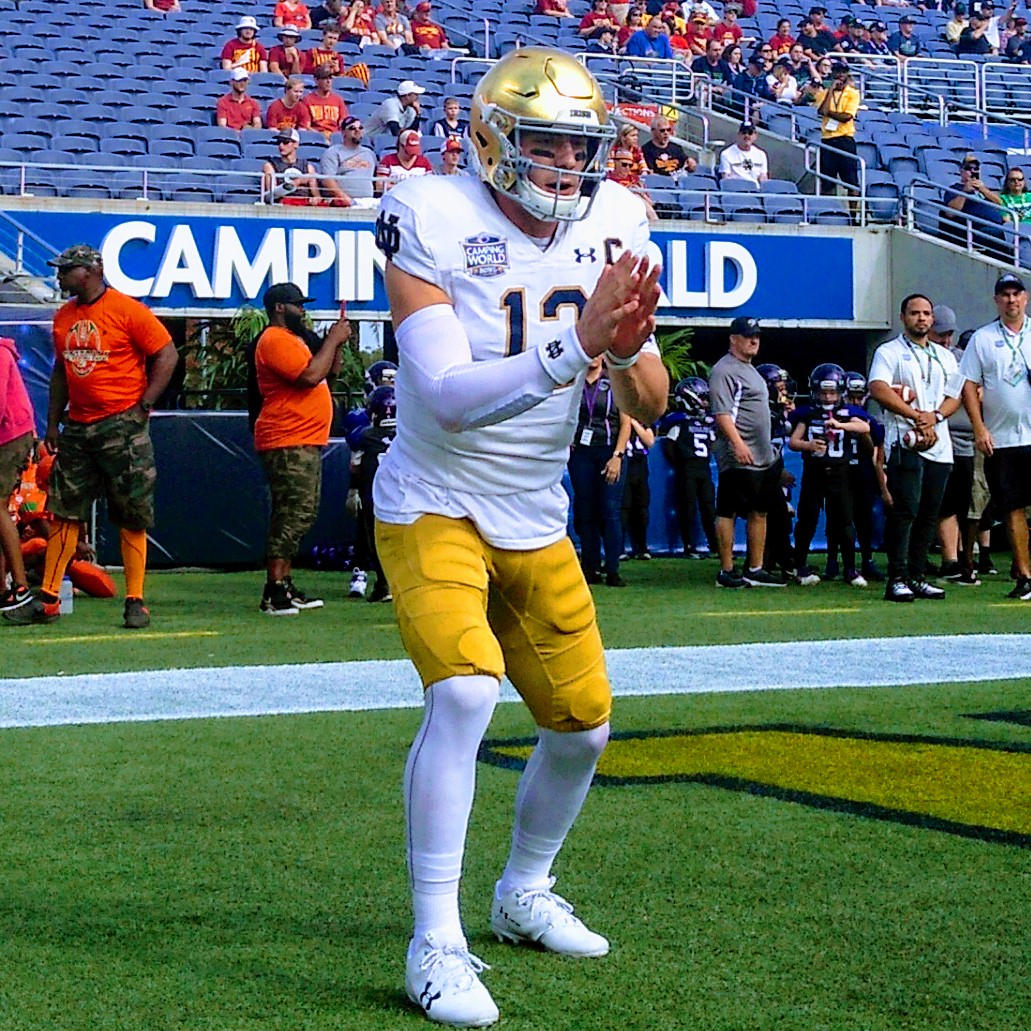 A total of 18 teams from both the ACC and Big 12 will take center stage this weekend.
The two Power Five conferences are getting a head start on the SEC in terms of exposure. Not to mention College football fanatics will get their first glimpse at each quarterback. Although there won't be any matchups of ranked teams, every starting signal-caller has an opportunity to make a statement.
Here are 10 quarterbacks who'll have the nation's eyes on them and are composed to deliver something special on the first Saturday of Power Five action.
Sam Howell, North Carolina: When you're a team's No. 1 recruit and exceed expectations in the same year you're a special talent. The signal-caller led the entire ACC with a jaw-dropping, 38 touchdown passes and earned freshman All-American honors. Now the true sophomore is a household name in the league and everyone wants to see what he can do for an encore. Howell is licking his chops going up against a Syracuse defense that finished 115th nationally in total yards allowed last season. The Orange's front seven is depleted and basically starting over fresh. With Syracuse unable to provide a consistent pass rush, Howell should be able to play pitch and catch with star receivers Dazz Newsome and Dynami Brown. North Carolina also has a talented offensive line that should be able to maul Syracuse's inexperienced defensive front. A lethal passing attack against an average secondary. Now that's unfair.
Sam Ehlinger, Texas: The hometown kid is ready for his senior season. The burnt orange nation hasn't had this much anticipation for their quarterback since Colt McCoy's senior year. The Longhorns haven't won a Big 12 Title since 2009's controversial victory. However, Ehlinger will start out a quest for the hardware with a great performance in the opener. Ehlinger is also a Heisman hopeful and on schedule to break several of McCoy's school records, including pass yards and career touchdowns. Texas couldn't have scheduled a better opponent for video game stats than UTEP. Last Saturday the Miners held their opponent scoreless in the second half, but the Longhorns are an entire different animal. With two new Coordinators, expect Tom Herman to iron out some wrinkles against inferior competition. Ehlinger will likely pass for 400-plus yards, score multiple touchdowns and sit out the entire fourth quarter.
Ian Book, Notre Dame: He's another quarterback who'll be in position to break school records this fall. Book has done everything but get the Fighting Irish to the National Championship game, which they haven't won since 1988. All eyes will be on Notre Dame when the team opens up the season as a member of a Power Five conference. The Fighting Irish are ranked in the top-10 of both major preseason polls and projected as the second-best team in the ACC. College football fanatics will be expecting Book to make a statement to the ACC that Notre Dame is the real deal this fall. It helps Book that the Fighting Irish are going up against a team they smashed by 31 points last season. Although Duke  has a solid secondary and two elite edge rushers, Notre Dame's offensive line is experienced and dominant. Look for Book to sling the ball.
Skylar Thompson, Kansas State: The Missouri native is one of the most experienced quarterbacks in the Big 12. Thompson is no rookie to putting the team on his back and carrying them to the finish line. Just ask Oklahoma. The Wildcats will lean on Thompson's leadership with all the new faces on offense. His dual-threat capability helps him keep plays alive. Thompson has the trust of his teammates and coaches, plus he can deliver in the clutch. Arkansas State is a scrappy team, but its' surrendered four touchdown passes to Memphis last Saturday.  Not to mention the Tigers had a rusher and receiver eclipse the century mark in yardage. Thompson threw for 212 yards and scored three touchdowns in last season's opener. It'll be a shocker if the Wildcat quarterback can't put up even better numbers this Saturday against a defense that allowed over 500 yards to an unranked team.
Trevor Lawrence, Clemson: No other Power Five quarterback should be more motivated than Lawrence for the 2020 season. After all, he petitioned behind it and wants to show the nation that his performance in last year's National Championship Game was a fluke. Now Lawrence is on a quest to become arguably the greatest quarter to ever play the game. That's only if Clemson runs the table again. Everything starts with the opener against Wake Forest in primetime for the country to see. Lawrence hopes to put together a performance as smooth as his hair. He also wants to take advantage of the spotlight and get a head start on the Heisman race. The Demon Deacons' defense will be completely outmatched and outgunned with the caliber of weapons Lawrence has in his arsenal. Lawrence has thrown for 647 yards, six touchdowns and no interceptions in the the team's last two meetings.
Spencer Rattler, Oklahoma: Lincoln Riley is an offensive guru and runs a system that's very quarterback-friendly. His last three signal-callers were Heisman finalists and two took home the hardware. Rattler is the next man up and has the 4th-best odds this fall to win the prestigious trophy. Oklahoma flat-out throttles opponents in non-conference play and Saturday's clash should be no different. Missouri State has never finished with a winning season. Not to mention the Bears have been outscored 130-60 in their last two meetings against Power Five competition. No CeeDee Lamb, no problem. Elite receivers seem to grow on trees down in Norman. Rattler should be able to have a field day against the Bears' defense and put up video game numbers. Oklahoma has ruled the Big 12 with an iron fist for two decades. Until another team snatches the carpet from under the Sooners, their quarterback will reign supreme.
Kenny Pickett, Pittsburgh: He's flying under the radar, but is one of the most experienced quarterbacks in the ACC. Pickett has led the Panthers to 15 victories over the past two seasons, including a 10-6 mark in conference play. He's coming off a 3,000-yard season and has a ton of motivation heading into the fall. Austin Peay got blowed out by Central Arkansas two weeks ago, which is the same team that lost by double-digits to UAB last Saturday. Pickett should be able to have his way with a Governor's defense that allowed 460 yards to a unranked FCS team. Senior receiver Taysir Mack could potentially finish the game with double-digit receptions and Shocky Jacques-Louis is likely to catch a couple of deep balls. The Panthers' always seem to play down to their competition when facing inferior opponents, but their solid passing attack will be the difference in this matchup.
Brock Purdy, Iowa State: He's one of the best fourth quarter signal-callers in the country. Iowa State's comeback kid always brings out his best in the clutch. Purdy isn't afraid to sling the ball and has great chemistry with his receivers. It's the reason why Purdy led the Big 12 in pass attempts, completions and yards last season. Louisiana-Lafayette has an aggressive defense that finished as one of the best units in Sun Belt. However, the Cyclones scored 72 points last season against a Sun Belt team and there's reasons to expect much of the same in Saturday's clash. No Ragin' Cajun defender will be able to cover the Cyclones' star tight end Charlie Kolar one-on-one. Receiver Tarique Milton is a lock to catch a couple of deep passes from Purdy. The junior quarterback will also find ways to keep the chains moving with his mobility. Expect a Cyclone route.
Micale Cunningham, Louisville: The Cardinals are expected to have one of the best offenses in the ACC this fall and he's the big reason why. Cunningham surprised everyone with his breakout season in 2019. Now he's riding that wave of momentum into game one against in-state foe Western Kentucky. Cunningham threw for two touchdowns against the Hilltoppers last season. Not to mention he rushed for 129 yards in 2018 and led the Cardinals to victory both times. Cunningham will be throwing to one of the best group of receivers in the ACC, including Tutu Atwell. They'll all will present mismatches for Western Kentucky's secondary and when the smoke clears Louisville may have over 500 yards of total offense. It doesn't hurt Cunningham to have a 1,000-yard rusher in the backfield. Javian Hawkins will look to expand his skill set by catching balls out of the backfield from Cunningham.
Jarret Doege, West Virginia: Last week Neal Brown tabbed him as his starting quarterback. Now Doege wants to show his coach that he made the right decision by delivering a solid performance. It shouldn't be that hard, considering Eastern Kentucky got shutout by 59-0 last week against in-state foe Marshall. The Mountaineers finished dead last in the Big 12 in scoring, passing and total offense. Brown's team needs a spark and should be able to do as they please against the lowly Colonels. However, after West Virginia's scare against James Madison in last season's opener, Eastern Kentucky will not be overlooked. Speedy receiver Sam Jones should help Doege pad the stats and this game will all be about the Mountaineers' offense get more in-sync and build chemistry. Expect West Virginia to cruise to a comfortable victory and build momentum for the Big 12 meat grinder that looms two weeks later.