Iowa State projected again as a top-tier Big 12 team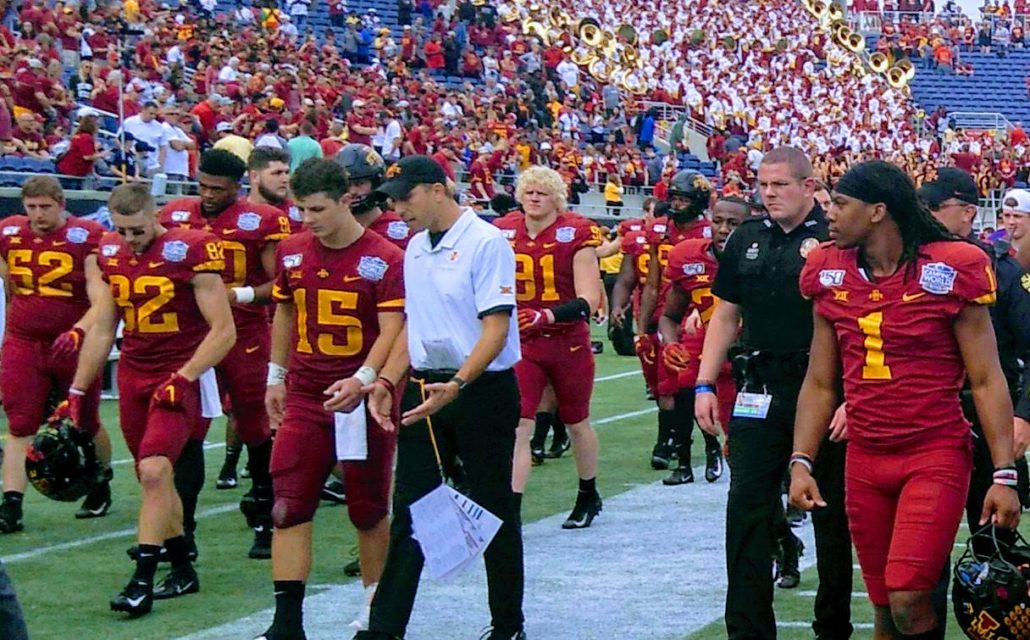 For a second-straight year Iowa State is ranked in both the preseason AP and Coaches Poll.
The No. 23 and No. 25 Cyclones are one of four Big 12 teams ranked in both major polls to start the 2020 season. Not to mention it marks the third time in program history that Iowa State is ranked to start the year and first ever in back-to-back seasons.
It's clear to the College football world that Iowa State is on the rise. Not only has the program reached new heights, but it's all because of two words, Matt Campbell. The 40-year old coach has stockpiled 26 wins in the past four seasons with the Cyclones. It's a feat Campbell's predecessors Dan McCarney, Gene Chizik and Paul Rhoads failed to accomplish. It's the main reason Iowa State extended his contract until 2025.
The program is coming off three-straight winning seasons, including a 16-11 mark in Big 12 play. That was unheard of in the old Big 8 and the first 20 years of the Big 12. However, the Cyclones underachieved in 2019, considering they were projected as one of the three best teams in the conference, but lost their last two games of the season by double-digits.
Still, momentum is at an all-time high in Ames and Campbell's team will have a target on their backs again. There's nothing like going from being the hunters to being the hunted, but it's a sign that the times have changed. Not being able to have an opportunity at snapping a five-game losing streak to Iowa is a setback. There's still plenty for the Cyclones to play for in 2020 and they have the talent to reach new heights.
Iowa State returns arguably the best quarterback in the Big 12 with junior Brock Purdy, who led the league in passing yards, attempts and completions last season. Running back Breece Hall is coming off a solid true freshman campaign, with four 100-yard games against Big 12 competition. Wide receiver Tarique Milton averaged over 20 yards per catch on 35 receptions. Plus tight end Charlie Kolar is a two-time All-Big 12 performer and a John Mackey Award finalist.
The only challenge for Campbell this fall will be patching up a depleted offensive line, but there are some new faces ready to step up and make a name for themselves. On the defensive side of the ball the Cyclones return a playmaker at every level.
Edge rusher JaQuan Bailey will be anchoring the front and only needs one sack this fall to sit atop the program's list in that category. Junior linebacker Mike Rose has started all 26 games of his career and led the team in tackles for loss. Senior safety Greg Eisworth is a two-time All-Big 12 performer and one of the best instinctive players in the conference.
In hindsight, Campbell will field his most talented team in 2020. After the Cyclones' shortcomings last year, they won't be taking their lofty expectations for granted this fall. Now everyone feels like they have something to prove. Just anything to make sure that the Cyclones stay in the top-25 won't be short lived this time around.
The schedule sets up nice for Iowa State and it would be a complete shocker if the players don't come in with a chip on their shoulder.