Big 12 football: winners and losers of the new schedule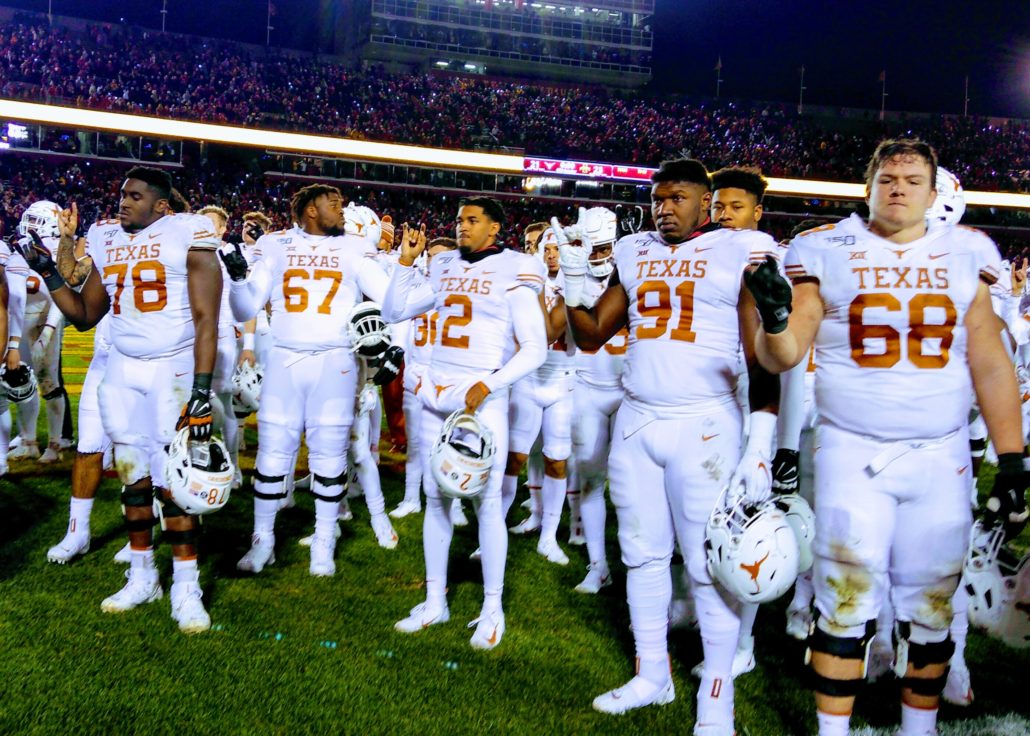 The Big 12 was the wildcard for the upcoming season.
Now that the new schedule has been released, there's clarity around the league. The Big 12 is one of three Power Five Conferences that'll resume play this fall and will adopt a "9+1" format for all 10 teams. Each team can add a non-conference opponent on the slate, just as long as it's before league play starts on September 26.
Bob Bowlsby also has a safety protocol set in place and the conference will be testing athletes three times a week. What's special about the conference is every team gets to play each other and two of them will meet again in the Big 12 Championship Game, which will also go on as planned.
With the new schedule out, there are some teams that have the inside track to the Title game. While others might be on the outside looking in by having to hurdle several roadblocks along the way.
Regardless of the matter, the Big 12 pretty much saved the 2020 season. Here's a quick glance at how each team stacks up with their new schedule.
WINNERS
Iowa State: The Cyclones have high expectations again this fall. Iowa State is No. 25 in the preseason Coaches Poll and one of four ranked Big 12 teams. However, Matt Campbell's team can't afford another slow start for the first two games. TCU allowed a season-high, 49 points to Iowa State in 2019, but will be vastly improved. Although the game will be at home this time around, Oklahoma won't be taking Iowa State lightly after last year's scare in Norman. Matt Campbell has yet to lose to Texas Tech. The Cyclones could potentially be walking into a hornet's nest when travelling to Stillwater. It took a magnificent second half performance by Brock Purdy for Iowa State to put away Kansas last season and he might need that same effort on the road in Lawrence. Three of Iowa State's last four games are at home.
Kansas State: The tables sort of turned scheduling wise for Chris Klieman's team. Instead of opening up the season against West Virginia, Kansas State has to start out the gates with the reigning Big 12 champs on the road. The Wildcats dropped 48 on the Sooners in Manhattan last season, which was the most points they allowed in league play for 2019. No doubt Oklahoma has the opener circled on the calendar. However, the Wildcats' next three games are winnable. Klieman beat Texas Tech's Matt Wells and TCU's Gary Patterson head-to-head in his first season. Kansas State owns Kansas and won 11-straight in the series. However, West Virginia has won four-straight over Kansas State and that game is on the road. Oklahoma State poses a threat, plus Iowa State and Baylor on the road will be challenging. Still, hosting Texas on Senior Day will be special for quarterback Skylar Thompson.
Oklahoma: The Sooners have ruled the Big 12 with an iron fist and the Lincoln Riley era has been phenomenal thus far. So it doesn't matter who's on the schedule for Oklahoma. The Sooners are one of four Big 12 teams with a bye-week after their first two three-game stretches. However, Riley's boys face the toughest three-game slate of any Big 12 team to start the season. Oklahoma will be out for revenge against Kansas State, but Iowa State will be looking for the same in game two. Top those two tilts off with the Red River Rivalry and College football fanatics will quickly find out everything they need to know about the Sooners. Oklahoma will be heavily favored against TCU, Texas Tech and Kansas. Bedlam is one of the most entertaining rivalries in all of College football, but Oklahoma has won five-straight. Baylor on Senior Day was the icing.
TCU: Gary Patterson's team is trying to avoid their third-straight season with a losing record in conference play. The Horned Frogs were better than their record showed last season and several of those pieces return this fall. Not to mention six of TCU's losses came by a touchdown or less. Patterson is one of the longest-tenured coaches in the FBS and the Horned Frogs will need his experience for their first three games. Iowa State, Texas and Kansas State combined for 15 Big 12 wins last season and will be improved for 2020. Getting Oklahoma in Amon G. Carter is a plus, but three of TCU's next four games are on the road. Landing Oklahoma State on Senior Day is beneficial, but Patterson has lost three of the last five to Gundy head-to-head. Still, with all of the Horned Frogs returning talent they should win more games this fall.
Texas: Instead of opening Big 12 play with a landmine game on the road at Kansas State, Texas will square off with Texas Tech at Darrell K. Royal. The Red Raiders are coming off four-straight losing seasons and the Longhorns have won two-straight over them. Not mention Texas outscored Texas Tech 90-58 during that span. TCU was one of two Big 12 teams Texas lost to on the road by double-digits last season. Now Tom Herman's boys wants to return the favor in Austin. Like Oklahoma, Texas has two games to iron out the wrinkles before the Red River Rivalry. Two of Texas' next three games are at home, including a potential top-20 showdown against Oklahoma State. Although the Longhorns haven't won in Stillwater since 2014, the last three games are winnable. Revenge on Senior Day and Texas will be the favorites against Kansas and Kansas State on the road.
LOSERS
Baylor: Dave Aranda inherits a team fresh off a 11-win campaign, including a three-year starter at quarterback. The first-year coach couldn't have asked for a better start with the new schedule. Baylor opens up Big 12 play against Kansas and West Virginia, two teams coming off losing seasons. Afterwards the Bears get a bye-week before returning for their first game against a ranked team. That's when the fun ends for Aranda's squad. The Bears are the only Big 12 team this fall to have a stretch of five-straight games without a bye-week. Not to mention three of those tilts will be against teams currently in the top-25. Traveling to Oklahoma for the season finale would be a daunting task for any team in the league to overcome. It helps Baylor that Aranda knows defense. However, the Bears' have holes to fill and will face some high-flying offenses this fall.
Kansas: The last time the Jayhawks won more than one conference game in a single season was in 2008. Les Miles first year back in the league was tough-sledding, but the Jayhawks showed improvement. Kansas lost three games by single digits. Now Kansas has another uphill battle with the new schedule this fall. The Jayhawks open conference play against a team that scored 61 points on them, which was the last game they played. Then there's a measuring stick game against Oklahoma State. The Jayhawks haven't beat the Pokes since 2007. A brutal four-game stretch that includes West Virginia, Kansas State, Iowa State and Oklahoma looms. The Jayhawks do catch a break after that gauntlet with their second bye-week. Still, by the time Kansas returns to play Texas, the season could potentially be a wash. Regardless of the matter, Miles knows the Big 12 and will adjust accordingly.
Oklahoma State: Mike Gundy is the longest-tenured head coach in the Big 12 and been at the helms of his alma mater since 2005. However, over this summer Oklahoma State became the most scrutinized program in the Big 12. Now the coaches and players are ready to just get back to football. Gundy has one of his most talented teams in recent years and a durable slate with the new schedule. The first two games are against Baylor and West Virginia, two teams coming off losing seasons. However, after the first bye-week, a daunting four-game stretch looms for the Cowboys. Baylor, Iowa State, Texas and Kansas State combined for a 23-13 record in Big 12 play last season. The Cowboys' second bye-week will be much needed after that meat grinder, but then they'll have to be ready for Bedlam. That'll leave the Cowboys limping into their last two games.
Texas Tech: Matt Wells will need to be ready in year two with three challenging games to start the season. Texas, Kansas State and Iowa State all are coming off winning seasons and are projected to be in the top tier of the Big 12. The bye-week after that rough three-game stretch will definitely be needed, but the Big 12 meat grinder looms for the Red Raiders. It helps that three of Texas Tech's next four games are at home, including Oklahoma on Halloween.  Everything starts out dark for the Red Raiders, but there's light at the end of the tunnel with two winnable games to close the season. Texas Tech dropped 45 on the scoreboard and upset Oklahoma State in 2019 and will need that same type of performance. The Red Raiders were Les Miles' only Big 12 win last season, so Wells can't take him lightly.
West Virginia: Neal Brown's first year was a rough transition. This fall his team opens up the season against a ranked team on the road instead of at home against Kansas State. However, three of the Mountaineers' next four games are at home. Texas and Iowa State are on the road this fall and West Virginia lost to both of those teams by double-digits last season. Hosting Oklahoma on Senior Day could potentially be a gift and curse. Sure it'll put the Mountaineers in the spotlight, but by that time in the season the Sooners will be on a mission to make a statement for the Playoff committee. Traveling to Jack Trice to play a Iowa State team looking for revenge may be the straw that breaks the camel's back for West Virginia. Still, there's good reasons for Mountaineer fans to be optimistic in Brown's second season.