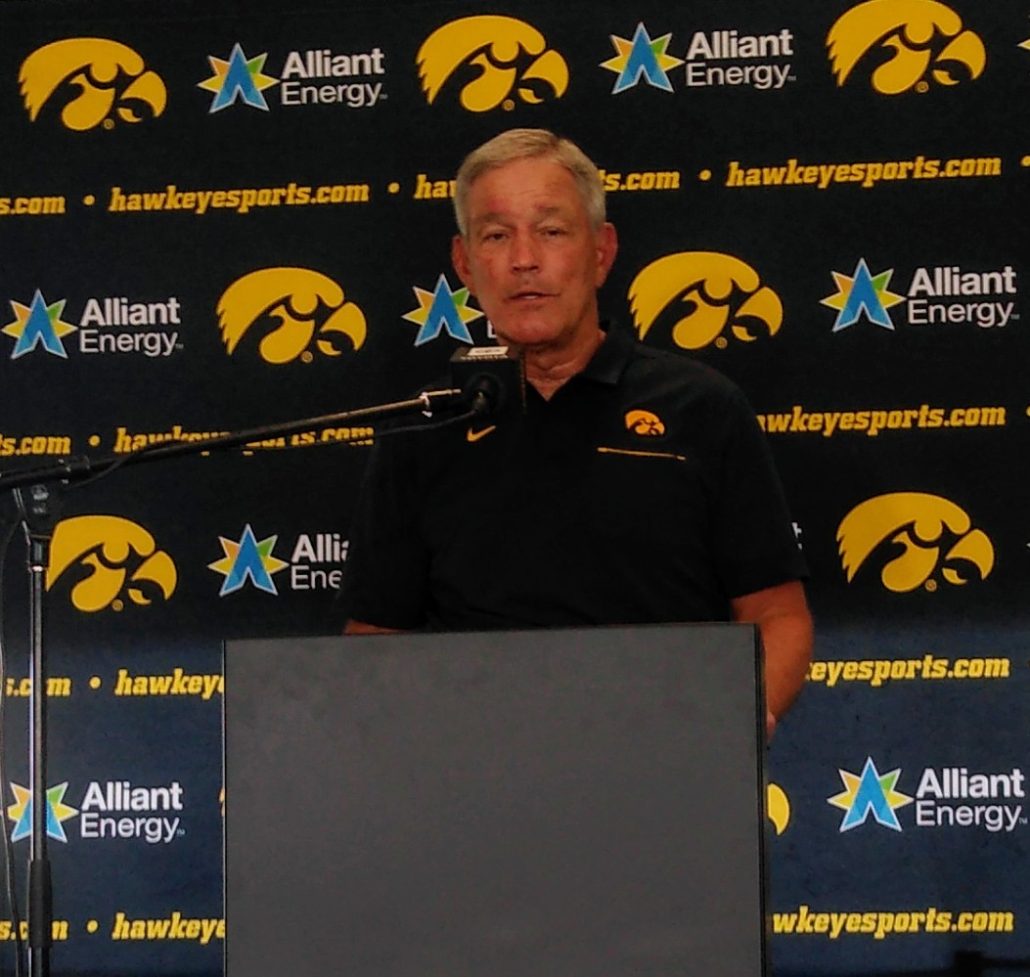 IOWA CITY, Ia. — Over the past 30 days the 64-year old coach has watched Iowa become the most scrutinized program in College Football.
The Hawkeyes are trying to move forward from the Chris Doyle debacle, while coping with COVID-19 protocol. After everything surfaced a month ago, the program has been under a microscope with the review board.
Still, Ferentz has been all about change, appreciates the input from current and former players and likes what he sees in the team's strength and conditioning. Everything is more direct now. Leaders have also stepped up in team meetings. What Ferentz is learning and teaching is to honor each individual's opinions and beliefs, but to do so with respect.
"The past five to six weeks have been eventful, obviously very educational I think for everybody," Ferentz said. "Going back six weeks ago there has been a lot of hard conversations, very emotional conversations and I'm very proud of the people in our program."
One of the heated topics of discussion was the team's stance on the National Anthem. Which is something Ferentz received a lot of emails about. However, the coach is still unsure if they've reached a right answer on that.
Ferentz gave credit to his staff for their support and most importantly his players for how they've handled everything with the review board. He believes it all has been beneficial and a good time to elaborate on the program.
America is going through turbulent times and the road to the 2020 season hasn't been easy for the Hawkeyes. The pandemic has brought the College Football world to its' knees. So much so that the Big Ten and Pac-12 moved to a conference-only schedule this fall.
That eliminated Iowa's games against Northern Iowa and Iowa State. The Hawkeyes have clashed every year with the Cyclones since 1977. Plus Ferentz believes playing the Panthers on a regular basis is great for the state of Iowa.
"Obviously there's a downsize to that, a big downsize that affects us personally and those games are important to our program," he said. "It's unfortunate, it's disappointing, but I don't know what could've been done to avoid this at this point."
The Hawkeyes already had to make several adjustments to ensure a safe return to campus for all students. The team is training differently and Ferentz has made sure to space out the groups to give players social distancing. Everyone has been tested from coaches to players. Team meals are all takeout and no one can eat at the facility.
"Typically you have guys working by positions and by size, but right now it's more geared towards their social network," Ferentz said. "So it might be four guys that live in a house together that are working together as opposed to before."
Iowa just now opened back up the facility in the afternoon. Now players can throw the football around and do skill work like they used to. Everyone has returned to campus and things have gone quite well so far. Ferentz believes the university has a great medical staff.
"We've been back on campus now since June 8 and experienced some COVID in our program certainly, like everybody" he said. "The symptoms have been relatively minor, no individual has been affected greatly and certainly no hospitalizations."
All visitors who enter the facility must complete a questionnaire and have their temperature checked. Ferentz is just grateful his players are living normal lives and staying safe. In his eyes, football is all about bringing people together, but it's unfortunate they have no control over that at the moment.
Despite Ferentz being the longest-tenured coach in the FBS, he still has never experienced the sport at a crossroads like this. So much detail and structure to how a full season will be played out remains unknown and Ferentz is taking everything day by day.
"Obviously none of us know, none of us coaches know, nobody in the world knows," Ferentz said. "More importantly, a lot of people that are making the decisions don't know what the season is going to bring."