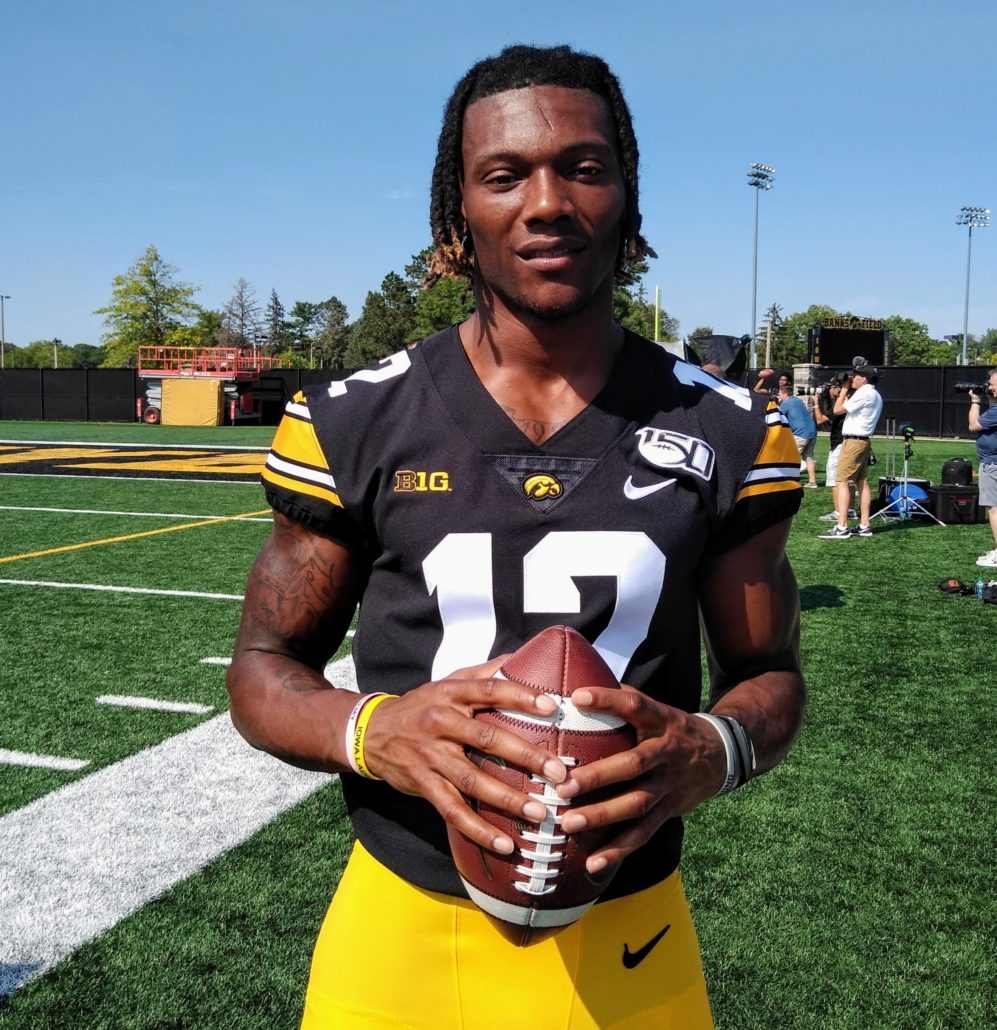 IOWA CITY, Ia. — Iowa's veteran receiver has two years worth of starting experience and has embraced a leadership role.
Despite not staying consistently healthy during that span, Smith hauled in 65 passes, 800 receiving yards and seven touchdown catches. However, he wants to be just as impactful off the field and can't help but notice the changes going on in the College Football world.
Kansas State and Texas players threatened to boycott team activities if changes weren't made by the Universities. Hawkeye players themselves were backed into a corner when the program made headlines for all the wrong reasons last month. Still, they remained strong through it all, rallied behind their coach and avoided a divided locker room.
Having everyone address their concerns on the forefront during team meetings is what Smith believes changed campus life. There's a different vibe about the program now in his eyes and it all started with players using their voice.
"My personal opinion I do think it feels different in a better way," Smith said. "I feel like the players are more comfortable and more outspoken."
Iowa has players from all parts of the country, including Florida, Illinois and New Jersey. Not to mention Smith is a Mississippi native, who's very familiar with the history, but doesn't share it with his teammates. The state recently retired the confederate symbol on Mississippi's flag after 126 years.
It was something that surprised Smith because he never thought it would happen. Still, he's proud of the big step forward back at home. The fact that Mississippi State's star running back sparked it all when he refused to play until changes were made, is what impressed Smith.
"Kylin Hill, he's one of my friends," he said. "I definitely think that was a great thing to use your platform, your power to have a voice and promote change."
The six-foot-two, 219-pounder is remaining in his program's corner during times of despair. He has quickly learned how easy it is for the nation's perception to change. Smith understands it's hard to expect everyone to have the same type of personality.
That's why his teammates are embracing the diversity. The players are supporting each other and learning new things about their peers everyday. Smith remains a strong believer in what you say and how you feel is important to others. He plans on using his experience as a student athlete to push awareness and no athlete shall be left behind.
"It's easier to come here, be yourself without feeling judged or criticized for the way you look and talk," he said. "The message I would like to send out is if you come to the University of Iowa your voice will be heard and considered a value to the team."