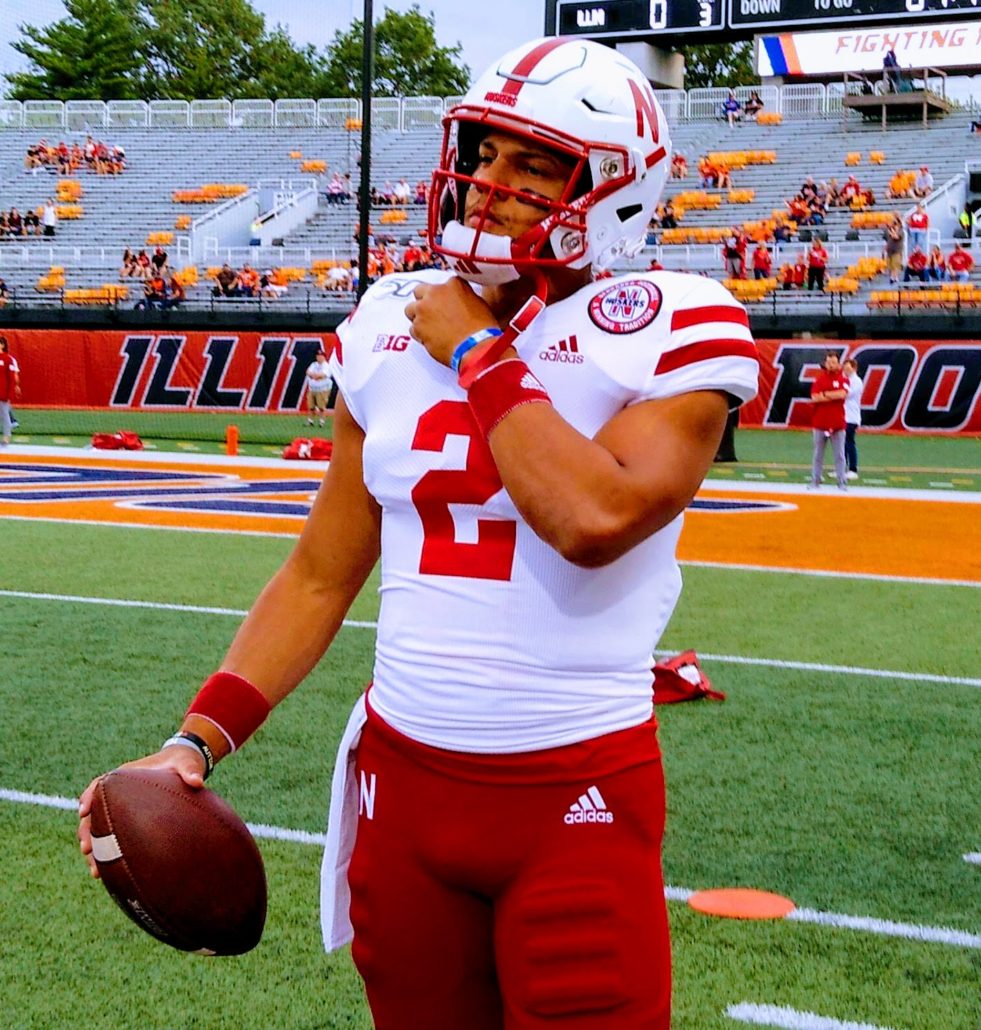 Records are made to be broken.
Every season an individual accomplishes a milestone and embeds his name in College Football lore. It's all about who's going to step up to the plate and embrace being the torch-bearer. Most of the time student athletes' accomplishments are program changers.
Not to mention anything can happen on any given autumn Saturday when players are trying to obtain a certain goal in their careers. It's still a team game and takes tremendous effort from everyone involved in order to reach the mountain top.
These are the best returning players in perfect position to shatter notable school records and build their own legacy this fall.
20) Blake Lynch, Kicker, Kansas State: He converted 19 of his 21 field goal attempts last season, which ranked third in the Big 12. Now Lynch has an opportunity to open Kansas State's record books this fall. It might be asking a lot, but he'll need to convert 23 field goals to become the Wildcats' career leader. Considering Kansas State's offense is only returning two starters, Lynch may have a more heavier workload. He's no stranger to attempting numerous kicks in a single game and made three in the win over Texas Tech. Once Lynch gets into a rhythm, he becomes streaky. The Kansas native already set a school record in 2019 when he made 15 consecutive field goals. Not to mention Lynch only missed two of his 21 attempts inside the 50-yard line last year. With 33 career field goals under his belt Lynch is in store for a special senior year.
19) Larry Roundtree III., Running Back, Missouri: The Tigers started off strong, but the locker room got divided and they crumbled down the stretch. Roundtree had 39 fewer carries and 387 less rushing yards than the year prior. However, he's still in position to have an All-SEC caliber senior season. Unlike Barry Odom, Eliah Drinkwitz is an offensive-minded coach and will try to revamp Roundtree's production this fall. The 5-foot-10, 210-pounder needs 1,542 yards on the ground and 20 rushing scores to become Missouri's all-time career leader. This time around the Tigers won't be under NCAA sanctions for the bowl season, so Roundtree will have extra motivation. Facing Central Arkansas, Vanderbilt, South Carolina and Eastern Michigan in the first four games should provide the rusher with a hot start. Missouri will likely enter the month of October undefeated. By that time Roundtree should be in his groove as the Tigers approach the SEC gauntlet.
18) Andre Szmyt, Kicker, Syracuse: He became a legend with the program after he was the first Orange player to win the Lou Groza Award. Szmyt is one of the most productive kickers in the Power Five and has made 47 field goals over the past two seasons. He also earned All-ACC honors in 2019 and made eight-straight field goals to end the year. Szmyt needs 11 more this fall to become Syracuse's all-time leader. The Illinois native has the best of both worlds, with incredible leg power and extreme accuracy. It's unfortunate when a team has to rely on the kicker for wins, but some individuals embrace the spotlight. If the Orange's offense continues to struggle again, Szmyt will get more attempts. Which means he'll get to pad some cushion once he breaks into the record books. Regardless of the matter, the Orange will take all the points they can get. If Szmyt's leg gets Syracuse back bowl eligible, everyone will be all for it.
17) Charlie Brewer, Quarterback, Baylor: The Austin native is one of the most experienced quarterbacks in the FBS, with 31 career starts. Brewer has won 19 of those games and is in position to shatter several of Robert Griffin III's career records. The new coaching staff will rely on the signal-caller's experience, production and leadership for a smooth transition. Brewer needs 2,625 passing yards, 28 touchdown tosses, 3,994 yards of total offense and 43 total scores. He's also very dangerous with his mobility and had 11 rushing scores last season. Baylor doesn't have to leave the state of Texas for the first four games, with three of them at home. That will benefit Brewer to pad the stats early on against the likes of Kansas, Incarnate World and Louisiana Tech. If Brewer can lead Baylor to two-straight Big 12 Championship Game appearances this fall, he'll definitely surpass those numbers.
16) Max Borghi, Running Back, Washington State: The Colorado native played two seasons under Mike Leach and stockpiled 19 rushing scores. Now all Borghi needs is 15 more on the ground this year to become the Cougars' all-time leader in rushing touchdowns. It benefits Borghi that Nick Rolovich's scheme is similar to what Leach ran at Washington State. So the rusher should expect to put up double-digit rushing touchdowns for a second-straight year. Borghi has a versatile skill set, with a nose for the endzone and contributes on offense in multiple ways. He'll be in position because Washington State's first four games are against Utah State, Houston, Idaho and Oregon State. It'll be a head-scratcher if Borghi doesn't get off to a hot start with those stat games, that'll likely be shootouts. The 5-foo5-10, 197-pounder is very productive and the Pac-12 needs standout players like Borghi flourishing to have national credibility again.
15) JaQuan Bailey, Defensive End, Iowa State: He started the first four games of 2019, but suffered a season-ending leg injury against Baylor. Still, Bailey is tied with Shawn Morehead for No.1 at Iowa State with 18.5 career sacks. All the edge rusher has to do is get to the quarterback once this fall to become the program's No. 1 sack leader. Don't be surprised to see the Florida native bounce back nicely and take out his frustration on opposing quarterbacks across the league. Bailey is a bona fide leader for Iowa State, with a non-stop motor off the edge. His leadership and production was deeply missed down the stretch for the Cyclones. However, there's nothing like having a field general back in the trenches. With Bailey anchoring Iowa State's defensive line, Matt Campbell has one of the most experienced defenders in the Big 12.
14) Adrian Martinez, Quarterback, Nebraska: The Huskers have stayed home for the past two bowl seasons under Scott Frost, but Martinez still put up decent numbers when healthy. He had a promising true freshman campaign, but suffered a sophomore slump. The offensive line took a lot of criticism for Martinez's regression because he got sacked 23 times. Not to mention he played with an injured shoulder, which he had surgery on this last December. However, the California native is approaching year three in the system and the pressure will be on him to deliver. Martinez needs 4,863 yards of total offense to surpass Tommy Armstrong Jr. as the Huskers' all-time career leader. Accomplishing that feat this fall is not far fetched if the offense is orchestrated right and Martinez remains healthy. After all, McKenzie Melton stockpiled 4,650 yards of total offense during UCF's undefeated season under Frost in 2017. Martinez will be operating under a new Offensive Coordinator Matt Lubick, but Frost still has the final say with calling the plays.
13) Skylar Thompson, Quarterback, Kansas State: The signal-caller can get it done on the ground and through the air for the Wildcats. Thompson is one of the most experienced players in the Big 12, with 27 career starts, including 15-straight. Not to mention his production and leadership was a vital part of Kansas State's success under first-year Coach Chris Kleiman. Thompson is on pace to break several Wildcat career records this fall, including passing touchdowns, total offense and total touchdowns. He needs 19 touchdown passes, 3,204 yards of total offense and 44 total scores to be No. 1 in the program. Kansas State has resurged in the Big 12, but the Wildcats' offense is going through a major overhaul and will be very young compared to other units. With all of the inexperience of his teammates Thompson will have to carry them to the finish line. That alone should help his numbers.
12) Keith Duncan, Kicker, Iowa: He connected on 29 field goals last year, which tied for first in the FBS and was a single-season record for the Hawkeyes. Duncan earned himself a scholarship after he nailed the game-winning field goal on Black Friday at Nebraska. It was a signature moment for the North Carolina native and he blew a kiss at Frost in celebration. When the Hawkeyes' offense struggled to score touchdowns, Duncan displayed tremendous confidence in his kicks and kept his team in games. Iowa fans believe the kicker should've won the Lou Groza Award because of what he accomplished. He'll be receiving a ton of preseason accolades in the coming months and deservingly so. After all, Duncan led the Power Five with 34 field goal attempts in 2019. He needs to make 30 this fall to become the school's all-time career leader. However, Kirk Ferentz would much rather punch the ball in the endzone instead of settling for kicks.
11) Kellen Mond, Quarterback, Texas A&M: Last year he placed a big target on his back when labeled himself the best quarterback in the league at the SEC Media Days. It was a head-scratcher because Mond plays in College Football's toughest division and the Aggies had the nation's hardest schedule. Now he's the most experienced signal-caller in the conference, with 34 career starts and the slate is very favorable for the Aggies. Texas A&M replaces Colorado with Clemson, nabs South Carolina and Vanderbilt from the East and hosts LSU. Mond had so much production over the past three years that he'll shatter several school records midway through the season. The San Antonio native needs 633 passing yards, 16 touchdown passes, 1,297 yards of total offense and 24 total touchdowns to become Texas A&M's all-time career leader in those categories.
10) Tanner Morgan, Quarterback, Minnesota: He was an unknown commodity approaching last season. However, Morgan made a name for himself after he finished second in the Big Ten in passing yards per game. The Kentucky native already set single-season records with the program when he threw for 3,253 yards and 30 touchdowns. Now Morgan needs 34 more touchdown tosses this fall to become Minnesota's career leader. It also helps that he has one of the best wideouts in the country to throw the ball to in Rashod Bateman. Minnesota opens up against Florida Atlantic and Tennessee Tech. Then things get serious with Iowa and BYU on the slate. The Cougars are infamous for beating Power Five teams and the Hawkeyes have won five-straight in the Battle for Floyd Rosedale. He's riding a wave of momentum, but everyone will quickly find out how high Morgan's ceiling could get by October.
9) Brock Purdy, Quarterback, Iowa State: The Arizona native already broke several single-season school records last year when he threw for 3,982 yards and 27 touchdowns. Plus Purdy led the entire Big 12 in passing yards and had five touchdown tosses against Oklahoma. Now he's on deck to carve out more school record books. Purdy needs 3,268 passing yards, 28 touchdown passes, 3,994 yards of total offense and 43 total touchdowns. The Cyclones ended last season on a two-game losing streak by double-digits, so Purdy will enter his junior year with a chip on his shoulder. Purdy also has a plethora of weapons to spread the ball around to and he's dangerous with his mobility. The next step for the six-foot-one, 212-pounder's career is to get the Cyclones their first-ever appearance in the Big 12 Championship Game.
8) Kylin Hill, Running Back, Mississippi State: He's coming off his first 1,000-yard season and has momentum approaching this fall. Hill needs 1,518 more to become the Bulldogs all-time leading rusher. Unfortunately, Mike Leach's Air Raid scheme isn't running back friendly when it comes to rushing yards. The coach never had a 1,000-yard rusher in the backfield during his tenure at Texas Tech or Washington State. Still, having Hill in his arsenal is a huge plus diving head first into the SEC. Although Hill's ground production is bound to slip, he'll still be utilized in other ways. It's likely Leach will lean on the ground game early on with Hill, while the offense transitions. The Mississippi native should be able to put up great numbers in the first four games against New Mexico, NC State, Arkansas and Tulane. October will be very challenging for the Hill and the Bulldogs, with games against Texas A&M, Alabama, LSU and Auburn.
7) Hamilcar Rashed Jr., Linebacker, Oregon State: The relentless defender led the FBS in tackles for loss last season and finished first in the Pac-12 with 14 sacks. Rashed also quadrupled his sack production from the year prior, so it's mind-boggling he didn't receive more recognition on a national scale. Now he's in for a monster senior season and will wreak havoc on quarterbacks around the league. Rashed needs 21 sacks this fall to become the Beavers' all-time leader. It might seem far fetched, but he has the skill set to be within striking distance of those numbers, especially if Oregon State can become bowl eligible. However, the Beavers finished 108th nationally in total defense last year. Which means Rashed needs several of his teammates to step up and play with the same tenacity as he does. He's the heart and soul of the Beavers' defense and is one of the most feared defenders in the league.
6) Sam Ehlinger, Quarterback, Texas: The hometown kid will have a ton of pressure on him for his senior season. Bringing a Big 12 Title back to Austin for the first time since 2009 will be huge for the program. Ehlinger has stockpiled statistics and will be in position to break several of Colt McCoy's records. He'll still has to throw for 4,384 yards, 44 touchdown tosses, 4,425 yards of total offense and 40 total scores to do it. Considering Ehlinger is responsible for most of the Longhorns' offensive production, he'll likely break at least one of those records. He'll have to quickly adjust to new Offensive Coordinator Mike Yurcich. However, the big boys up front protecting Ehlinger are talented and experienced. A win over LSU at Tiger Stadium in game two will catapult the Longhorns into the top-five and make Ehlinger the Heisman favorite. That would be enough momentum for Ehlinger to pad the stats the rest of the way.
5) Ian Book, Quarterback, Notre Dame: He has been one of the most successful Fighting Irish signal callers in recent memory. Book led Notre Dame to a Playoff berth in 2018 and has gone 20-3 as the team's starter over the past two seasons. Book has a ton to play for in 2020, including a National Championship, Heisman Trophy and the record book. The California native needs 39 touchdown passes and 37 total scores to become Notre Dame's career leader in both categories. Games against Navy, Arkansas, Western Michigan and Wake Forest to open the season will provide Book with great stats. However, Book's measuring stick game will come against Wisconsin in Lambeau, with the nation watching. However, this time around Book will be without dynamic receiver Chase Claypool and sure-handed tight end Cole Kmet. Still, great pass catchers grow on trees at Notre Dame and Book will have his opportunities to make history.
4) Rashod Bateman, Wide Receiver, Minnesota: He averaged over 20 yards per reception last season, which led the Big Ten. Bateman also finished second in the conference in receiving yards and touchdown catches. The Georgia native has a jaw-dropping, 111 receptions, 1,923 receiving yards and 17 touchdown catches over the past two years. This fall Bateman needs 1,383 receiving yards and 17 touchdown catches to become the Golden Gophers all-time leader in both categories. Considering the fact that he'll be Tanner Morgan's go-to receiver this time around, there's no reason why Bateman shouldn't be sitting atop Minnesota's record list by the end of November. He's one of College Football's deep threats and a route running technician, who knows how to stretch the field. With a 3,000-yard passer, a 1,000-yard rusher and receiver, plus five starters up front, Minnesota's offense has a chance to be scary good this upcoming season.
3) Chuba Hubbard, Running Back, Oklahoma State: There has been some legendary rushers in the program's history, including Barry Sanders. However, Hubbard has an opportunity to cement his own legacy with the Pokes. He's the only returning 2,000-yard rusher in the FBS and needs 26 rushing scores to become Oklahoma State's career leader. Mike Gundy's offense is running back friendly, plus Hubbard led the nation with 328 carries last season. That's a great ingredient for a monster junior season from the Canadian. Hubbard likely will be halfway to a 1,000 yards after the first three games against Oregon State, Tulsa and Western Illinois. Those three teams will give Hubbard a tune up before conference play begins. Once the Cowboys hit that meat grinder in their schedule, the spotlight will be on Hubbard. After all, he's trying to become the first running back to win the Heisman since Alabama's Derrick Henry.
2) Ja'Marr Chase, Wide Receiver, LSU: He set single-season school records in receiving yards, touchdown catches and won the Biletnikoff as the nation's best receiver. Chase accomplished all of that despite sharing a bevy of catches with his teammates. Now all the Louisiana native needs is four touchdown receptions to become the Bayou Bengals career leader. That'll be an amazing feat when you think of receivers like Odell Beckham Jr., Early Doucet and Dwayne Bowe who passed through the program. Chase will likely surpass that in game one against UTSA. However, it's hard to imagine he'll have the same success with a new quarterback throwing to him and the loss of Joe Brady. Chase already been to the mountaintop of College Football. So it remains to be seen if he has anything left to prove. After all, Chase likely would've been a first-rounder in this year's NFL Draft had he been eligible.
1) Trevor Lawrence, Quarterback, Clemson: He's the most accomplished player in College Football and the game's only returning starting quarterback with a National Championship under his belt. Lawrence has played for all the marbles for two-straight seasons and has an opportunity to become one of the legendary individuals the game has ever seen if Clemson can the table again as expected. The Georgia native is a jaw-dropping, 25-1 as the Tigers' starter and needs to throw at least 42 touchdowns to become Clemson's all-time leader. However, losing star receiver Justyn Ross for the season will have a domino effect on Lawrence's outside throws. Still, he's the type of quarterback that makes others around him better and he has an aura drenched in confidence. The Tigers' dynasty isn't over by far and Lawrence has a chance to add another ACC Title, National Championship and a Heisman to the trophy case before darting off to the NFL.