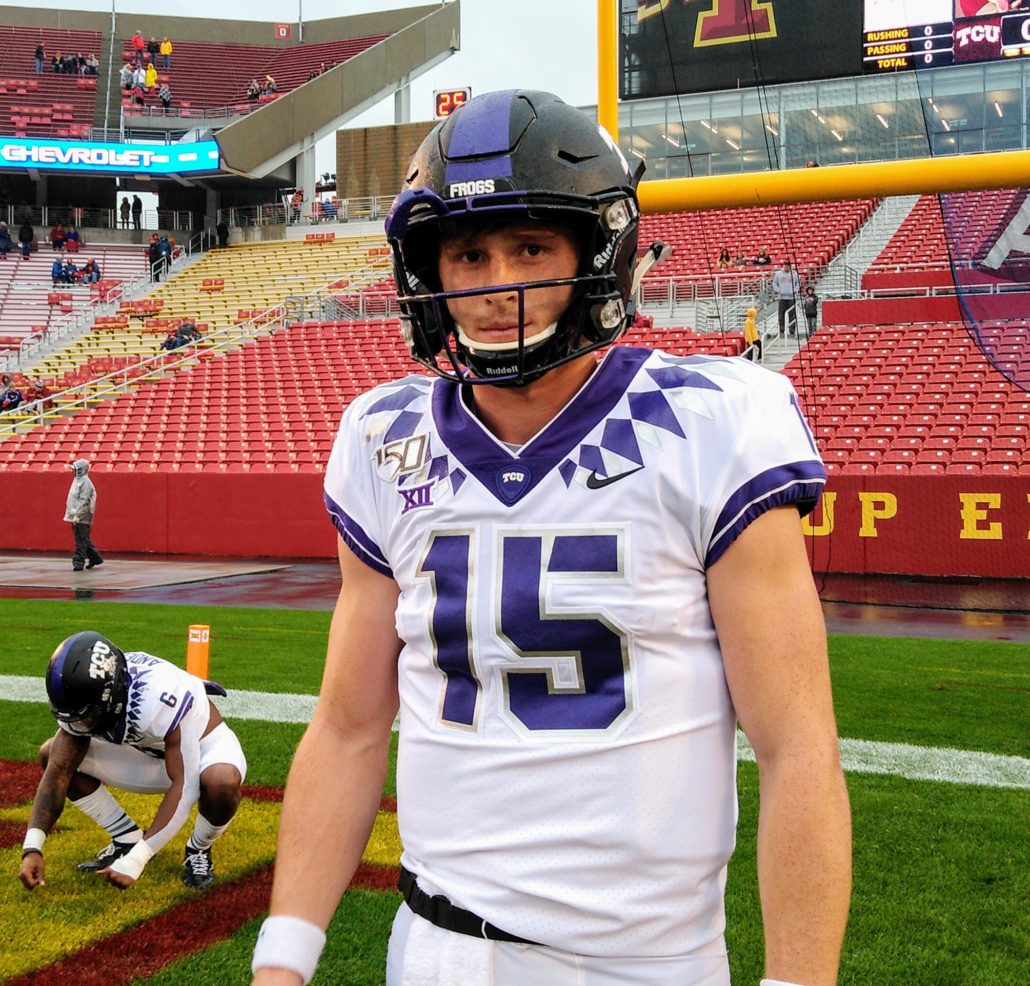 In today's game of College Football, true freshmen don't redshirt unless they have to.
After signing that letter of intent some of them are ready and on campus participating in spring drills. By the time fall camp rolls around all of their hard work is recognized by their teammates and coaches. By game one they get thrown to the wolves and have to prove their worth to the team.
However, like Leonidas in the movie 300, they return back to the sidelines with the wolf's fang pendant. Coaches love players fresh out of high school who can contribute on any given autumn Saturday. The icing on the cake is having those same players, who put in the work and made a name for themselves, back on the sidelines for their sophomore year.
The hype machine is in full effect and College Football fanatics are wondering what these true sophomores can do for an encore this fall. Here are 15 skilled players from around the Power Five, who established momentum and ready to create their own legacy.
Kedon Slovis, QB, USC: Coming out of fall camp the former three-star prospect was expected to be J.T. Daniels' backup. However, the Arizona native was the next man up after Daniels suffered a season-ending injury and Slovis never looked back. He took the conference by storm, after throwing for 30 touchdowns and was named the Pac-12's Freshman of the Year. Slovis passed for 16 more touchdowns and won three more games than Daniels' 2018 season. The Trojans' offense finished second in the league in passing yards, behind only Washington State. With Daniels back fully healthy Offensive Coordinator Graham Harrell will have two proven quarterbacks in his arsenal, but clearly Slovis has the momentum and grip on the starting job.
George Pickens, WR, Georgia: The Bulldog's wide receivers had a lackluster year in 2019 and the offense had to lean heavy on the running game. Pickens was the bright spot out of that group and led Georgia in receptions, receiving yards, touchdown catches and earned the SEC's All-Freshman team. Standing at six-foot-three, the Alabama native is a mismatch on several defenders out in space. Pickens saved the best for last and had his coming out party in the bowl win over Baylor. He caught a career-high, 12 passes for 175 yards and a score. This fall Pickens will be a safety net for new quarterback Jamie Newman whenever he's in doubt.
Breece Hall, RB, Iowa State: He was one of the Cyclones' top recruits from 2019 and lived up to his billing. Hall emerged out of a crowded backfield and led the Cyclones in carries, rushing yards and touchdowns on the ground. The Kansas native surpassed the century mark in rushing against Kansas, West Virginia, Oklahoma and Texas. The former four-star prospect also caught 29 balls out of the backfield. Quarterback Brock Purdy along with Hall, form one of the best backfields in the Big 12 for 2020. Having a firm grip on the position means Hall should be Iowa State's first 1,000-yard rusher since David Montgomery.
George Karlaftis, DE, Purdue: The hometown kid was the Boilermakers' No. 1 recruit of 2019. Karlaftis stepped on the scene and immediately made himself a household name in the Big Ten. He finished third on the team in tackles, with 54, and fourth in the Big Ten, with 17 stops behind the line of scrimmage. The six-foot-four, 265-pound edge rusher became Purdue's first freshman to have at least seven sacks since 2000. Karlaftis has good instincts for a defender his size and also picked off a pass on his way to earning All-Big Ten honors. He'll anchor the Boilermakers' defensive line and should be able to wreak havoc on opposing quarterbacks.
Derek Stingley, CB, LSU: The former five-star prospect backed up all they hype behind his rating and solidified he's a real deal corner. The ballhawk finished fourth in the FBS in interceptions, with six and broke up an SEC-best, 21 passes. Stingley was named the SEC's Newcomer of the Year and he's keeping LSU's legacy alive as Defensive Back University. The six-foot-one, 190-pounder, has displayed great instincts and speed of an elite defender in the secondary. The Baton Rouge native has the skills to shutdown half of the field. He'll be required to cover the opposing team's best receiver.
Max Duggan, QB, TCU: Gary Patterson snatched the former four-star prospect out of the backyard of Iowa, Iowa State and Nebraska. Duggan instantly showed why he was the Horned Frogs' No. 1 recruit. The Council Bluffs native did go through some growing pains, throwing three interceptions apiece in losses to Baylor and Oklahoma State. However, Duggan finished the season with 2,632 total yards and scored 21 total touchdowns. He rumbled over 100 yards on the ground against Kansas State and threw for over 300 against Texas Tech. Still, there's plenty Duggan wants to accomplish at the position, including getting TCU to a bowl game. Now that he's no longer a wide-eyed freshman, expect tremendous strides from Duggan.
David Bell, WR, Purdue: The former four-star receiver had a monster true freshman campaign with the Boilermakers. Bell led the Big Ten in receiving yards, tied for first in receptions and caught seven touchdown passes.  The Indianapolis native's video game numbers earned him all-conference honors and he was named the Big Ten Freshman of the Year. However, Purdue could never find any consistency at the quarterback position and finished with a losing season for a second-straight year under Jeff Brohm. With everyone finally back healthy, the Boilermakers should have a dangerous offense for the Big Ten to deal with this fall.
Shane Lee, LB, Alabama: The Crimson Tide's defense was riddled by injuries and took a step back last season. The unit allowed 41 or more points in losses to LSU and Auburn. With everyone back healthy the Crimson Tide's defense should be drastically improved for Nick Saban. Lee will be one of those players and he's an enforcer in the front seven. He has tremendous versatility as a defender, finished second on the team in tackles, had 4.5 sacks and an interception. The Maryland native tallied 17 total stops in Alabama's last two games against Auburn and Michigan. Still, the six-foot, 246-pound backer, will play with a chip on his shoulder and build on the productivity.
Joshua Youngblood, KR/WR, Kansas State: The former two-star prospect turned out to be one of the nation's most dangerous return men. Youngblood returned kickoffs for touchdowns against Iowa State, Texas and Texas Tech. He hails from the speed state and displayed enough of that talent to be named the Big 12's Special Teams Player of the Year. Youngblood is out to prove he's more than just a return specialist. He has been working hard on his receiving skills and hopes to contribute in a variety of ways for the Wildcats' offense.
Bo Nix, QB, Auburn: He was one of the biggest surprises to the SEC last season. No one expected much out of Nix after he had rough outings against Oregon and Florida. However, he finished the season with 2,542 yards through the air, 313 on the ground and 23 total touchdowns. Not to mention Nix became Auburn's first-ever true freshman quarterback to beat Alabama. He also showed leadership potential in the road win at Texas A&M and was named the SEC's Freshman of the Year. The quarterback position hasn't been a strength for the team since Nick Marshall left, but Nix has shown great promise.
Kayvon Thibodeaux, DE, Oregon: The South Central, Los Angeles native was all that and then some. The former five-star prospect showed the nation why he was the Ducks' No. 1 recruit in 2019. He finished second in the conference with 14 tackles for loss, third with nine sacks, and was named the Pac-12's Freshman Defensive Player of the Year. Thibodeaux's success also earned him freshman All-America honors. Oregon's defense was arguably the best unit in the league last season and should be even better in 2020. Mario Cristobal has recruited well on that side of the ball and will count on Thibodeaux to set the tone. Opposing Pac-12 quarterbacks will be locating where he's at on the field on every play.
Demani Richardson, S, Texas A&M: In order for Jimbo Fisher to take that next step in year two with the Aggies, there'll have to be improvement with the wrecking crew. Richardson was a vital piece and showed maturity beyond his youth. The former four-star prospect had an impressive freshman campaign, racking up 71 tackles and picking off a pass. Standing at six-foot-one and weighing 210 pounds, Richardson has great range and a nice vertical. The Texas native earned a spot on the SEC's All-Freshman team and will be a leader in the Aggies' secondary. Expect another solid season for Richardson's second go around.
Wandale Robinson, WR, Nebraska: The Kentucky native was a spark for Scott Frost's offense and he tried to get the talented receiver as many touches as possible. Despite being banged up after Nebraska's loss to Indiana, Robinson still managed to finish the season with 1,029 total yards. He also scored five touchdowns and went over the century mark in receiving yards in the nail-biting win against Northwestern. Not to mention he earned freshman All-America honors. The Huskers' offense was missing a deep threat on the outside. Still, Robinson is a playmaker in the slot and with the departure of J.D. Spielman, he'll have to take on a bigger role this fall.
Sam Howell, QB, North Carolina: He was the Tar Heels' No. 1 recruit last year and had statistically the best season of any freshman signal-caller in the country. Mack Brown picked up the pieces from a three-win team and led them to seven victories, including a bowl win in his first year back in Chapel Hill. Howell was the biggest reason for North Carolina's turnaround and he earned third team All-ACC honors. His 38 passing touchdowns were more than Clemson's Trevor Lawrence, despite playing in two less games. The North Carolina native also finished with 246 yards on the ground to go along with a rushing score. Howell threw for three or more touchdowns against Temple, Appalachian State, Georgia Tech, Virginia, Virginia Tech, Pittsburgh, Mercer and NC State.
Jammie Robinson, S, South Carolina: The SEC was full of freshman phenom defensive backs last season and Robinson was one of the most talented ones. Will Muschamp has an eye for defensive talent, so it's no surprise Robinson ended up with 62 tackles and an interception for the season. He combined for 21 solo tackles in South Carolina's last two games against Texas A&M and Clemson. It all led to the 5-foot-11, 200 pound safety securing a spot on the All-SEC Freshman team. The former four-star prospect will bring the noise again from the Gamecocks' secondary.