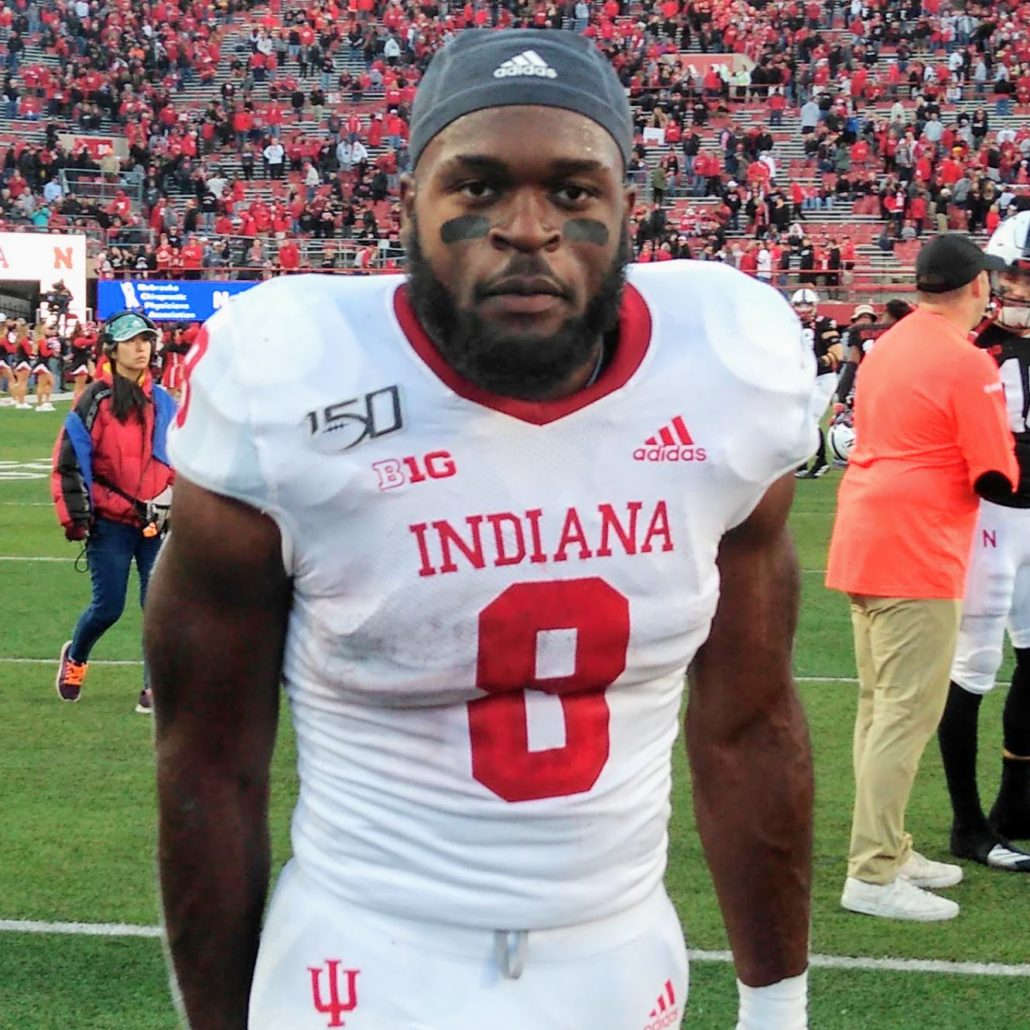 It's all about having vision, keeping the pressure off the quarterback and making a defense think twice on every play.
Being a productive running back doesn't mean you have to be the fastest or strongest offensive player on the field. If you have heart, give a hard-fought effort and play with passion the yards will come. However, nothing happens without the big boys up front opening up gaping holes to run through and battling in the trenches.
It's always a plus to have good hands to catch the ball out of the backfield and solid blocking is a must. Rather you're a rusher who loves to run in between the tackles or a burner who loves to hit the sidelines, scoring is all the same. Despite the fact that no running back has won the Heisman since Alabama's Derrick Henry in 2015, the position remains vital in today's game.
Still, there'll be a new Doak Walker Award Winner this fall and don't be surprised to see several of these returning Power Five running backs as semifinalist for the hardware.
Max Borghi, Washington State: Two years on campus and the all-purpose back thrived in Mike Leach's offense. Borghi led the team in rushing, hauled in 86 passes, racked up 1,435 total yards and scored 16 touchdowns last season. The Colorado native likely was the first player on new Coach Nick Rolovich's mind when he came from Hawaii. The coaching transition should go smooth for the Cougars' offense and Borgi will be just as productive. After all, Washington State led the entire FBS in pass attempts, with 710, Hawaii finished second with 635.
Rakeem Boyd, Arkansas: The Houston native was the only bright spot from the Razorbacks' one-win campaign last year. Boyd has great size, standing at six-foot and weighing 213 pounds. He used that frame to carve out 1,133 yards on the ground, snatched 19 passes out the air and scored eight touchdowns. Newly-hired Arkansas Coach Sam Pittman was very successful orchestrating offensive lines at Georgia and will find holes for Boyd to run through. He has led Arkansas in rushing for two-straight seasons, and if utilized right, Boyd will have a great senior year.
Journey Brown, Penn State: He emerged out of a crowded Nittany Lion backfield and scored 12 touchdowns last season. Brown surpassed the century mark in rushing in four of Penn State's past five games, including a 202-yard performance against Memphis in the Capital One Bowl. After Kirk Ciarrocca's unit finished third in the Big Ten with 56 touchdowns last season, James Franklin hired him as his Offensive Coordinator. Penn State is loaded at the running back position and Ciarrocca has an arsenal of weapons to operate with. However, Brown has earned his right to get the bulk of the carries.
Zach Charbonnet, Michigan: He led the Wolverines in rushing yards and touchdowns on the ground as a true freshman. Charbonnet displayed workhorse potential and went over the century mark in rushing twice, including 33 carries against Army. All of his 11 touchdowns came in the first nine games, but he had none after that. Jim Harbaugh knows the true sophomore has a nose for the end zone. He'll find ways to get Charbonnet touches in goal line situations. This should help get the young rusher back into his early season mode and build on that momentum he established.
Michael Carter, North Carolina: He was the first Tar Heel running back to rush over a 1,000 yards since Elijah Hood in 2015 and earned All-ACC honors. Carter has led North Carolina in rushing the past two seasons. Not to mention he caught 21 passes last year and was a solid kick returner. Carter scored all three of his touchdown runs against Mercer. He also benefits North Carolina's aerial attack and had two receiving touchdowns. Mack Brown is a veteran coach, who'll continue to utilize Carter's skill set and keep the chains moving in 2020.
Travis Etienne, Clemson: Like former College Football stars Reggie Bush and Percy Harvin, Etienne is just as electrifying with the ball in his hands. Over the last two seasons the 21-year old has rushed for 3,272 yards and 43 touchdowns. Etienne sits atop Clemson's all-time list in rushing yards and touchdowns. He's most lethal out in space and can take it to the house on any given play. Not to mention he led the ACC in rushing touchdowns and averaged nearly eight yards per carry. Etienne surprised everyone when he decided to return for his senior season and he'll be one of the Heisman favorites heading into the fall. Etienne along with quarterback Trevor Lawrence help form the best backfield in the FBS.
Najee Harris, Alabama: The six-foot-two, 230-pounder is a load for opposing defenses to deal with for four-straight quarters. Harris had six games last season where he eclipsed the century mark in rushing, including LSU, Auburn and Michigan. The bruising back took advantage of finally getting the bulk of the carries and rushed for 1,224  and scored 20 total touchdowns. Harris also could have forgone his senior year and declared for the NFL Draft, but instead decided to return to school. Now he's due for a monster senior season and poised to become Alabama's second Heisman-winning running back in the past six years. Harris' breathtaking play against South Carolina will be remembered for quite some time.
Javian Hawkins, Louisville: The Florida native was a big reason for the Cardinals' turnaround in one season under Scott Satterfield. Hawkins had a fabulous freshman campaign, with 1,524 rushing yards, nine touchdowns and earned All-ACC honors. He also finished second in the conference with 117 yards per game. The five-foot-nine, 182-pounder is not the biggest back by any means, but what Hawkins lacks in size, he makes up in heart and effort. Hawkins is the second-leading returning rusher in the league behind Etienne, and everyone wants to see what he can do for an encore. Satterfield will give him every opportunity to lead the ACC in rushing this fall.
Kylin Hill, Mississippi State: He's coming off his best season as a Bulldog after rushing for over 100 yards in seven games and finishing the year with 1,350. Not to mention Hill had a 234-yard outing against Arkansas and scored 11 total touchdowns through 12 games. The Mississippi native set the league on fire and earned first-team All-SEC. He's also the leading returning rusher in the almighty SEC. It will be intriguing to see how Mike Leach utilizes Hill's skill set in his Air Raid attack through conference play. Expect his catching production to increase. If used effectively, the senior could possibly be a dark horse for the Heisman.
Chubba Hubbard, Oklahoma State: It's mind-boggling that the Canadian didn't get more Heisman consideration last season. After all, Hubbard led the entire FBS in carries and rushing yards, plus he scored a jaw-dropping 21 touchdowns. The six-foot-one, 207-pounder was the first Oklahoma State running back to surpass 2,000 yards in a single season since Barry Sanders accomplished that feat in 1988. The only game Hubbard didn't go over a 100 yards in rushing last season was against McNeese and that's because the score was 56-7 after three quarters. Mike Gundy has one of the best offensive minds in today's game and if Hubbards produces those same numbers again for 2020, he'll be a finalist in New York come December.
Keontay Ingram, Texas: He had to share carries with quarterback Sam Ehlinger and fellow running back Roschon Johnson and still led the Longhorns in rushing. Ingram went over the century mark in rushing against Kansas, Oklahoma State, Kansas State and Utah. Not to mention he caught 29 balls out of the backfied and had three receiving touchdowns. Standing at six-foot tall and weighing 220 pounds, Ingram is one of those backs that gets stronger as the game goes on. Coach Tom Herman wants to keep Ehlinger healthy, which means Ingram will likely get more carries this fall. If his blocking continues to improve, Ingram will be a complete running back for Texas.
Stevie Scott, Indiana: He's a big bruiser, standing six-feet tall and weighing 230-plus pounds. Scott is all braun, built more like a linebacker playing running back and he's as physical as they come. Despite missing two games, Scott still led Indiana in rushing and finished with 845 yards on the ground and 10 touchdowns. Not to mention he has steamrolled for 1,982 rushing yards the past two seasons for the Hoosiers. Tom Allen won't hesitate to use Scott as the team's workhorse and he's a load to bring down in the open field. With Michael Penix Jr. back healthy again Indiana will once again have a dangerous backfield for opposing Big Ten defenses to deal with.
C.J. Verdell, Oregon: The speedster is coming off back-to-back 1,000-yard seasons. Verdell also scored 20 total touchdowns for the Ducks during that span. He's arguably the best returning running back in the Pac-12 based on experience and production. The California native rumbled for over 200 yards against Washington State and Utah, plus he shredded Colorado's defense for 171. The young man is electrifying out in space and has 41 career receptions. The question remains if the five-foot-nine, 190-pounder has the frame to be a workhorse-type of back. Verdell has never carried the ball more than 24 times in a single game.
Pooka Williams, Kansas: He's the Jayhawks first back-to-back 1,000-yard rushers since James Sims accomplished that feat six years ago. Williams earned first team All-Big 12 and rushed for 1,061 rush yards, despite missing a game. He also hauled in 27 passes and had two receiving touchdowns. There's no denying Williams is the most talented athlete on Les Miles' roster. However, he needs to stay out of trouble and keep his focus on the field. Miles needs to find ways to get Williams as much touches as possible and with a little luck Kansas might become bowl eligible for the first time since 2008.
Honorable mention
Breece Hall, Iowa State: The Kansas native led the Cyclones in rushing last season and rumbled over 100 yards against Texas Tech, West Virginia, Oklahoma and Texas as a true freshman.
Mohammed Ibrahim, Minnesota: He led the Gophers in rushing in 2018, with 1,160 yards. Had to split carries last season, but now that Rodney Smith's eligibility is used up, Ibrahim should get the bulk of the carries, but will be operating under a new Offensive Coordinator this fall.
Larry Roundtree III, Missouri: Has rushed for 2,045 yards and 20 touchdowns for the Tigers the past two seasons. The senior will need 1,542 yards this year to become Missouri's all-time leading rusher.
Trey Sermon, Ohio State: Rushed for 2,076 yards and 22 touchdowns over the last three seasons with Oklahoma. Now Sermon will be immediately eligible to play for the Buckeyes as a graduate transfer and will try to be the program's eighth-straight 1,000-yard rusher.
Wayne Taulapapa, Virginia: The Hawaii native finished third in the ACC last season with 12 rushing touchdowns. Had two or more rushing touchdowns against Florida State, Duke, Louisville, and Georgia Tech.
SaRodrick Thompson, Texas Tech: He had 12 rushing scores and caught 39 balls last season for the Red Raiders as a freshman. Not to mention Thompson led the team in carries, rush yards and rushing touchdowns.