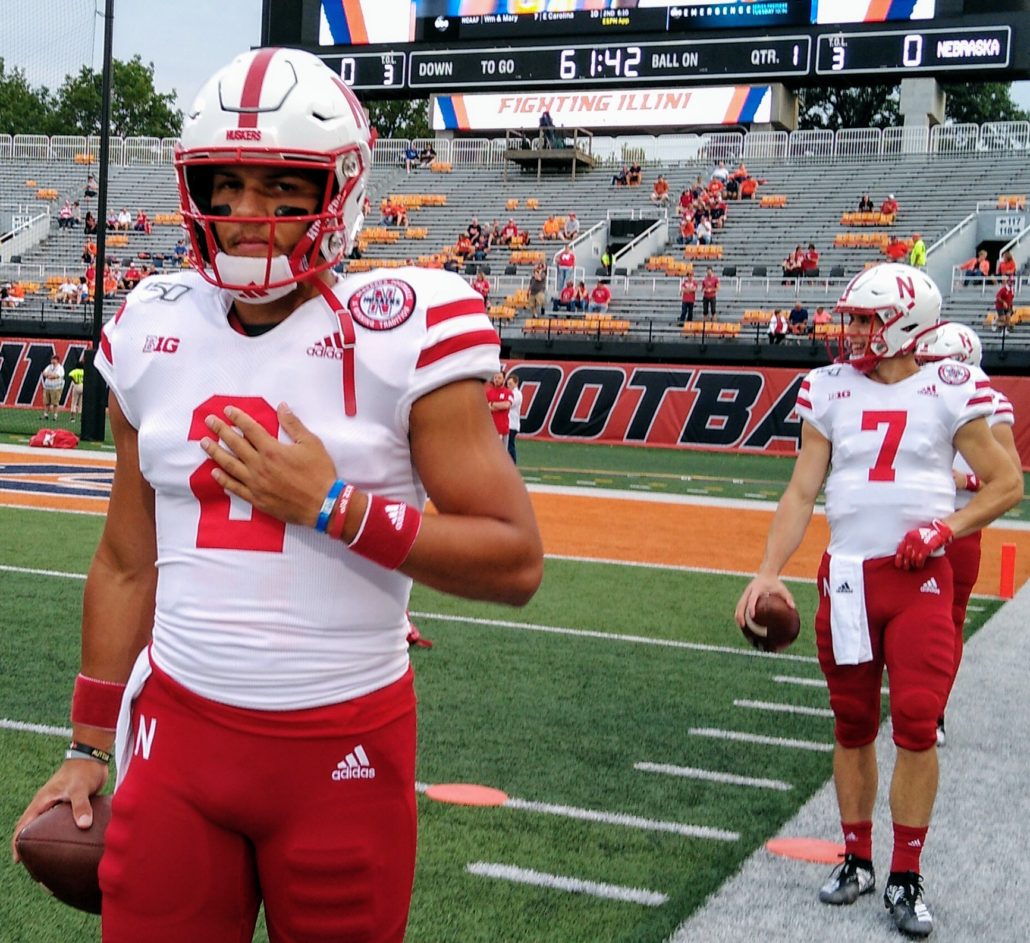 Spring ball is approaching and competition is always fierce when you're playing the most important position on the field. In today's game, even a coach's job depends on choosing the right individual, but it's almost like pick your poison. Egos often get involved when a starter is chosen and no one wants to settle for consolation prizes. So when the smoke finally clears, a coach loses another signal caller to the transfer portal.
Players should be careful when taking the transfer route though. The grass might be greener on the other side and they could have a successful journey like Joe Burrow. However, it's often all muddy starting over fresh and a quarterback could wind up facing the humility like Tate Martell. Patience is no longer a virtue, especially with early enrollees already lined up for spring ball and more arriving in the summer.
Still, quarterback controversy means quarterback competition and usually brings out the best in players. Which makes this position battle so important to the overall well being of the team and gives the fans someone to rally behind. Around the Power Five there are several programs facing these types of scenarios this spring, that'll likely carry over all the way through fall camp.
Alabama: Last season Mac Jones was able to get significant playing time against Arkansas and after Tua Tagovailoa went down with injury. He started Alabama's last three games against Western Carolina, Auburn and Michigan and threw for 937 yards, 10 touchdowns and two interceptions during that span. If it wasn't for Jones' two pick-6's in the Iron Bowl, the Crimson Tide would've clinched a sixth-straight Playoff berth. Although Jones was able to redeem himself in the Citrus Bowl victory, he won't have time to get too comfortable. Five-star, signal-caller Bryce Young arrives in the summer, who has a skill set similar to Tagovailoa's and will push Jones for playing time. Offensive Coordinator Steve Sarkisian passed up on the Colorado job to remain in this situation. So with Nick Saban's approval, he's going to let the two quarterbacks battle it out until a leader emerges.
Iowa: Nate Stanley finally used up his eligibility and fan favorite Peyton Mansell decided to leave the program. Spencer Petras only attempted 10 passes last season and Alex Padilla is a former three-star prospect, who was the lone quarterback in last year's recruiting class and redshirted. Offensive Coordinator Brian Ferentz loves operating with a pro-style signal-caller and Padilla fits the mold. Four-star recruit Deuce Hogan will arrive on campus later this summer. The quarterback position is what kept the Hawkeyes from winning the West last season. The offense struggled against elite defenses like Michigan's, Penn State's and Wisconsin's. Not to mention the unit had to rely too much on star kicker Keith Duncan for points. Ferentz tends to favor experience over raw talent. Still, this will be the first time in a while that he'll have an open competition with the quarterbacks and a new face emerging this fall.
Miami: The Hurricanes offense was flat-out abysmal throughout last season and ended it with a shutout loss to Louisiana Tech in the Independence Bowl. Coach Manny Diaz even fired Offensive Coordinator Dan Enos and replaced him with Rhett Lashlee, who called the plays for SMU's potent offense. Jarren Williams threw for 2,187 yards and 19 touchdowns in 2019, but he decided to transfer after the arrival of D'Eriq King from Houston last month. King threw 36 touchdowns with the Cougars in 2018 and has big play ability. N'Kosi Perry started three games last season and threw for 1,045 yards and eight touchdowns, but he struggled with his completion percentage. Martell is the only other notable quarterback on Miami's roster. He's a former Buckeye, who competed with Joe Burrow under Urban Meyer. After briefly switching to wide receiver, Martell will try to take another crack at quarterback.
Michigan: Shea Patterson received so much criticism after he failed to live up to the hype for two-straight years. A game-breaking quarterback has been the missing piece that kept Jim Harbaugh from beating Ohio State and winning the Big Ten. Now that responsibility falls on the shoulders of Dylan McCaffrey and Joe Milton. Both quarterbacks combined for 27 pass attempts, two touchdowns and an interception last season. McCaffrey is a former five-star prospect, who happens to have a brother that plays for the Carolina Panthers and Nebraska. Milton is the former four-star prospect, who chose Michigan over Florida and Georgia. Both players are pro-style quarterbacks. McCaffrey had a touchdown pass against Notre Dame and Milton had one against Rutgers. Whoever takes the reigns of the Wolverines' offense will be under a huge amount of pressure to not just win for Harbaugh, but for the restless fan base.
Nebraska: There's no denying Scott Frost is facing a pivotal year three in Lincoln. All eyes will be on the quarterbacks. The Big Red faithful is hoping someone emerges as the front runner after the spring. Adrian Martinez and Luke McCaffrey will attempt to win Frost's trust and take charge of the Huskers' offense. Martinez had a promising true freshman campaign, but it all seemed like fools gold after his sophomore slump. He came into the 2019 season as a Heisman favorite and had a tight grip on the position. However, Martinez had injuries and accuracy issues. So this time around, McCaffrey will be on his tail like flies on manure. McCaffrey showed flashes of brilliance last season when he played against Indiana, Maryland and Iowa. Noah Vedral and Andrew Bunch are the other two signal-callers on the roster, but neither had a touchdown pass in 2019.
Oklahoma: Lincoln Riley had a great run with his quarterbacks the past three seasons. Both Baker Mayfield and Kyler Murray won the Heisman, plus Jalen Hurts was last year's runner-up. Not to mention all three led the Sooners to a Big 12 Title and a berth in the Playoffs. Now that torch will be passed onto Spencer Rattler or Tanner Mordecai. Rattler was Oklahoma's five-star recruit in 2019, who appeared in three games last season and had a touchdown pass against South Dakota. Mordecai's only meaningful snaps came against the Coyotes also and he threw for two scores. Both players are dangerous dual-threats, but being a Sooner signal-caller means being under a lot of pressure to win football games. However, Riley's offense is very quarterback-friendly, so whoever wins the job will put up video game numbers this fall. As for now, Rattler is the slight favorite to win the role.
Oregon: Justin Herbert didn't break Marcus Mariota's records with the Ducks, but he was just as productive, had a Rose Bowl victory and left behind a winning legacy. Tyler Shough is the only quarterback on Oregon's roster who took meaningful snaps last season. He only attempted 15 passes, but he finished with three touchdowns tosses and no interceptions. Mario Cristobal has recruited like a monster the past two years and there's stacks of talent at the quarterback position. Cale Millen is the former three-star prospect, who redshirted last season. Four-star prospects Jay Butterfield and Robby Ashford signed with the program this cycle. Butterfield is a pro-style individual, while Ashford has dual-threat capabilities and both plan to be in the mix for the position. It's tough to say if all the quarterbacks will remain with the program after Cristobal makes his decision.
USC: JT Daniels was the Trojans' starter in 2018 and he finished that year with 14 touchdown passes. He suffered a season-ending knee injury in game one of last season and true freshman Kedon Slovis was the next man up. Slovis exceeded expectations after he threw for 3,502 yards, 30 touchdowns and led USC to eight wins. However, Daniels' knee is nearly healed and he wants his job back. After all, Daniels was the one who won the job in fall camp last season. Still, that was when Slovis was raw and inexperienced. Now Clay Helton may have a serious quarterback controversy on his hands and his final decision could potentially hinder his job security. Adding Offensive Coordinator Graham Harrell was a spark for USC. The Trojans averaged 37.3 points over their last six Pac-12 games and the potential is there to put better numbers.
Washington: The Huskies regressed tremendously last season. Washington finished with a losing record in conference play for the first time since 2015. Not to mention Chris Petersen stepped down as head coach and quarterback Jacob Eason moved onto the NFL. Jacob Sirmon once considered transferring from the program after last year's spring game, but he stuck it out as Eason's backup and attempted three passes. Now Sirmon has a chance to win the starting job. He'll be pushed by former four-star prospect Dylan Morris, who's the local kid trying to make a name for himself. True freshman Ethan Garbers will also be in the mix. All three quarterbacks are the pro-style prototype for Washington coach Jimmy Lake. He's going to need one of them to take the Huskies' offense by the helms and get them back to being the elite program of the Pac-12 North.
Wisconsin: No Alex Hornibrook, no problem. Jack Coan stepped in and helped the Badgers clinch a berth in the Big Ten Championship. He finished with 2,727 yards through the air, scored 22 total touchdowns and led Wisconsin to 10 wins. Graham Mertz was last year's star recruit and plenty of Wisconsin fans want to see what he can do. Paul Chryst has a great offensive mind, so he'll make the right decision. However, regardless of who wins the job, they won't have All-American running back Jonathan Taylor to hand the ball off to. So rather Chryst rolls with Coan or Mertz, there'll be plenty of responsibility that will fall on their shoulders. Chryst might play both quarterbacks as Wisconsin approaches a butal three-game stretch that includes Michigan, Notre Dame and Minnesota.