Joshua Youngblood refining his receiving skills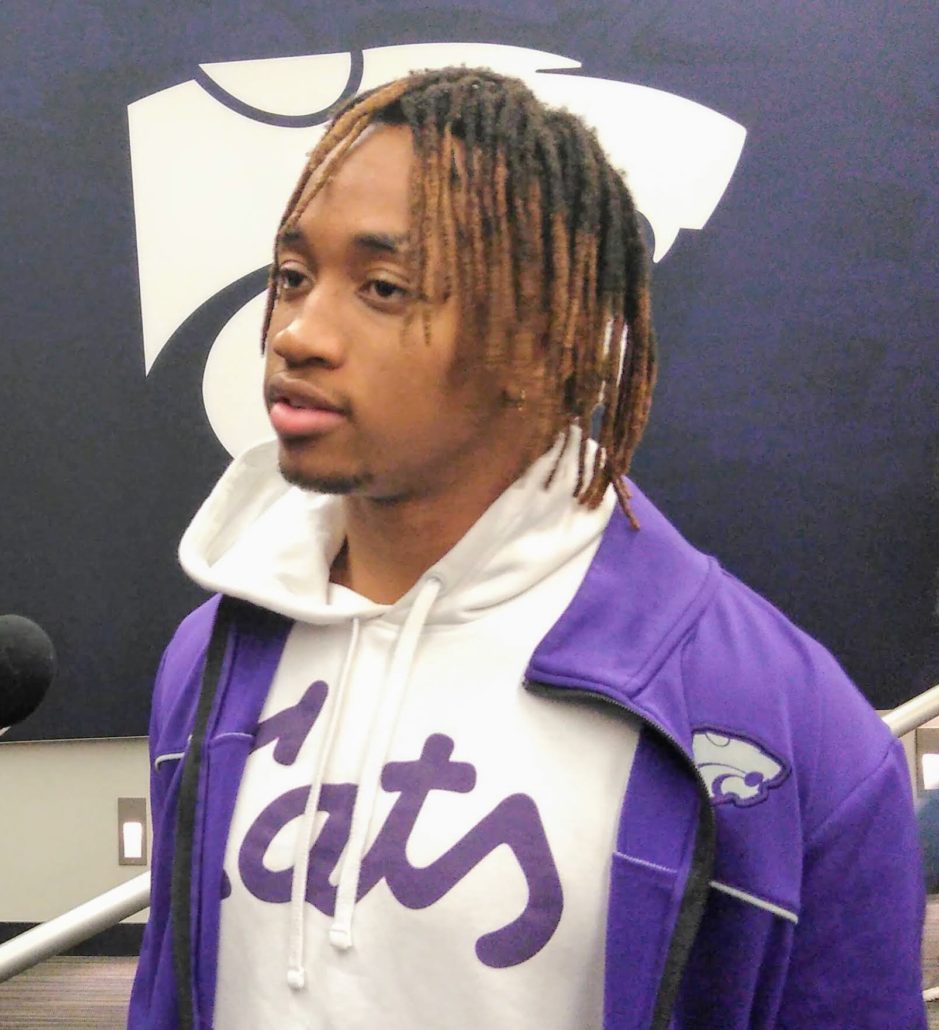 He's one of the most dangerous return men in the country, with track speed to blaze past ongoing tacklers.
Joshua Youngblood returned a kickoff for a touchdown against Iowa State, Texas and Texas Tech as a true freshman. Despite being named the Big 12 Special Teams Player of the Year, the Kansas State wide receiver only hauled in nine passes and wants to prove he's more than just a return specialist.
The former two-star prospect still considers himself raw when it comes to being a complete receiver. Approaching last season Youngblood had a smooth transition to Power Five football, thanks to former Wildcat wideout Dalton Schoen.
"Dalton taught me a lot about work ethic, how he came from a walk on to being a star here," Youngblood said. "Everything that he learned in the past five years he taught me all in like a couple of months."
Youngblood was a sponge and soaked up all the football knowledge Schoen gave on being a productive Big 12 receiver. The Florida native knows he's a threat to take it to the house anytime he's out in space. However, he wants to become more of a scoring threat for Chris Klieman's offense this fall.
Whether he gets the ball is in his hands on jet sweeps, reverses, bubble screens or snaps out of the Wildcat formation, the 5-foot-10, 180-pounder just wants to score in a variety of ways. Not to mention he had a touchdown on the ground last season.
Youngblood was a part of a talented freshman class and believes the group can take big steps this spring.
"I feel like next season when we get all of our opportunities, it's going to be dangerous," he said. "We're going to develop, we develop everyday, but the biggest thing is we're going to be healthy."
He plans on doing a lot of running himself over the next couple of months and striving to deliver a great 40-yard dash time. Youngblood has also been watching film on past Kansas State players, who excelled at returning kicks. Former Wildcat stars like Tyler Lockett and Morgan Burns. As a matter of fact, Youngblood's three kick return touchdowns were the most in a single season, since Burns' four in 2015.
Above all, Youngblood is an elite weapon in the Wildcats' arsenal, who can be used in a variety of ways. He was an unknown commodity coming into last season. Now everyone knows who Youngblood is and won't be kicking to him. Which is why Klieman and his staff will be creating wrinkles this spring in order to utilize Youngblood's skill set.