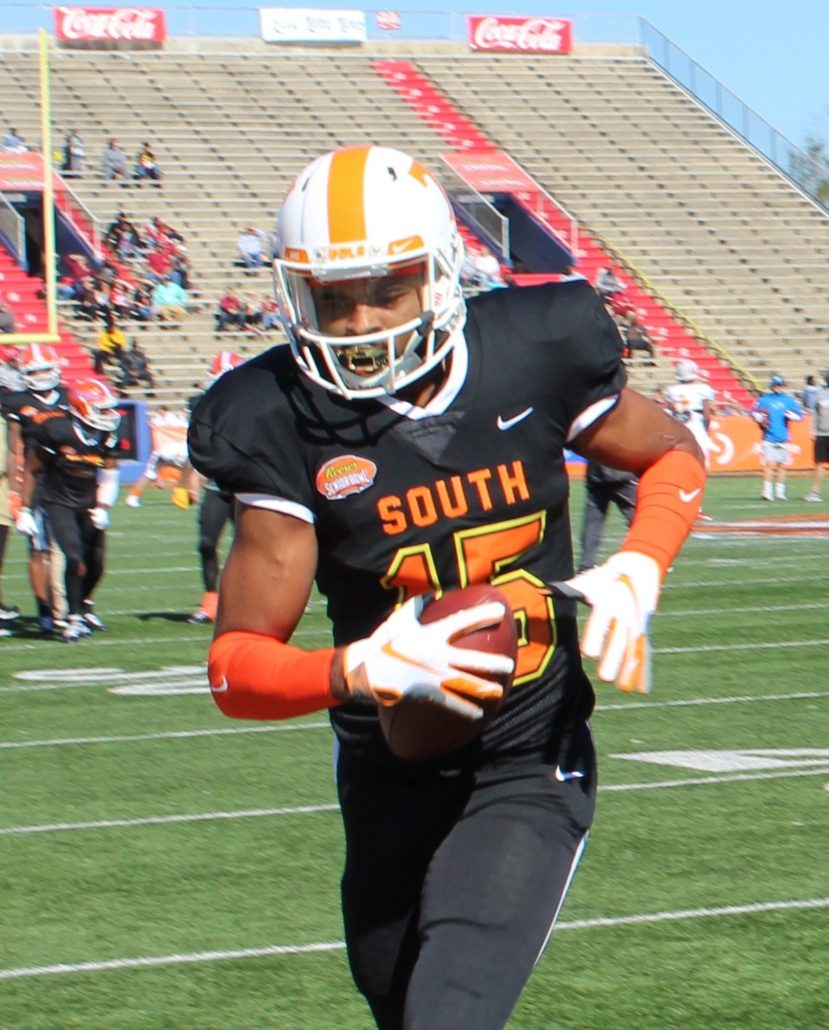 Everyone remembers the head stomp Jauan Jennings delivered to Vanderbilt's Justice Shelton-Mosley that landed him a half game suspension from the SEC.
It was a moment out of character for the talented wide receiver. After all, Jennings is normally the jokester of the crowd, who competes and always makes sure everyone has fun while doing it.
However, the NFL Scouting Combine is a serious matter and less than a week away. The former Tennessee wideout is all dialed in for what will be the most significant moment of his playing career thus far.
The entire process is grueling when it comes to a player's mind, body and soul. Not only is it physical, but it's also mental when you have to answer those tough questions from NFL franchises. Many believe money amplifies the person you already are.
Still, Jennings is prepared to prove his skills are elite and that his character is genuine. He's already riding a wave of momentum after catching an 18-yard touchdown pass in the Senior Bowl last month. The six-foot-three, 206-pounder uses his frame to his advantage and presents mismatches out in space.
The Tennessee native led the Volunteers in receptions, receiving yards and touchdown catches in 2019. Not to mention he surpassed the century mark in receiving yards against Georgia, South Carolina, Missouri and Georgia State.
Jennings knows his work ethic is what got him this far and he remains very confident in his skill set.
"I got great hands and I'm going to keep working with that," Jennings said. "Coming off of my best year this past season and I'm just working to get better."
What makes Jennings a unique individual participating in the Combine is the fact that he's a converted quarterback. Despite being recruited by Butch Jones' staff as a four-star, dual-threat signal-caller, Jeremy Pruitt helped mold Jennings into the elite wide receiver he is today.
He has the physicality part downpacked, but wants to become a more polished receiver and continue crafting his footwork.
"Definitely have to work on my route running first and foremost, that'll come as time goes," he said. "I can't wait to hit the field and work on it."
Jennings can feel the adrenaline flow through his body and the butterflies in his stomach as each day approaches the Combine. Jennings is grateful of the NFL knowledge he gained during Senior Bowl week. He also understands you have to be where your feet is at and lock in. Pruitt instilled that fire in him, which keeps his hunger for more drive alive and why Jennings cherishes being a student athlete in Knoxville.
"Man it was great, it was the best time I had at Tennessee," he said. "I can't wait when all of this is over and I can go back and sit down and talk to Jeremy Pruitt as a NFL player."
As for now it's all work and no play the 22-year old. Jennings is just hoping everything he endures along this journey pays off in the end.