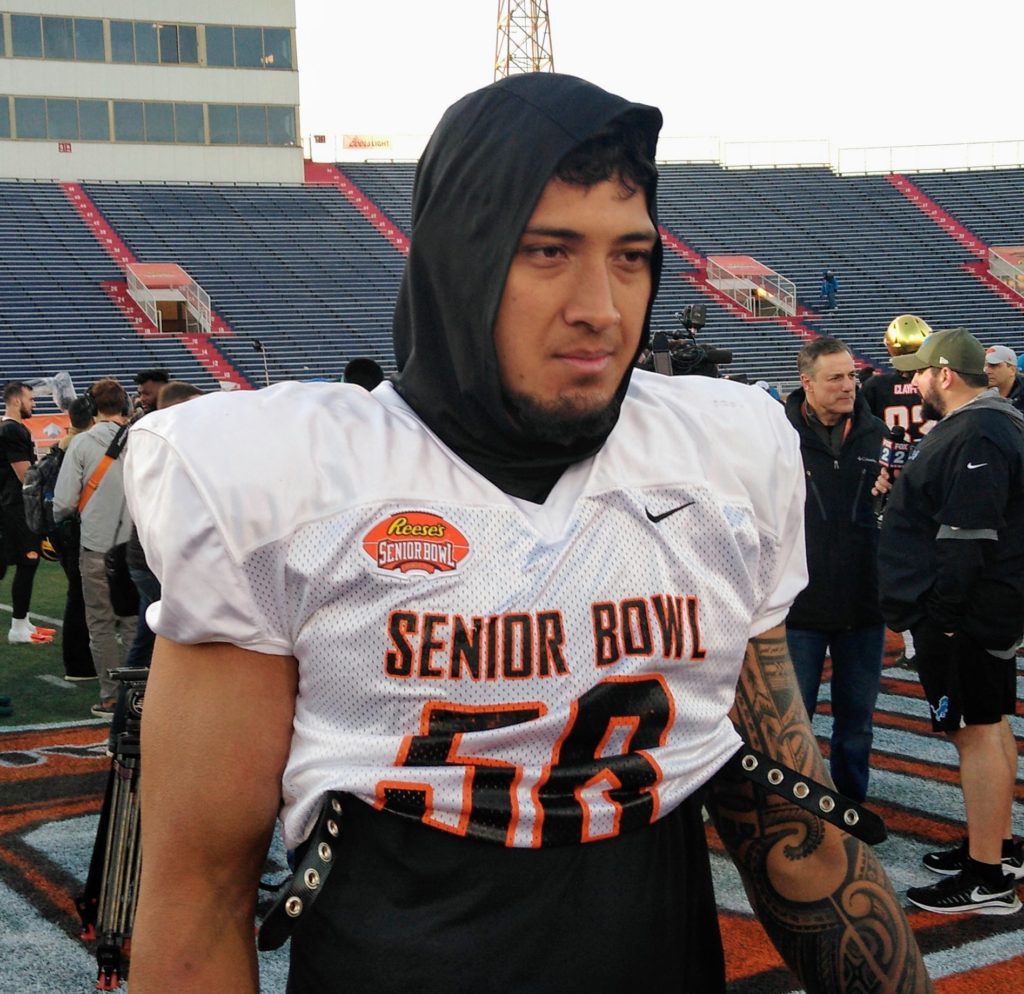 MOBILE, Ala. — He had a two-sack performance in the Senior Bowl Saturday and solidified himself as one of the best edge rusher's in this year's draft class.
Bradlee Anae has always been competitive, consistent and most importantly productive. His jaw-dropping, 30 career sacks ranks No. 1 all-time at Utah and No. 4 in the Pac-12. Anae is an absolute terror off the edge with a nose for the quarterback.
Now the former Ute is on his way up the ladder to the next level. Although Anae is a beast on the field, he handles himself with class off of it. The soft-spoken Hawaii native has great mannerism, grew up a Philadelphia Eagles fan and loves the game of football.
At six-foot-three and 257 pounds Anae has versatility with his frame and can fit both a 4-3 and 3-4 scheme.
"I'm a very twitchy, decisive and more polished type of edge rusher, it doesn't matter," Anae said. "I'm an edge guy, outside linebacker, two and three-point stance, defensive end, wherever a team needs me."
He was just a three-star recruit when he arrived on campus to play for Utah. However, Coach Kyle Whittingham molded him into a flat-out stud and has a great track record for putting his players into the NFL. Anae is very appreciative of what he learned from Whittingham and his time as a student-athlete.
"Coach Kyle is a great guy, one of the most hardest workers you'll see, so having a guy like that lead you and your team is pretty phenomenal," he said.
Anae is excited about his journey to the NFL and knows nothing comes without hard work and sacrifice. So far he has impressed and knows everyone is taking notice. The 22-year old grew up loving the game of football and feels everything comes natural to him once he steps on the field.
He's a student of the game, who has confidence and is constantly looking for ways to improve his knowledge of the sport. Anae is a team-first type of guy and doesn't spend much time talking about himself. Instead he prefers to lead by example and hopes his intensity rubs off on his teammates.
The NFL offers different challenges with playbooks, coaching styles and team bonding, but Anae has a ton of momentum heading to the Combine in March. He believes he's one of the best at his position in this year's class and knows the time is now. Anae will be a prize for any franchise willing to invest in him. Which is why he believes in himself and is ready to deliver the goods.
"I'm excited to be a sponge in the water for coaches at the next level."