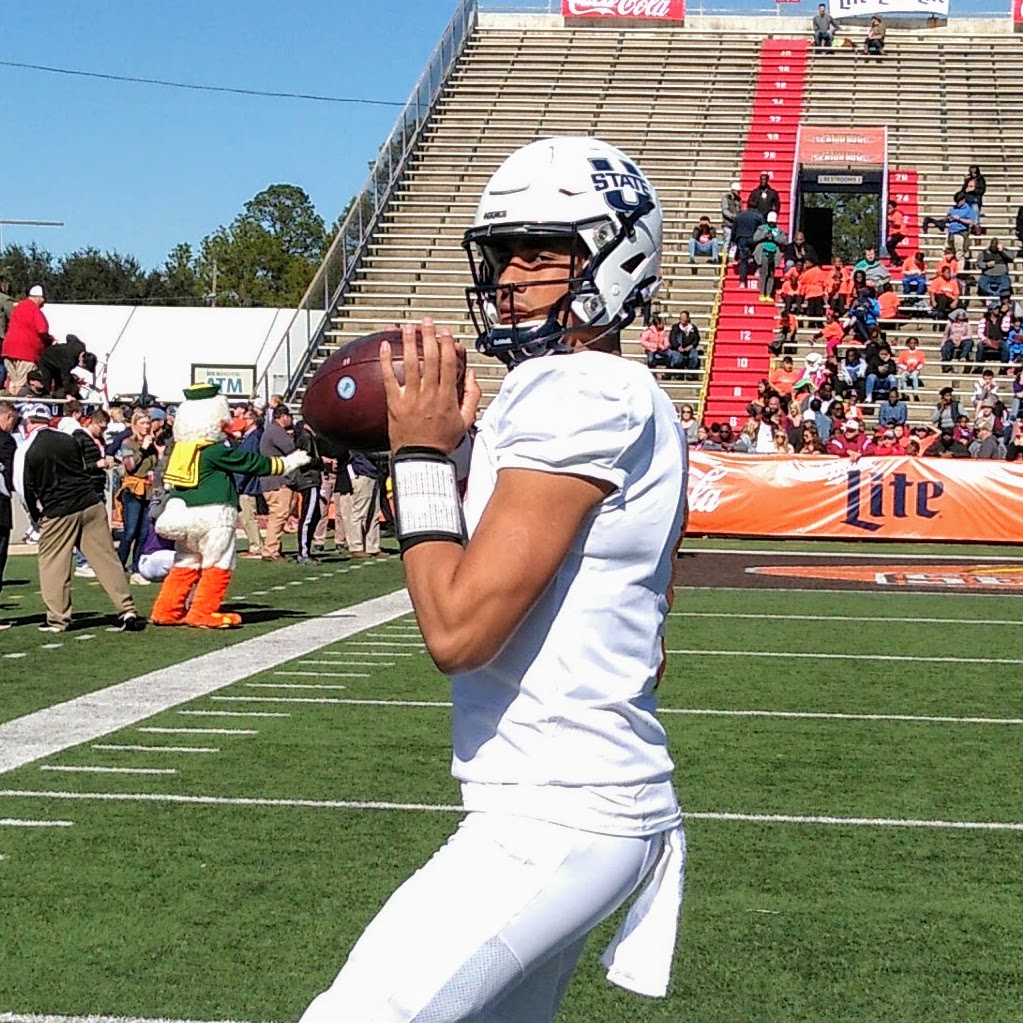 MOBILE, Ala. — He was the unsung quarterback who competed in the Senior Bowl.
Coming from a Group of Five Conference Jordan Love might not be a household name yet. However, he's projected to go in the first round of the NFL Draft by several scouting agencies. Standing at six-foot-three, 223 pounds and equipped with an accurate arm means he has tremendous upside.
Love didn't throw a touchdown pass like he wanted to in the Senior Bowl and had the fewest pass attempts and completions of the three quarterbacks on the North team. Still, he felt good about his performance and not worried about if it effected his draft stock because he heard good feedback all week.
"When I got the invite it wasn't even a decision of if I was going to go, the Senior Bowl is the best out there," Love said. "I never knew what I was going to expect during the week, I just had an open mind."
The California native is Utah State's all-time leader in total offense and threw for 52 touchdowns over the last two years with the program. Love's passing production did decrease this past season. The former Aggie threw for 32 less touchdowns than in 2018. Which is why Love won't settle for complacency and keeps grinding.
The Senior Bowl was just the beginning of a grueling process towards the NFL and Love is just trying to get better day by day. He's grateful of several things he learned from the different coaches during his stay. He bonded with the other quarterbacks and Washington State's Anthony Gordon was his roommate.
"I learned a lot this week, I got stuff I got to work on and I'll keep training and getting ready for the Combine," he said. "I'm going back to California to continue training with my quarterback coach."
The next 30 days will most likely be the most important of the 21-year old's life. The Combine is in March and Love has time to continue critiquing his craft and working on his skill set. There's also Utah State's Pro Day and by that point Love should be at the top of his game.
He considers himself his own worst critic. Above all, Love just wants to prove that he's a franchise quarterback at the next level, regardless of the slip in 2019. If that means he has to go out with a chip on his shoulder than that's what Love will be prepared to do.
"I'm trying to get better at a lot of different things."