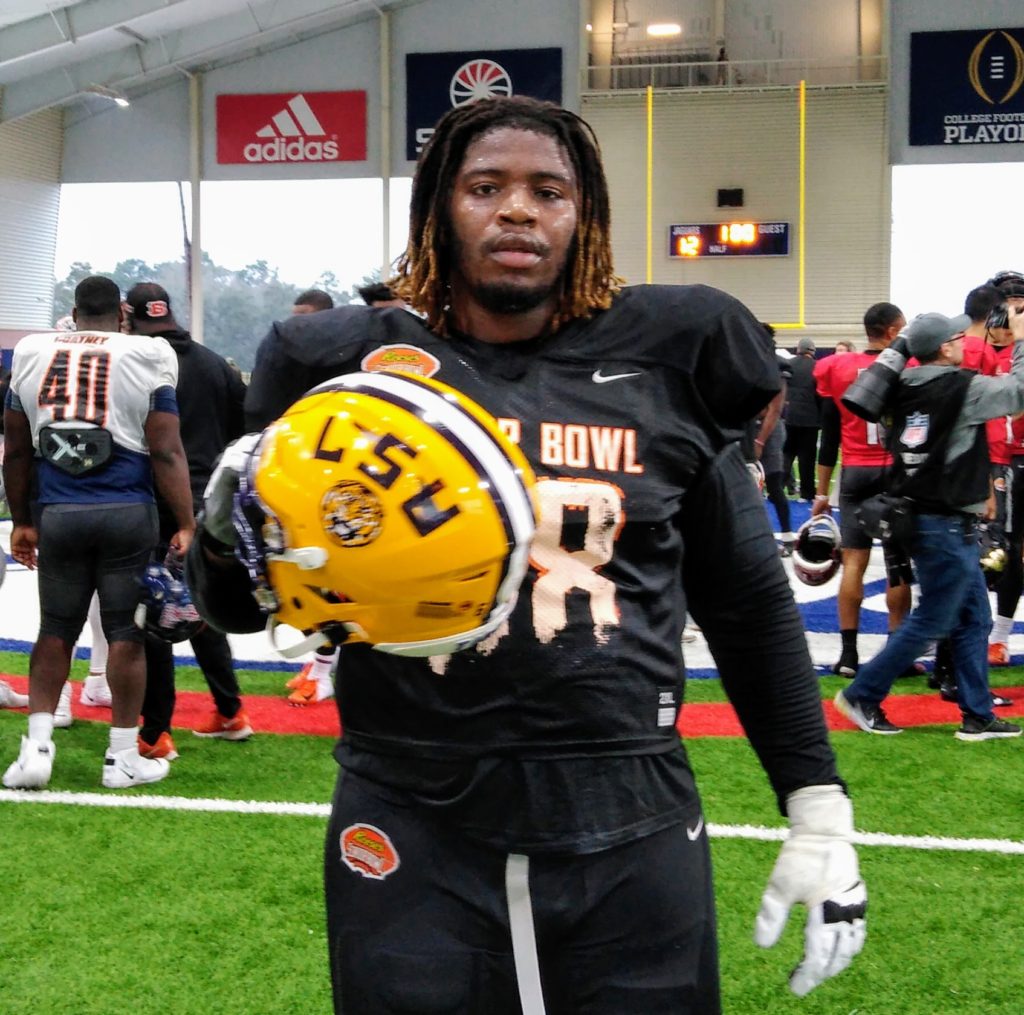 MOBILE, Ala. — He started 27-straight games and earned All-SEC honors for the undefeated National Champs and now he's ready for a new challenge.
Damien Lewis was a late add-on to the South's roster, but he's excited to be participating in the Senior Bowl and wants to wow the NFL scouts with his blocking ability. Standing at six-foot-two he's one of the shorter interior offensive linemen at the event, but he believes what he lacks in size he makes up in physicality and heart.
"I'm just here to showcase my talents, come and show the scouts that they don't have to judge me by my height," Lewis said. "I'm going to compete at a high level and bring it every time with hard work."
His journey to becoming one of the top offensive guards in the SEC is inspiring, considering he started out in the JUCO ranks. The Mississippi native was considered the heart and soul of LSU's offense. The Bayou Bengals put up video game numbers with the way they rushed and passed the ball.
However, none of that success would be possible without the big boys blocking up front. A lot of people criticized the team's offensive line for their play in 2018, but the unit came back with a vengeance this past season. It all resulted in LSU putting together arguably one of the best single-seasons in recent memory. None of it came as a surprise to Lewis because he expected it all to happen.
"All of those hard days and long nights that we put in and we kept on grinding to gameday," he said. "We took everything seriously and played with a chip on our shoulder."
Lewis credits his success to Coach Ed Orgeron's guidance. The coach's passion always pumped up the team and Lewis felt blessed to play for him. Which is why the 22-year old is not fazed at all going up against the most talented senior defensive linemen this week in practice. He already feels battle-tested because of the conference he played in.
"You see NFL prospects in the SEC every week and that right there helps us a lot," he said. "You're going against the best so you can't be slipping."
The 329-pounder hopes to make a splash with everyone watching and solidify why he's a force to be reckoned with in the trenches. As for now Lewis is enjoying his time down in Mobile with several of his teammates also competing and is planning on leaving everything all out on the field.