Chase Claypool looking impressive with big play ability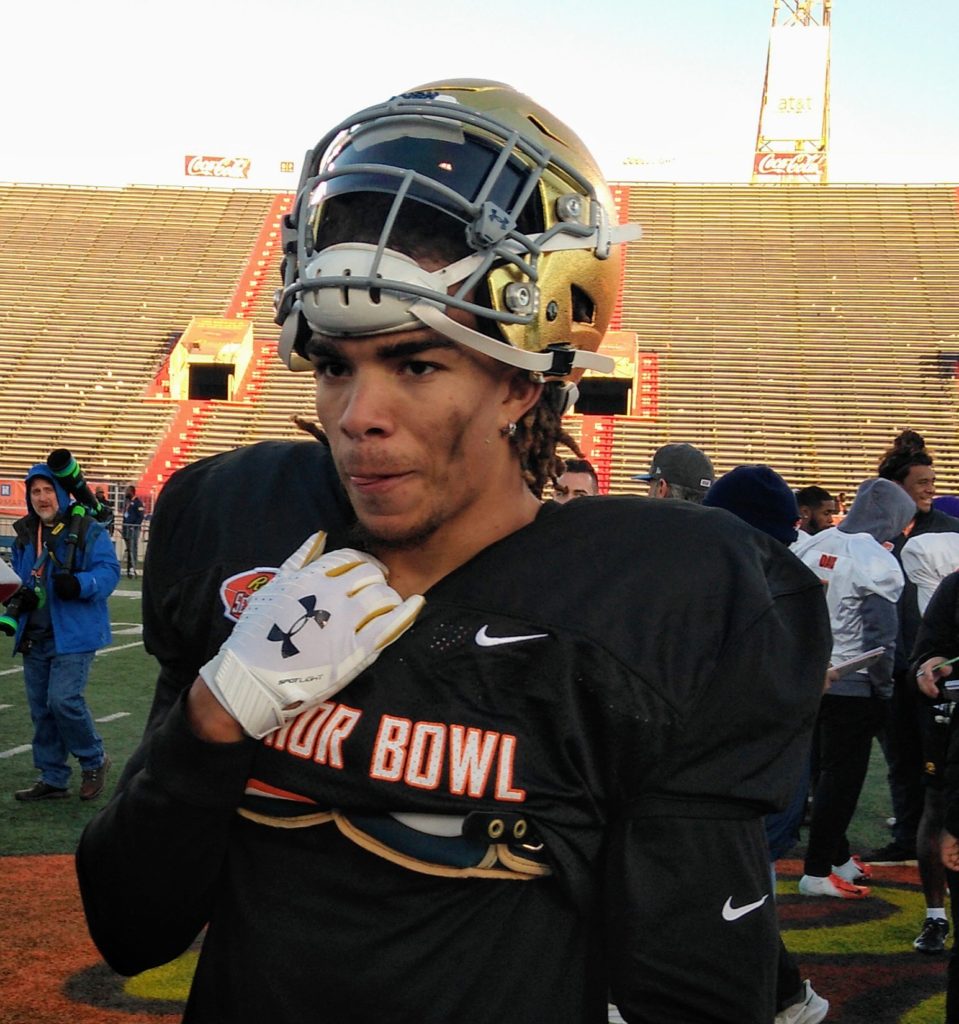 MOBILE, Ala. — The Notre Dame wide receiver has been turning heads through three days of practice at the Senior Bowl and is indulging his time in the spotlight.
Chase Claypool had a very productive junior and senior year with the Fighting Irish, hauling in 116 passes for 1,676 yards and 17 touchdowns. He was also named the Most Valuable Player of the Camping World Bowl and has a ton of momentum for this weekend.
The Canadian has had a long journey leading up to this point and feels his time in South Bend was beneficial playing under Brian Kelly.
"He taught me how to build relationships, how to be a leader and a good person," Claypool said. "Throughout my four years we've built a really good relationship, so I'm thankful for him guiding me throughout my process of transitioning to the States."
Now he's approaching the biggest moment of his playing career with the game on Saturday looming. At six-foot-four and 229 pounds he's very fast and physical for an individual of his stature. Claypool uses it all to his advantage on the field and presents a mismatch every time he lines up on the edge or in the slot.
However, Claypool wants to work on the top of his routes and separation from opposing defensive backs. Still, he's confident in his route running, release off the line and of course his hands.
"I think my size and my physicality, accompanied with my speed is pretty attractive to scouts and hopefully I can continue to put that on display," he said.
He considers himself an alpha male and always take control in the huddle so he's not lacking in the leadership department. As a matter of fact Claypool believes he made tremendous strides as a leader this past season at Notre Dame. He's also a very smart athlete, as most of the Fighting Irish players are.
Most importantly he just wants to be an example for the youth where he's from that perseverance and dedication pays off with sacrifice.
"It shows that no matter how small the statistics are it is possible, you just have to put forth the work to get yourself in position to get to that spot," he said. "But it doesn't come without hard work and making the right decisions along the way."
Several of Claypool's Fighting Irish teammates are participating in this post season All-Star game and he's enjoying every minute he gets to spend with his brothers. As for now Claypool has definitely boosted his resume with his intensity and impressive play in practice.
Despite being one of the most impressive receivers in the event thus far, everyone is waiting for what Claypool has in store for an encore and tomorrow can't get here fast enough.