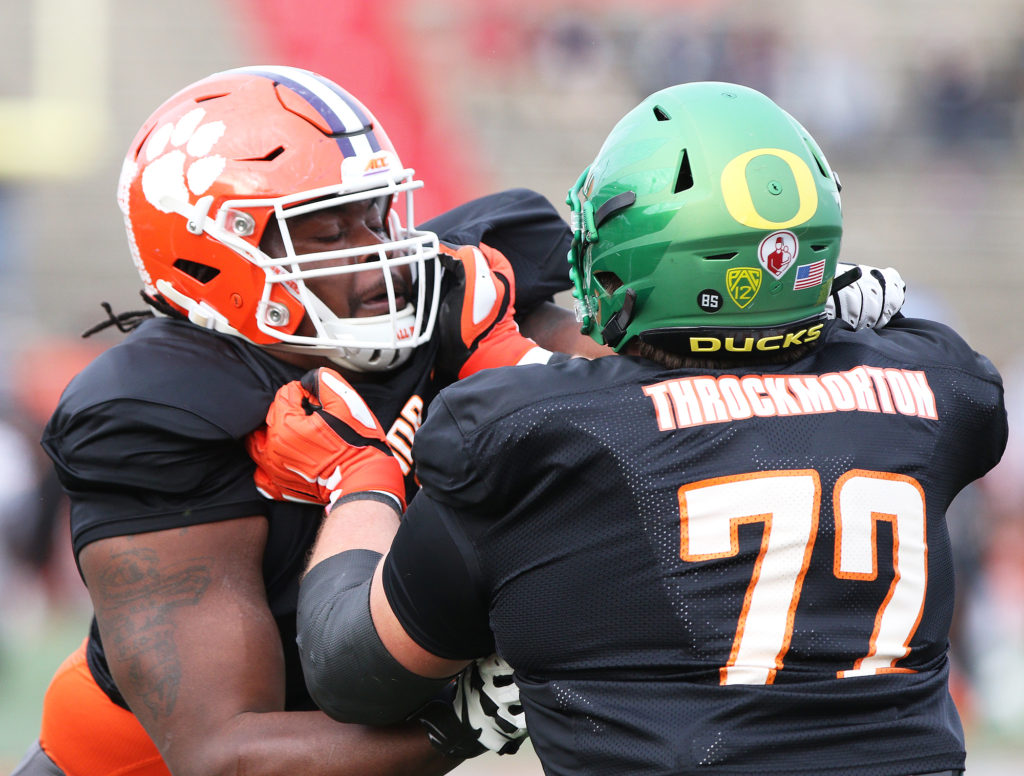 MOBILE, Ala. — Clemson had a dynasty brewing, but fell one win short from being labeled the team of the decade.
John Simpson was considered a man among boys during that span. The interior offensive lineman dominated in the trenches and carried out all the blue collar work to help the Tigers' offense succeed. However, the unit didn't fare well against LSU and Clemson's 29-game win streak was snapped.
Now he's carrying that frustration into the Senior Bowl, which will be a vital start to his promising NFL career. Simpson enjoyed the program's wave of momentum while it lasted, but now he'll be going against the best of the best. The scouts like the fact that Simpson is a winner, leader and how he always set the tone for the big boys up front.
However, several College Football fanatics criticized Clemson's weak conference schedule and didn't believe the league battle-tested the team enough.
"In that locker room we got a bunch of brothers that bonded together so we didn't even listen to that outside noise," Simpson said. "Most of those people making those assumptions never put they hands in the dirt and never played a snap of football."
The All-ACC performer believes he has a great opportunity to silence all of his team's critics with a solid performance in Saturday's game. Simpson wants to improve on his hand placement and bending his knees more instead of putting pressure on his waist.
Simpson's No. 1 goal is to move people, which is expected of an offensive lineman. The six-foot-four, 330 pounder is a mountain at the line of scrimmage and is flexible with his hips and feet. He credits his coach Dabo Swinney for building him from a boy into a man on the field.
"He's a player's coach and coaches the person before the player," he said.
A couple of his teammates are participating in the Senior Bowl also and Simpson hopes their performance will reflect off the team's chemistry throughout the past season. The 22-year old is embracing the competition and after three practices he feels he's ready to go.
Having the opportunity to showcase his abilities is what keeps Simpson striving for success. He plans on solidifying why he's one of the best offensive linemen in the nation and wants to let opposing defensive lineman know that if you aren't Tiger friendly than you're Tiger bait.