Brian Kelly satisfied with Notre Dame's Independent status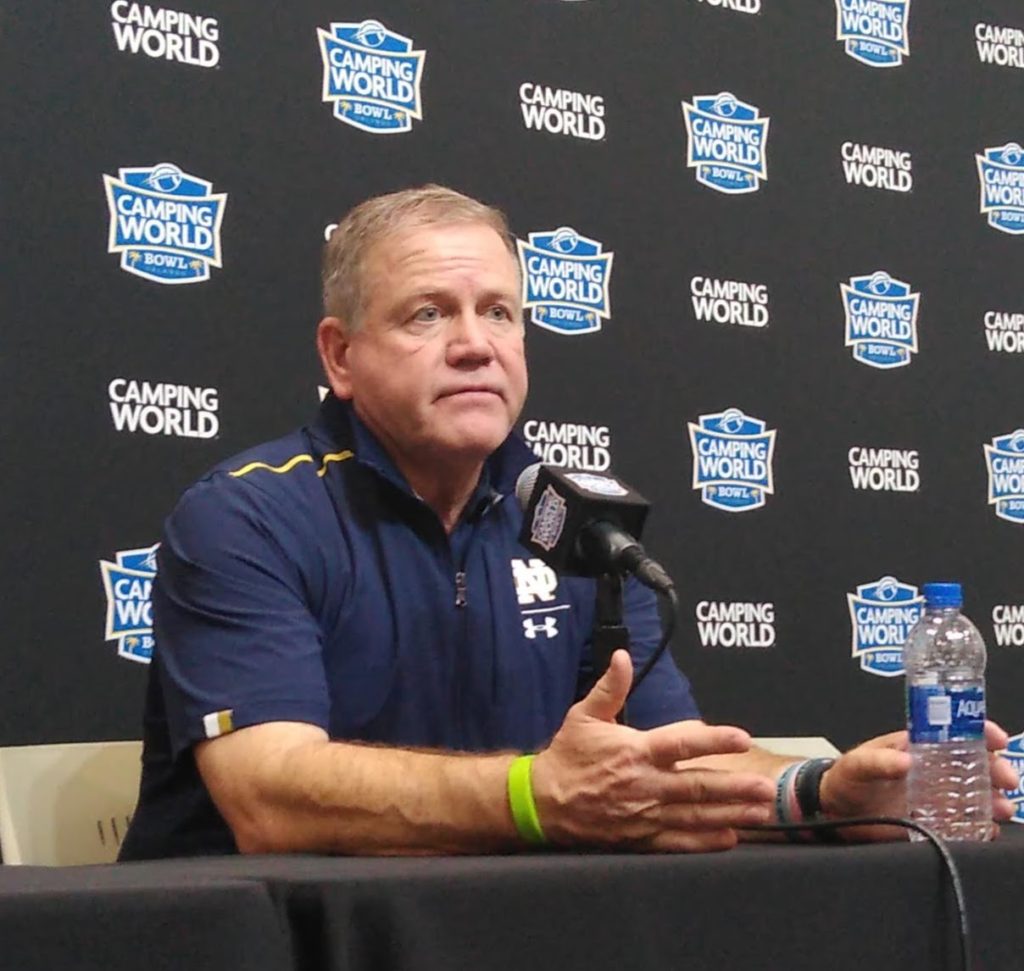 Despite winning 10 games during the regular season Notre Dame received no Playoff or New Year's Six Bowl slot.
After a 31-point loss at the Big House the Fighting Irish never resurfaced back into the top-10. Brian Kelly's team won nine of their last 10 games, including six-straight to finish the season, but it didn't move the needle much. Notre Dame climbed no higher than 14th in the polls during that span and Kelly just kept his players focused on winning.
"How do you sit at 14, 15 and 16 for five weeks in a row and win games by an average margin of 25, 26 points," Kelly said. "We can't control those things, so we just keep playing."
The Fighting Irish only claimed victories over two teams that finished in the final AP rankings. Not to mention Kelly's squad only climbed up to No. 12, but beat eight teams with winning records.
Notre Dame is not apart of any of the Power Five Conferences and its' typical schedule consists of opponents from the ACC, Big Ten and Pac-12, plus one of the Academies.
However, the program is no stranger to doing home-and-home series with traditional powerhouses such as Texas and most recently Georgia. It's a perfect path for the Fighting Irish to clinch one of the top-four playoff spots if they run the table.
The controversy comes into play when a one loss Notre Dame team is compared to a Power Five one-loss team. That's when Playoff expansion talk heats up, but the fact that the Golden Domers are one of the legendary blue-bloods they usually get the benefit of the doubt.
There were several College Football fanatics who questioned how a 10-win Notre Dame team got matched up against a seven-win team from the Big 12 in a December bowl. Kelly was just happy his team took care of business as he sat at the podium after the blowout win over Iowa State.
The 58-year old coach was grateful for his team's bowl bid and destination. He wanted his players to treat the extra game as a reward for their successful season.
"We had our fan base complaining about where we were going, we were happy," he said. "We love Orlando, every time we come down here we have a great experience."
With the return of quarterback Ian Book, Notre Dame will again start off the upcoming season as a top-10 team. The schedule features blockbuster games against Clemson and Wisconsin. It should have enough strength to push Kelly's team into a Playoff or New Year's Six slot if they finish with a fourth-straight double-digit win campaign.
"We love where we are as an Independent and we'll continue to control those things that we can," Kelly said. "All we can control is how we prepare, how we play and let others make those decisions."
The Fighting Irish are just a year removed away from their Playoff berth, but have a ton of momentum heading into the 2020 season, with another solid recruiting class on board. Which means the buzz will be in full effect in South Bend over the next several months.