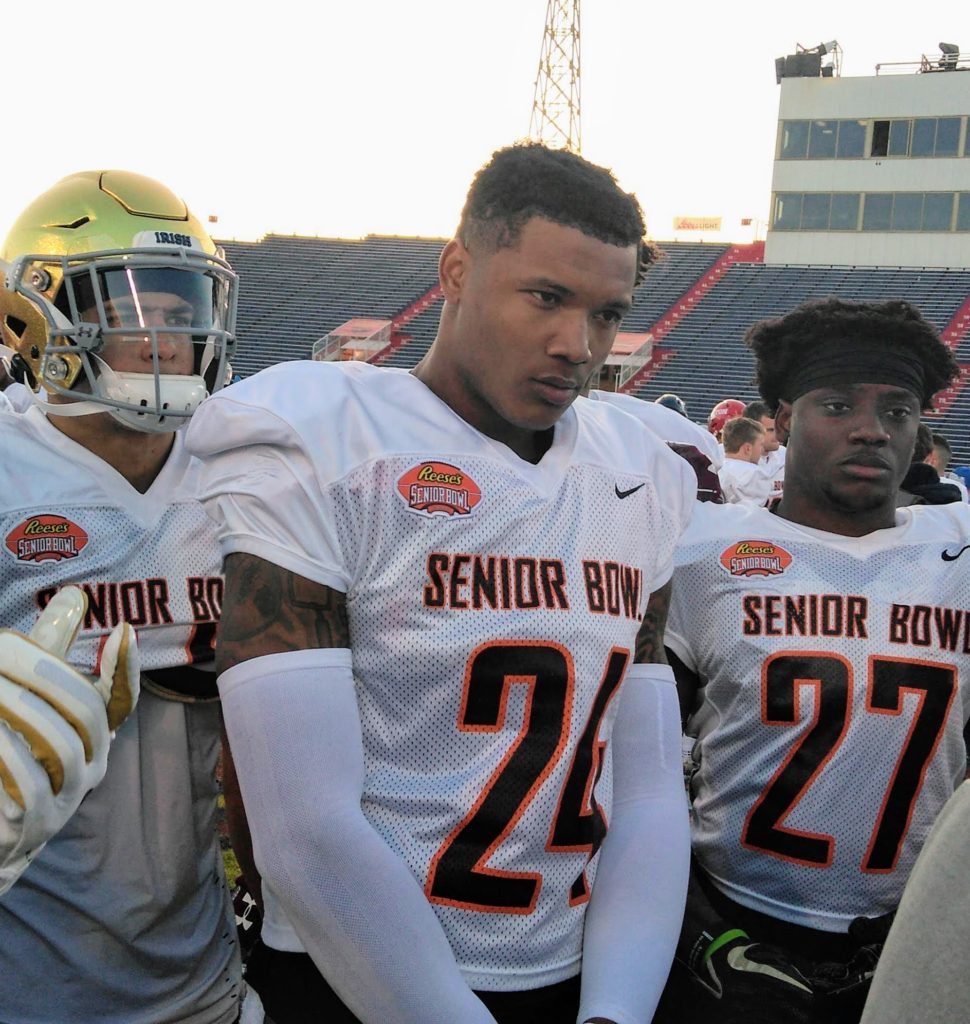 MOBILE, Ala. — He's the corner participating in the Senior Bowl with the biggest hands and longest wing span.
Lamar Jackson stands out over his other teammates in the North's secondary because of his length and range. His path to the NFL Draft has been a long one, considering Jackson came from a program coming off of three-straight losing campaigns.
He's just one of two Nebraska players, who were invited to Mobile and plans on taking full advantage. Despite playing for two different coaches and struggling early on, the former four-star recruit blossomed into an All-Big Ten player. Although the Huskers didn't win much during his time in Lincoln, he cherishes his time with the program and have no regrets.
"At the end of the day I got nothing bad to say about Lincoln, it shaped me into the man I am today and helped me mature so much on and off the field," Jackson said. "So many people came in and out of my life that made an impact on me and I appreciate everything I went through."
Which is why the 21-year old is remaining humble and taking nothing for granted. Jackson feels he brings that fiery personality to the table and knows that's what makes him unique. He's constantly thinking of ways to improve and not afraid to be himself, which he learned playing under Mike Riley and Scott Frost.
"Coach Riley got me there, so hats off to him, I still appreciate him and we had so many great conversations." he said. "Coach Frost is the cool coach, he's the more younger, understandable guy, who's not old school and understands what the players need."
The six-foot-two, 206-pounder feels blessed to be in the high profile All-Star game and has always dreamed of playing in the NFL. He molds his game after star corner Jalen Ramsey and has a passion for the game that's second to none. Jackson is hoping his work ethic has a positive effect on his teammates.
Still, he's enjoying practicing against the best of the best and wants to put on a great performance in front of all the NFL Scouts, Coaches and General Managers.
"The more competition I get, the better I get and I like to be in the fire," he said. "I like the pressure, I like to light people up, I take pride in that type of stuff."
Jackson knows it takes confidence to play his position and he went up against some talented players in the Big Ten throughout his Collegiate career. In hindsight he hasn't even reached his ceiling and with his frame Jackson has tremendous upside at the next level.
"I feel like I'm a great cover corner, I'm the guy with the task of covering the opposing team's best receiver," he said. "I'm not going to ever settle, never be complacent and I'm going to continue to push towards greatness."