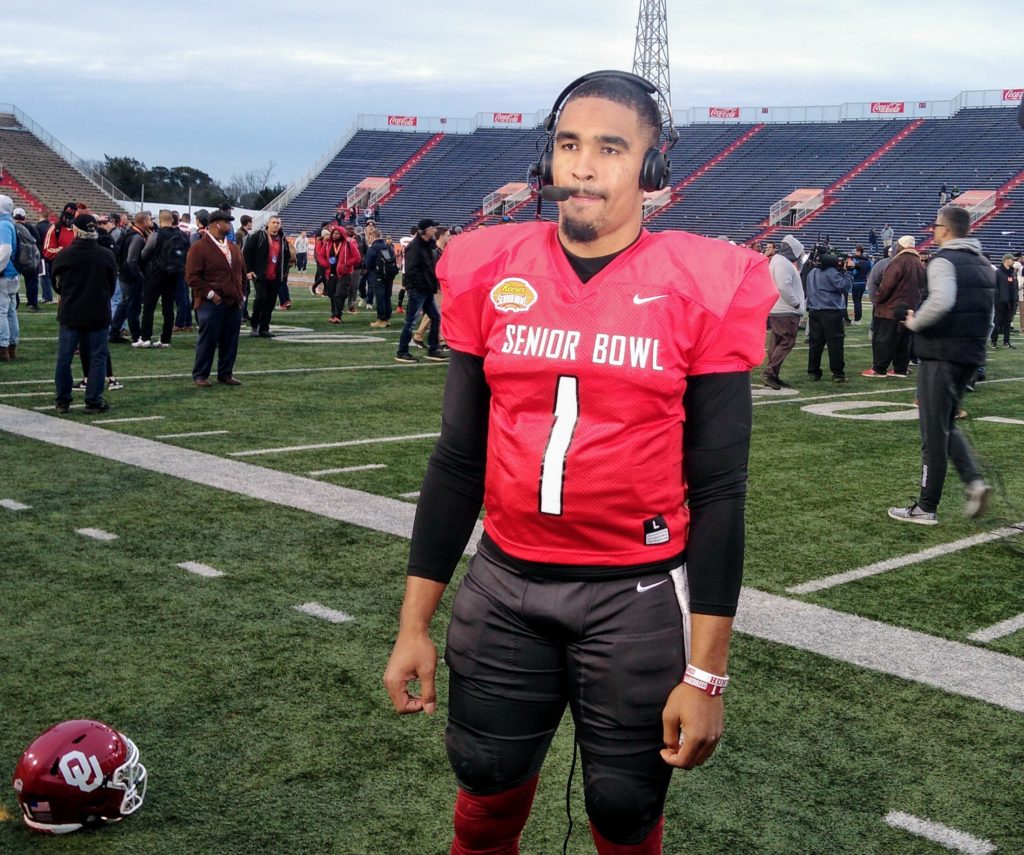 MOBILE, Ala. — The quarterback endured a lot of success when he played alongside two great receivers, for two elite coaches at two separate blue blood programs.
Now Jalen Hurts is on a mission to prove his video game numbers were no fluke as he prepares for the Senior Bowl. What makes him an intriguing individual to NFL Scouts is the fact that he's a fierce competitor and also a winner. Hurts witnessed the torch get passed from Baker Mayfield to Kyler Murray and understands it's his turn to continue the great run.
The South team has only participated in two practices, but each day gets more intense leading up to the big game on Saturday and Hurts wants to be ready. Which is why he's leaving nothing behind in an attempt to capitalize on this legacy defining moment.
The Texas native considers himself a team-first guy, who's a student of the game and understands this week will be the beginning of his pro career. The six-foot-one, 218-pounder is confident, believes in himself and his skill set.
"The biggest thing right now is learning everything, going out there and executing at a high level," Hurts said. "I think you see a lot of different transitions now in the league in terms of style and play at my position."
Hurts received the best of both worlds at the Collegiate level, Nick Saban taught him how to win and Lincoln Riley groomed him into an astonishing signal-caller. He's hoping both of those qualities guide him while learning an NFL playbook.
Taking everything one step at a time has always been Hurts' approach. He's grateful for having Alabama, Oklahoma, Saban, Riley, CeeDee Lamb and Jerry Jeudy. However, Hurts doesn't want to take anything away from himself because he knows his work ethic is what landed him down in Mobile.
"I think I'm a winner, I don't think there's a quarterback like me with my ability," he said. "Whether it's making plays with my arm or my legs when needed, it's just going out there leading and trying to be consistent as I can be."
He has been enjoying playing again with his Sooner and Crimson Tide teammates. Not to mention on the first day of practice Hurts wore a helmet with both school's logo on each side. The 21-year old is adamant about playing quarterback at the next level and can't see himself trying out any other position.
Although he has the arm strength and accuracy to locate receivers, Hurts can also give opposing defenses fits by extending plays with his mobility. Right now everything may seem cloudy to Hurts as he navigates through this journey, but he just wants to continue making strides everyday and plans on leaving it all on the field when the smoke clears.
"I'm thankful for the opportunity to play in the Senior Bowl and I just want to go out there and be the best version of myself."