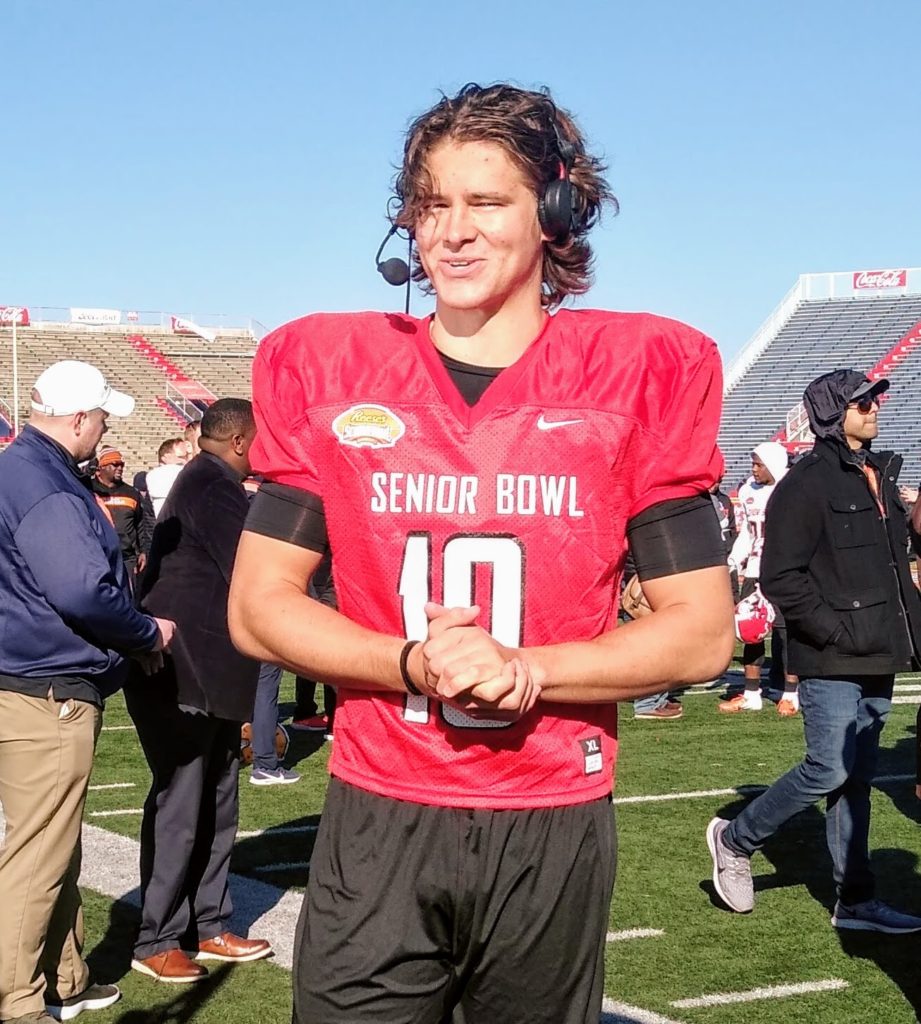 MOBILE, Ala. — He doesn't regret that he came back for his senior year and enjoyed his time as a student athlete.
After all, Justin Herbert finished second all-time at Oregon in passing yards, touchdowns and led the program to a Pac-12 Championship for the first time since 2014. Not to mention the Rose Bowl victory was the icing on the cake to his incredible collegiate career.
Now the Eugene native is trying to become the first Duck quarterback drafted in the first round since Marcus Mariota. The path to the Draft starts with the Senior Bowl and every player wants to make a name for himself in front of the NFL Scouts, Coaches and General Managers. Herbert knows all eyes will be on him, but he embraces the spotlight and has no jitters.
"There's no pressure, pressure is not a challenge," Herbert said. "It's an opportunity to do something special, we're out here competing, having fun and it's a great experience that not too many people get to do."
Herbert has been preparing for this moment for quite some time. For an individual his height he came in very lean at the weigh in and ten pounds lighter than what he was listed at Oregon. Herbert emphasized normal wear and tear throughout the season and not lifting during that time is a reason for the weight loss, but confident he can gain it right back if needed.
He doesn't expect anything to come easy and knows he has to work to earn his seat at the dinner table. Herbert quickly found out that the NFL playbook is not a walk in the park and admits it's quite complex. However, he believes the continuous reps with the new receivers will build chemistry and confident he's going to deliver the goods
"They put a lot on us this first day and I thought we did a great job," he said. "The entire offense did a great job of picking it up, a few mistakes here and there, but not bad for the first day."
He expects the intensity in practice to increase throughout the week, leading up to the Senior Bowl Game Saturday. All he can control is what's in front of him. Criticism doesn't bother Herbert and instead he enjoys it.
"It's fun, it's a way you can look at what you need to work on, people ask questions and you need to have answers," he said. "It's a way for you to see an honest evaluation of yourself and find out what you can do to get better."
Although Mariota is busy being an NFL quarterback, Herbert tries to talk to him whenever he can and get pointers on how to handle the transition of becoming a pro athlete. He learned to speak up and ask questions if he's confused about anything.
Understanding the quarterback position is like crafting art and in the end everyone is striving for that beautiful finish. Herbert thinks each individual has their own unique skill and he plans on implementing his in any scheme that comes his way. The 21-year old is proud of his maturation process as a signal-caller, but is always looking for ways to improve his game.
As for now Hebert just wants to take some snaps under center and work on his mechanics. He has already showed he's a winner, who has the leadership qualities that several NFL teams are lacking at the moment. Now it's time for everyone to take notice and Herbert plans on seizing this once in a lifetime moment.