Deshaunte Jones confident Cyclones are in good hands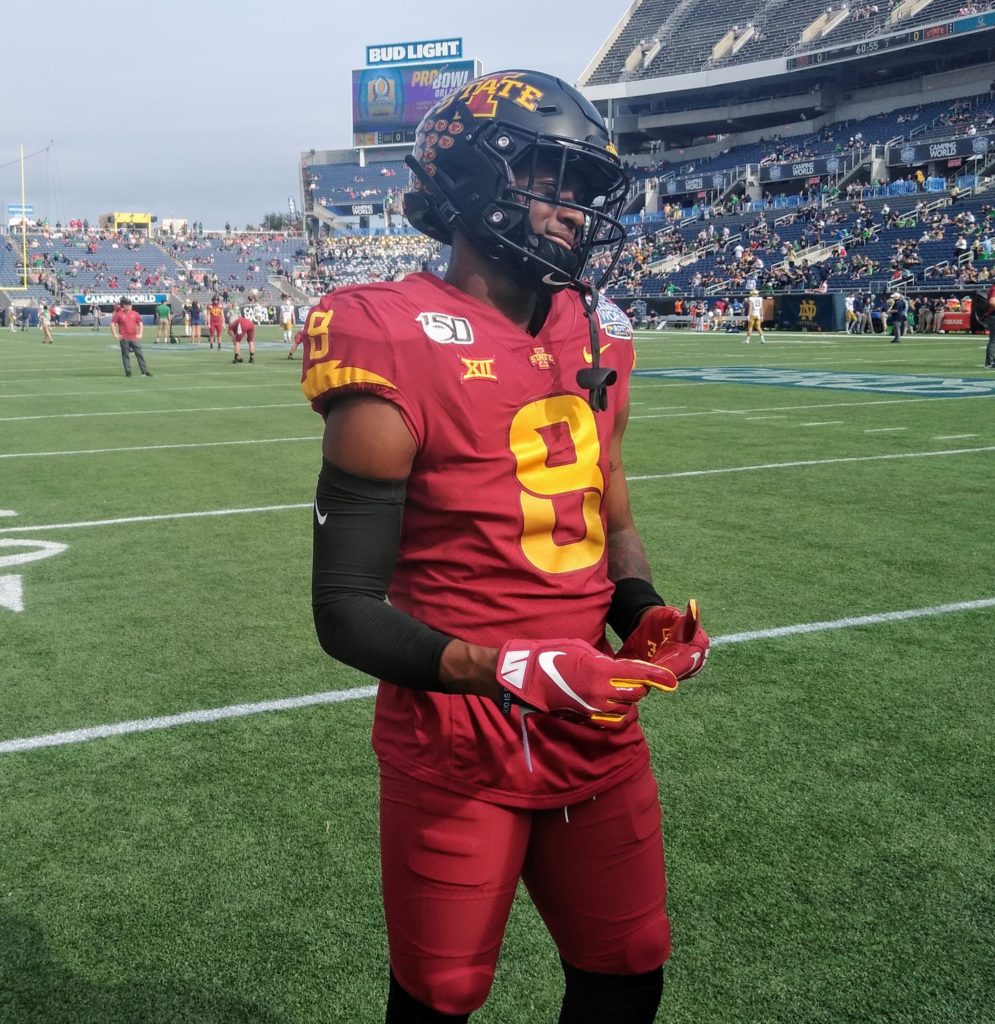 The senior wide receiver earned All-Big 12 honors after he finished second in the league in receptions and enjoyed a great three-year run with Iowa State.
Deshaunte Jones was apart of the program's 23 wins over the last three seasons, which included three-straight bowl appearances. Unfortunately for the Cincinnati native, he used up all of his eligibility.
However, he knows the cupboard isn't bare after the departure of the senior class. Jones is comfortable with passing the torch because he knows the teammates he's leaving behind are winners.
"They just continue to accept leadership, there's so many leaders in that locker room now to where I don't have any worries to what's going to happen to the rest of our team," Jones said. "There's plenty of players to continue to lead this program in the right direction."
Jones is not the tallest or fastest of receivers, but he plays with heart and gives tremendous effort on every play. He set the bar very high on what it takes to be a Cyclone wideout, finishing No. 2 on the school's all-time list in single-season, single-game and career receptions.
2019 was a season to remember for Jones. He had four games when he surpassed the century mark in receiving yards. Not to mention seven games of seven or more catches, including two with double-digit receptions. He has definitely cemented his name with the Cyclones like other wide receiver greats such as Todd Blythe, Allen Lazard and Hakeem Butler.
Still, Jones is never complacent and believes there's always something he can improve on with his game. That's why he continues to fight and strive to get better.
"Throughout these years I had a lot of ups and downs," he said. "I just taught myself to focus on myself and continue to get better as a person and as a player."
Jones hopes his success rubs off on his teammates who'll be on the roster for the 2020 season. His production, experience and leadership will be tough to replace on offense, but Tom Manning seems to have the right pieces in place for the Cyclones to put up great numbers again.
As for Jones, he cherishes his time as a student athlete and wouldn't change it for the world.
"This year by far was my biggest commitment to Iowa State," he said. "I continued to help put my teammates by not being selfish and everything came back to me in a positive way."
Now the veteran receiver will have the opportunity to take his talents to the next level. Regardless of what Jones decides to do after he leaves the program, his legacy of winning cannot be denied. Jones broke records during his time in Ames and his name will forever be remembered in Cyclone lore.