Chase Claypool caps off career with great performance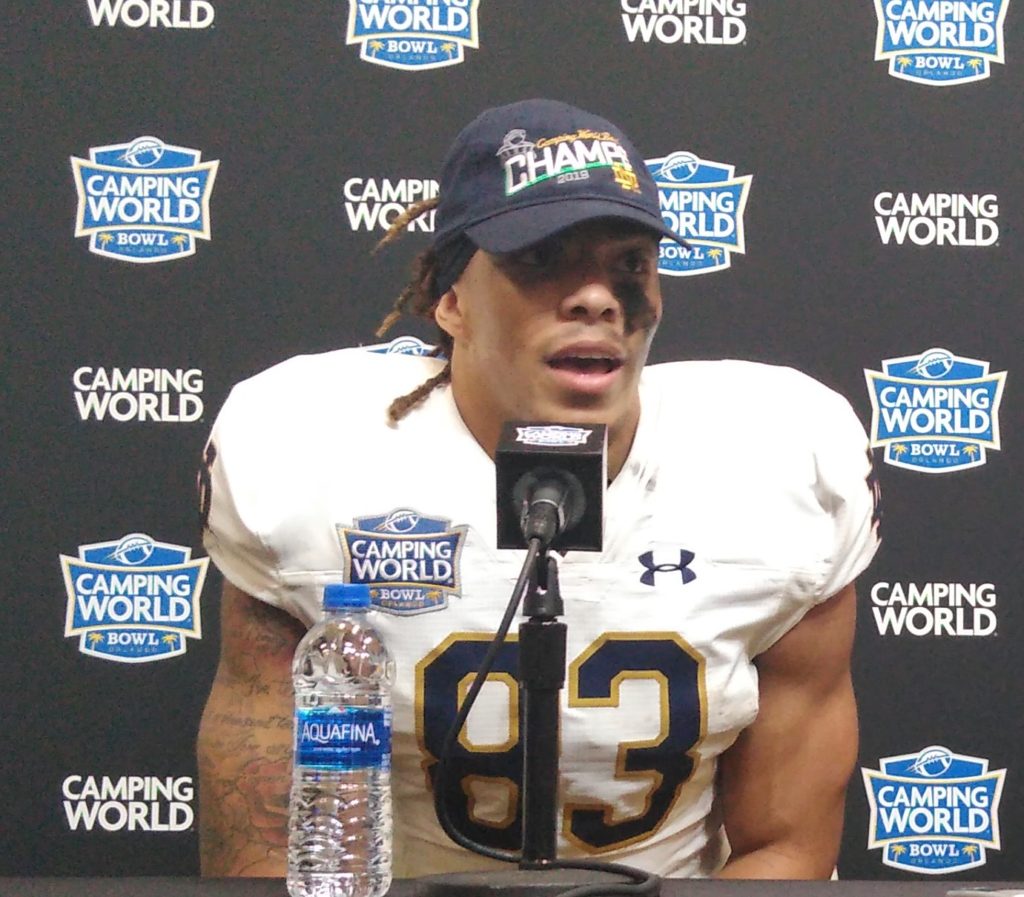 ORLANDO, Fla. — Chase Claypool surpassed a 1,000 yards receiving after Notre Dame's bowl win over Iowa State Saturday and was named the game's most valuable player.
It was quite an accomplishment for the senior to end his solid career after hauling in 116 passes for 1,676 yards and 17 touchdown over the past two seasons. Claypool is proud of himself, but grateful he got to share the hardware with his teammates.
The six-foot-four, 229-pounder has always tried to lead by example and believes he left behind a legacy of hard work and dedication.
"I hope I'm a living example of someone that if you keep on dreaming that dream will come true," Claypool said.
He admits that it has been a long journey throughout his collegiate career, especially being from Canada, but he cherishes every moment he has played for Notre Dame. The Fighting Irish have been more than just a team to Claypool and he feels his teammates have formed a brotherhood that'll go well beyond their playing days.
"Being so far away from home in another country you need a family that's going to have your back through the ups and downs," he said.
Notre Dame was that shoulder Claypool leaned on through his rough times as a student athlete. Still, having three-straight years of double-digit win, plus one year removed from a Playoff appearance, Claypool wouldn't change it for the world. Coach Brian Kelly is proud of Claypool's accomplishments as well as all the other seniors in his program and knows they all have great futures ahead of them on and off the field.
"They overcame adversity, lived the life lessons off of it, they're not perfect and never pretended or wanted to be," Kelly said. "They always strive for excellence so I'll always remember this group as a special group."
Kelly was so proud of his players and trusted all of them enough that he didn't give the team a curfew their first night down in Orlando. It was just an example that Kelly believes his players are responsible young men who deserved to enjoy their great season.
As for Claypool, he enjoyed the bowl win and his jaw-dropping statistics, but he was most grateful to have played one last game with his brothers. Regardless of the matter the Fighting Irish got a chance to call themselves champions again.
"It was definitely a goal I had so it was nice to kind of reach that goal, but later on down the line I'm not going to remember getting a 1,000 yards."