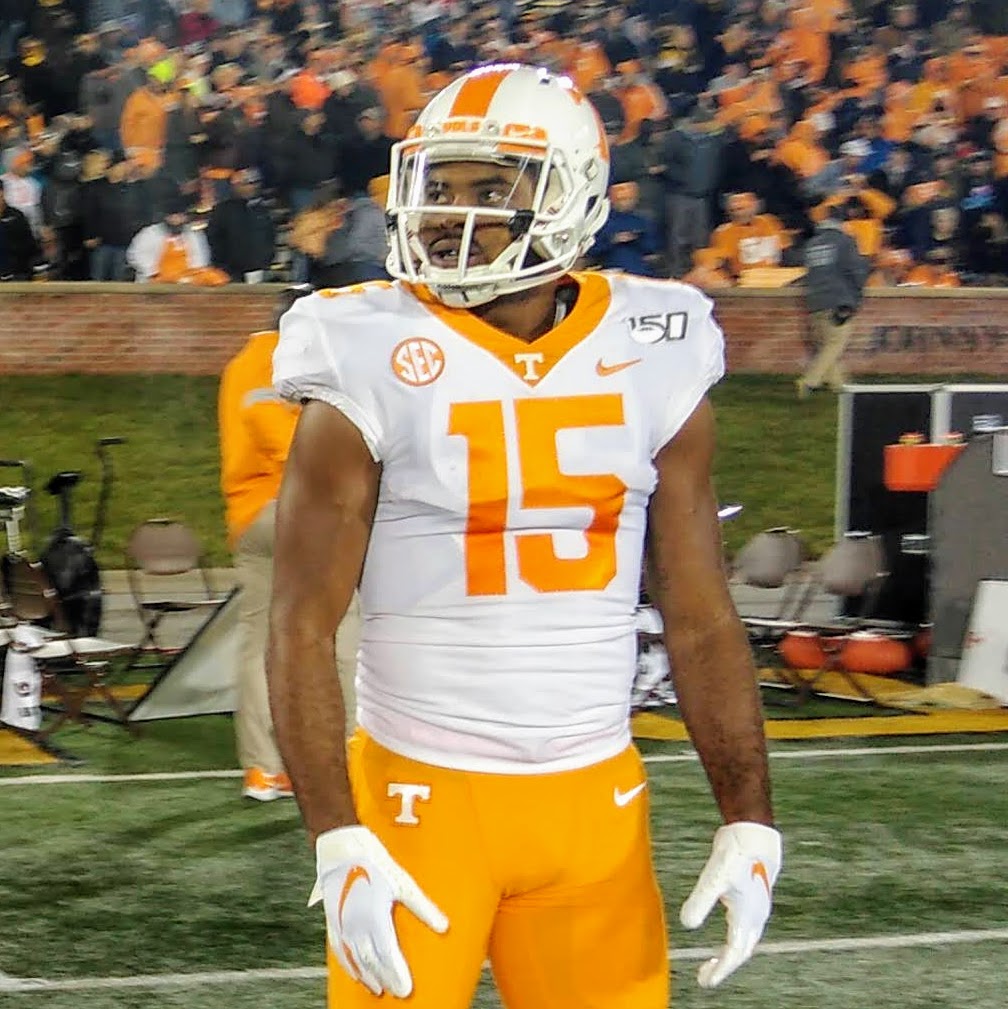 The senior wide receiver leads Tennessee in receptions, yards, touchdown catches and he credits it all to his quarterback.
Jauan Jennings watched the Volunteers' offense struggle at the quarterback position throughout his collegiate career. It was a liability for the entire team, which is why he's proud that everything is falling into place for Jarrett Guarantano. The offense has been effective during the team's five-game win streak and Jennings is proud of Gurantano's maturation process.
"As the season went along he started to familiarize with the playbook we have in hand," Jennings said. "The coaches done a good job putting him in the best opportunities to deliver us the ball and he's done that."
It all has benefited Jennings, who surpassed the century mark in receiving yards against Georgia State, Georgia, South Carolina and Missouri this season. The six-foot-three, 208-pounder has 144 career receptions, 2,126 career receiving yards and 18 touchdown catches entering the Volunteers' bowl game.
He'll need to be at his best as Tennessee takes on Indiana in the Gator bowl. However, the star receiver must sit out the first half from stomping on a player's head against Vanderbilt. Still, the Volunteers are one of the hottest teams in the SEC right now. The team hopes to capitalize on all the momentum that they built over last half of the regular season. Hopefully it translates into a solid performance against the Hoosiers.
Jennings is all about team unity. The Tennessee native been through enough ups and downs to understand that becoming a tight-knit group is vital for success on the field. Which is why he has stuck behind his signal-caller through thick and thin.
"He's been a great quarterback for us the last four or five games," Jennings said. "Every player out here is going to have obstacles to work through so we're going to have his back."
Tennessee is trying to finish with at least eight wins and a bowl victory for the fist time since 2016. It'll go a long way with the foundation Pruitt is trying to establish back in Knoxville and reward for the fans who suffered through tough times.
In hindsight the Volunteers' offense appears to be in great hands with Guarantano at the helms. Jennings has all the confidence in him and believes the rest of the receivers feel he's a solid player. A win over Indiana and finishing the season on a six-game winning streak would go a long way.
The program would officially be back on the map for the 2020 season, but it all needs to start tonight.