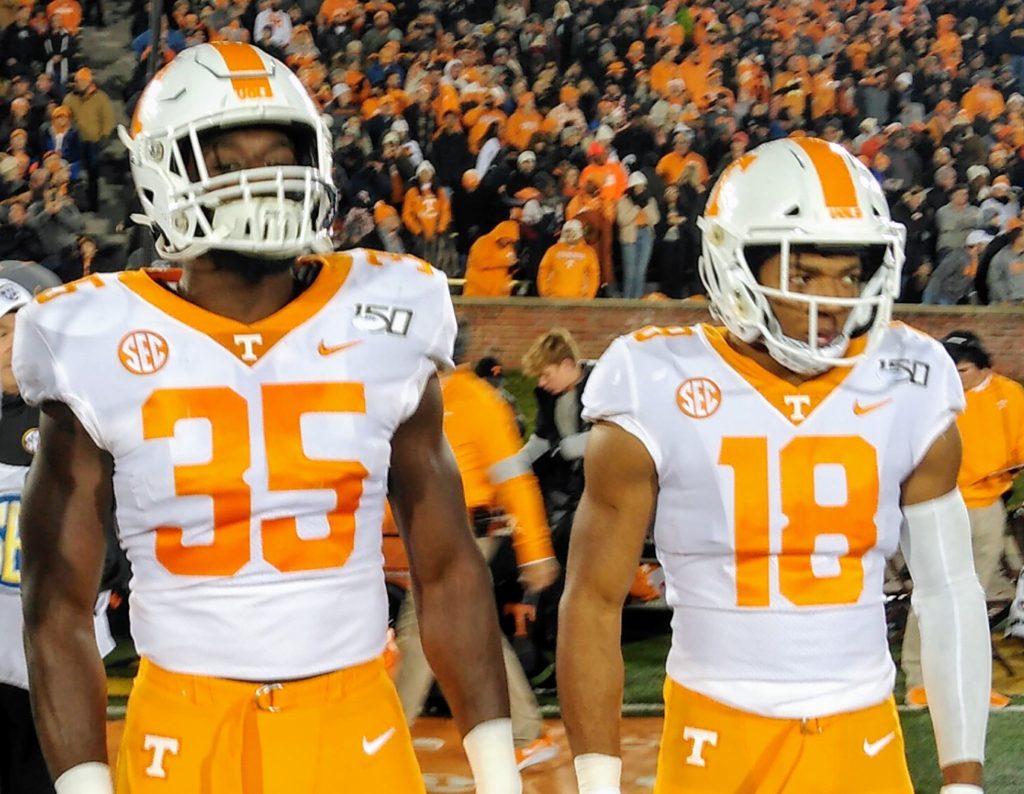 Tennessee's top-two leading tacklers suffered through two years of mediocrity entering their senior year.
Butch Jones' tenure ended on a sour note, Jeremy Pruitt's first year was a 5-7 campaign and the program had no where to go, but up. So Daniel Bituli and Nigel Warrior were determined not to let their last season be a flop.  It didn't start off pretty though, with the Volunteers getting off to a 1-4 start, but they have been one of the hottest SEC teams from that point on.
Winning six of their last seven games, including five-straight and reaching the post season was something both defenders knew the team could accomplish.
"It means everything, this team worked so hard to be in this position we are in right now," Bituli said. "Things didn't go our way through the year, but we kept on pushing and I can't find a better group to be more deserving, so I'm really happy."
The linebacker is the team's leading tackler and a Tennessee native who put a lot of accountability on the seniors to become a close knit group and take control of the locker room. That's exactly what they did and Warrior led the way, being the defense's enforcer and setting the tone each game.
The star safety leads the team in interceptions, with four and along with Bituli earned All-SEC second team honors. The six-foot, 190-pounder holds down Tennessee's secondary and takes pride in the players chemistry on the field.
"Being there for one another goes back to being more into your plays," Warrior said. "Learning more, having more awareness on the field, talking and having more communication."
The hard work paid off and the Volunteers' defense been a dominant group during their five-game win streak and allowed a mere 14.2 points per game. Bituli wants the unit to build on that as they prepare for their bowl game and takes none of the success for granted.
"We obviously hit rock bottom, like I said multiple times in my career here, it didn't go as planned," Bituli said. "But to be able to have these group of guys that work so hard, kept pushing me and how we pushed each other, it means everything."
Warrior wants to go out with a boom like the ones he lay on ball carriers during games. He's proud of the defense's maturation process and believes if something goes wrong someone else is there to pick up the slack.
Tennessee's hunger for more all changed during a team meeting after the loss to Florida. Everyone had a chance to lay their cards on the table and have a heart to heart.
"The whole meeting was about if you're really going to be here with us are you going to promise to give your all the rest of these games," Warrior said. "Are you ready to turn it around, are you going to play for your brothers and everybody agreed."
He's just thankful that the players are in this position and teammate Bituli hopes this year's senior group can leave behind a winning legacy for the future of Volunteer football.
"This is a program that needs to go to a bowl game every year," he said. "It's Tennessee, so to be able to go to a bowl game and set a standard again the way it should've been all along, it really means a lot."
Tennessee's dynamic-duo on defense hope to close out their amazing careers with great performances in the team's bowl game against Indiana. Winning the Gator Bowl and building momentum for the program to have a successful 2020, will be what both defenders hope to accomplish.