Notre Dame throttles Iowa State for 11th win of season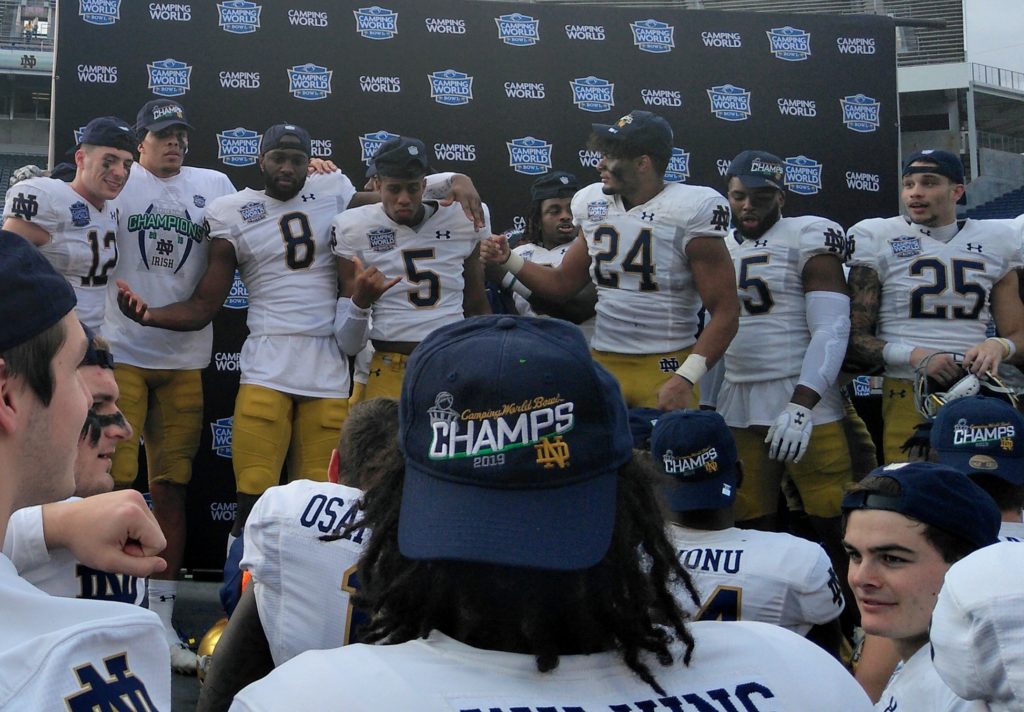 ORLANDO, Fla. — For all the critics out there who questioned if Notre Dame had the motivation to play in a December Bowl Game, they got their answer.
With a 33-9 victory over a solid Iowa State team the Fighting Irish made a statement. Not to mention Brian Kelly's squad has now won 33 games over the past three seasons, a feat very few programs have been able to accomplish during that span.
Closing out the season on a six-game win streak was also impressive and Kelly couldn't be more proud for his players.
"They did not listen to what the naysayers had to say about them, the negative tone, the negative people out there, all they cared about was playing the game," Kelly said. "It's so satisfying that this group has been rewarded with 11 wins because they thought only about their teammates and how they can work to get better each and everyday."
Notre Dame played a clean football game against Iowa State in front of a crowd of 46,948 at Camping World Stadium. Plus the Fighting Irish racked up 455 yards of total offense, had no turnovers and it was the first time the Cyclones been held out of the endzone all season.
Senior signal-caller Ian Book threw for 247 yards, to go along with 30 on the ground and a score. Senior wide receiver Chase Claypool was named the game's Most Valuable Player after he hauled in seven passes for 146 yards and a touchdown. After that impressive performance he also went over a 1,000 yards receiving for the year.
"It was definitely a goal I had so it was nice to kind reach that goal, but you don't really play the game for statistics," Claypool said.
He was more appreciative of going out with a bang with his fellow seniors. Junior running back Tony Jones eclipsed the century mark in rushing and Notre Dame scored on all of its' four trips to the redzone. The Cyclones came out flat and turned the ball over twice in the first seven minutes of the game which led to 10 points by the Fighting Irish.
Matt Campbell felt his team didn't play up to their potential and was undisciplined at times.
"Detail and execution, those are the little things that kind of have prohibited us at times from being the best version we can be," Campbell said. "That starts with me as a football coach."
Iowa State lost its' second-straight bowl game and ended the season with a 7-6 record. Despite the fact that a lot of Notre Dame's fan base wasn't excited about playing in the Camping World Bowl, Kelly and his players were. He emphasized they love Orlando and have a great experience every time they come.
Jeremiah Owusu-Koramo led both teams in tackles with eight total stops and also had a jaw-dropping, three sacks. Kelly thought his defense's pass rush was very effective in throwing off Brock Purdy's timing and not letting him have enough time to settle in the pocket.
The Fighting Irish also did a tremendous job of shutting down the Cylcones' All-American tight end Charlie Kolar and limited him to just three catches.
"When you hold an offense that put 40 points on a team that's playing in the Playoffs in Oklahoma to no touchdowns, you can't hide from that," he said. "A team that has a prolific offense to not not score a touchdown today and they had plenty of time to prepare."
Kelly is proud that his team overcame adversity and turned their season around after the loss to Michigan. He felt everything came together for his players after the win over Virginia Tech and from that point on Notre Dame was one of the nation's hottest teams.
After a third-straight double-digit win campaign and a solid recruiting class for the early signing period the Fighting Irish has a ton of momentum to carry into 2020.