Despite bowl loss Matt Campbell proud of his seniors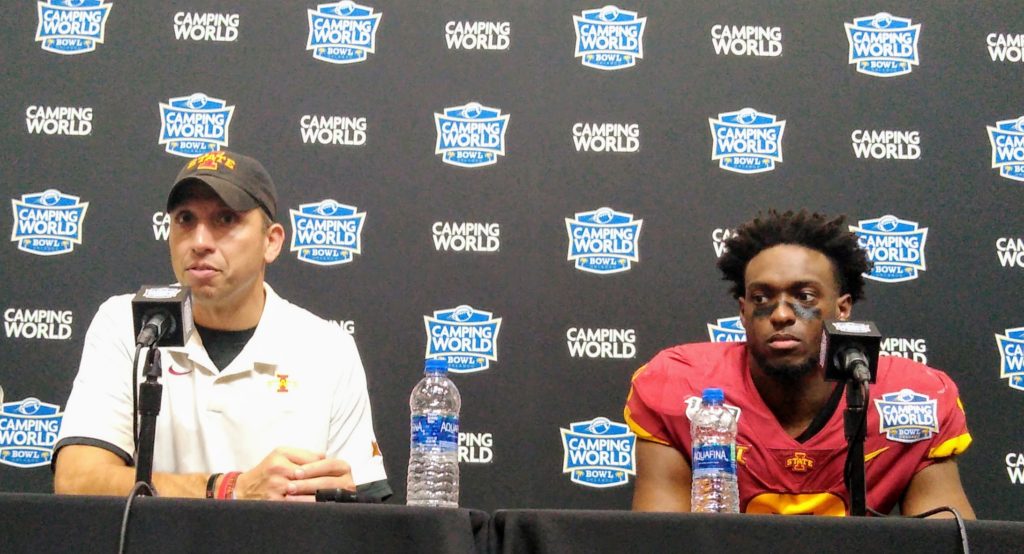 ORLANDO, Fla. — Iowa State ended the 2019 season on a two game losing streak, which was also its' second-straight bowl loss.
However, Matt Campbell believes the program is very close to taking that next step up the College Football hierarchy. The 33-9 loss to Notre Dame in the Camping World Bowl Saturday was a humbling experience for Campbell and his players.
The Cyclones came out flat, was careless with the ball and at times looked uninspired. That's uncommon for a Campbell-coached team, but he's not taking away the fact that his players fought hard and put together a solid season.
"I think this senior class has done an incredible job leading," Campbell said. "Who they are and what they stood for and how this football team really responded all season long to tough situations has been because of our great leadership behind our senior class."
Iowa State came into the 2019 season a ranked team and had to deal with high expectations, something the program has come accustomed to under Campbell. Some may feel the Cyclones underachieved this season. However, Campbell feels everything his players have overcome bring excitement for the team's future.
"You got to remember this is a really young team, and a lot of really young guys were forced into some critical moments this year," he said. "This senior class was able to carry those guys through some tough moments."
Notre Dame was the first team to hold Iowa State out of the endzone all season long the offense only sputtered 272 total yards. Seniors like Deshaunte Jones wasn't pleased at all with his performance and was limited to just four catches for 45 yards. It wasn't the way Jones wanted to play his last game as a Cyclone, but he gives credit when credit is due.
"Notre Dame played a good game, hats off to them, they're a great team," Jones said. "Obviously they were 10-2 coming into the bowl game so we knew what we were up against and that's what happens."
The loss dropped the Cyclones to 7-6 on the season, but that doesn't overshadow that the team has won 23 games over the past three seasons. Campbell feels bad for his seniors, but loved the fight in his players and belives they can find solace in losing. Overall he felt the team took a step in the right direction and he's looking forward to 2020 with what he has returning.
"From my end of it when the attitude, the effort and the character of our football team is still where it needs to be and continuing to grow, so I think we're going to be in a great spot."