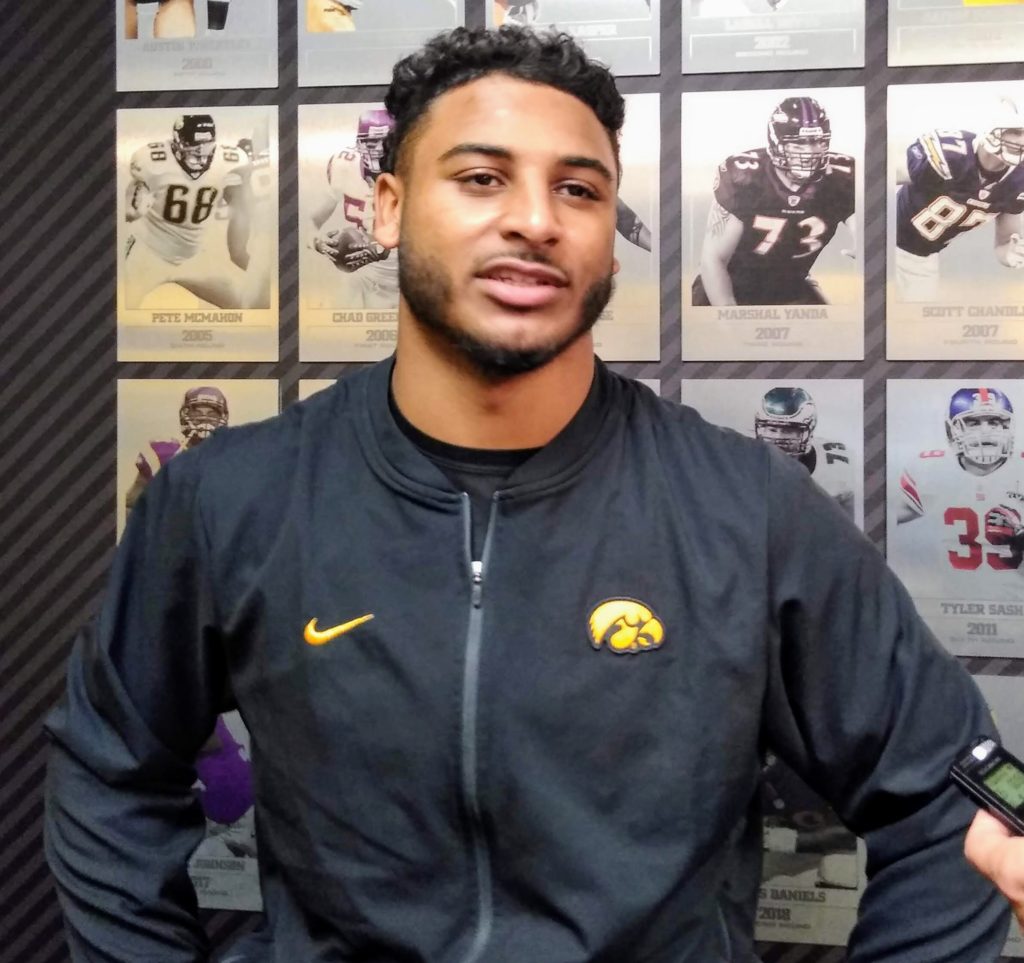 He's the defender on Iowa's defense that knows how to lay the boom.
Geno Stone made a name for himself by being one of the most physical players in the Big Ten. He's not the tallest or fastest Hawkeye defender by any means, but he's the one who's always around the ball, ready to make a play in clutch moments.
Stone made enough plays to earn All-Big Ten second team honors. It was a move up from earning honorable mention the year prior, but the Pennsylvania native doesn't let it go to his head. Instead Stone remains humble and keeps his focus strictly about the team.
"I feel good, but I always want to give my team credit, if it wasn't for them I wouldn't be able to do the stuff I can do," Stone said.
Iowa's defense plays with tenacity, allowing only 13.2 points per game, which is second-best in the league. Although the Hawkeyes have only picked off 11 passes this season, their secondary been a dominant group, allowing only 12 touchdown passes. That feat ranks second in the conference and Iowa's back four on defense has been an elite bunch through 12 games.
Stone continues to be the the main enforcer in the secondary and for the entire defense. He takes pride in establishing that physicality and what it takes to lay down a ball carrier. He only has one interception this year, but he's the team's third-leading tackler and the other players feed off of his high energy.
"That's what I try to do when I'm on the field every time is to set the tone for the defense and always try to get turnovers," he said.
Stone's fellow defensive back Michael Ojemudia also earned All Big Ten honors, proving Iowa's secondary is an elite unit and often considered 'Defensive Back U' of the midwest. Stone continues to lead by example on and off the field, plus he guides the younger defenders and makes sure everyone is on one page.
However, having to face a dangerous USC offense in the Holiday Bowl will be a great challenge for Stone and the rest of Iowa's defense. The Trojans have the receivers to stretch the field and will put a lot of pressure on Iowa's secondary.
Still, Stone and his teammates are no pushovers and should be up to the task of containing one of the best passing attacks in the Pac-12. The Big Ten fared very well last bowl season and poised for a great showing this time around.
A victory over USC Friday would put Iowa at double-digit wins for the first time since 2015 and would be a great way to close out a solid decade of football for the program under Kirk Ferentz.