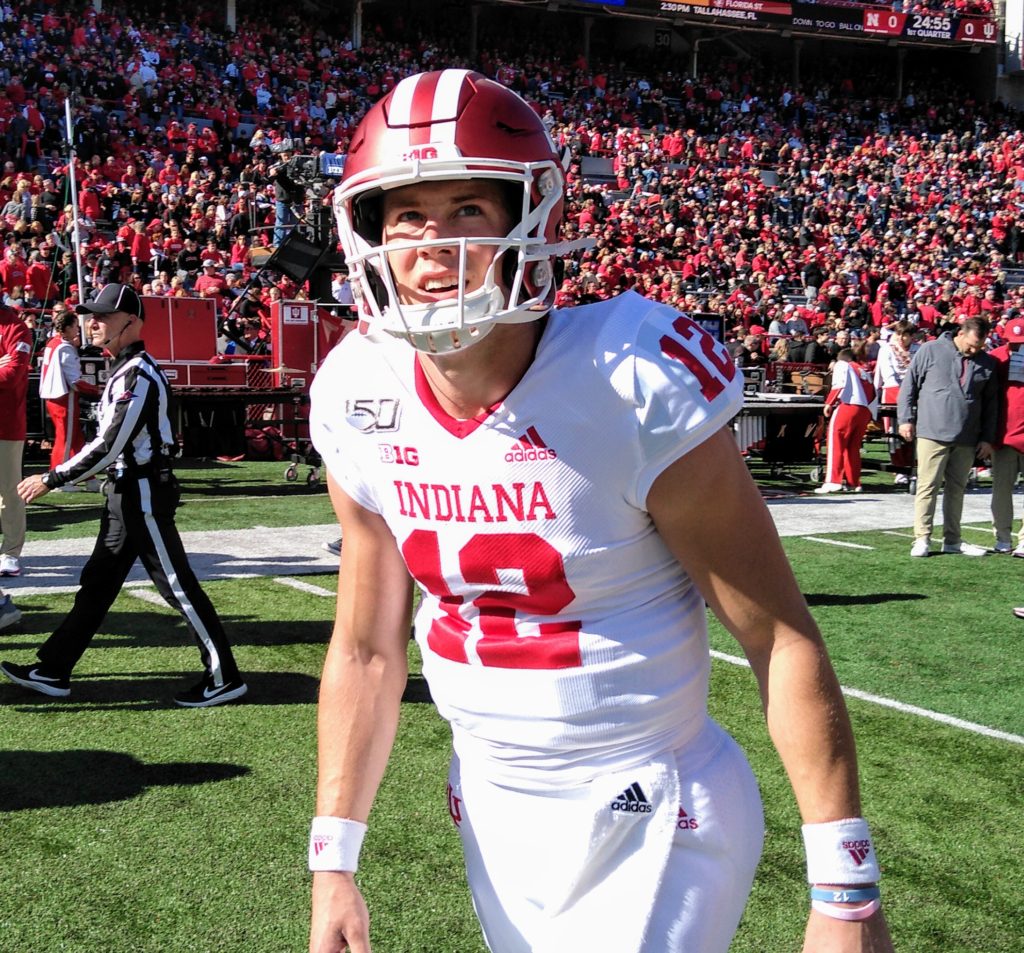 LINCOLN — The junior is fresh off a great performance in the win at Nebraska and Coach Tom Allen may have a quarterback controversy on his hands.
Not only is Peyton Ramsey the Hoosiers all-time leader in completion percentage, but he also has 5,321 career passing yards, 37 touchdowns and 21 interceptions. Freshman quarterback Michael Penix Jr. beat out Ramsey in fall camp for the starting job.
However, an injury kept Penix out two games in September, plus he was knocked out of the Maryland game and didn't play at Nebraska. Ramsey been a two-year starter and has made the most of his opportunities filling in for Penix.
He credits his teammates for his success on the field and knows his coaches put together a great game plan. Ramsey also feels the Hoosiers' offensive line been playing solid and gives him confidence when he's line up behind center.
"I think it has a lot to do with our skill guys," Ramsey said. "How much we believe in them on the perimeter and inside to win one on one matchups."
Junior wide receiver Whop Philyor and Ramsey have built great chemistry together and a big reason why the quarterback currently has the hot arm. The duo connected 14 times for 178 yards in the win at Nebraska and have fun playing with each other out there on the field.
"It's so inspiring to watch, he's such a tough little dude, he's a fun guy to throw the ball to because he's going to get you yards after the catch," Ramsey said. "He's tough, just a fun guy to be a teammate with and I think a lot of us are truly inspired by the way Whop plays."
Indiana has a ton of momentum after clinching its' sixth win of the season and becoming bowl eligible for the first time since 2016. Still, the Hoosiers refuse to be complacent and want to lead the program to new heights.
"I think all week long the whole bowl-eligibility thing wasn't really a thought process," Ramsey said. "It was just coming into a hostile environment, just having fun, playing the brand of football we know how to play."
The Cincinnati native takes pride in the success Indiana has endured this season and wants to keep the ball rolling through the next four games. He knows it takes effort on both sides of the ball to reach a winning formula and loves complimenting the defense.
"We made that a point of emphasis back in fall camp that when the game gets toward the end we got to grind it out," Ramsey said. "A first down or two we got to do it."
That's exactly what Indiana did to get the win over Nebraska in the final drive of the game last Saturday. Indiana has scored 31 or more points in every game this season besides the loss to Ohio State. Allen will have to make a tough decision once Penix is back fully healthy on which quarterback he'll start.
"Peyton Ramsey what can I say, just an absolute stud, tough gritty, got that key first down with his legs and took some shots," Allen said. "He just finds a way to win games and that's just who we are."
Indiana will be hosting arguably the worst team in the Big Ten West in Northwestern this Saturday and is poised to pile up more wins. The six-foot-two, 216-pound Ramsey has no problem remaining the Hoosiers' starter. After all, he showed he was a warrior and battled through some hard hits against Nebraska.
"I had to come to the sidelines, the trainers had to look at me, I had to take a couple of deep breaths and shake it off," he said. "I'll be sore for sure, but that's every week and I feel good."
Regardless of the matter Ramsey is going to prep every week and approach every game like he's that guy. It has been an emotional roller coaster for him, but he's enjoying every second of it and plays every down for the guys in the locker room.