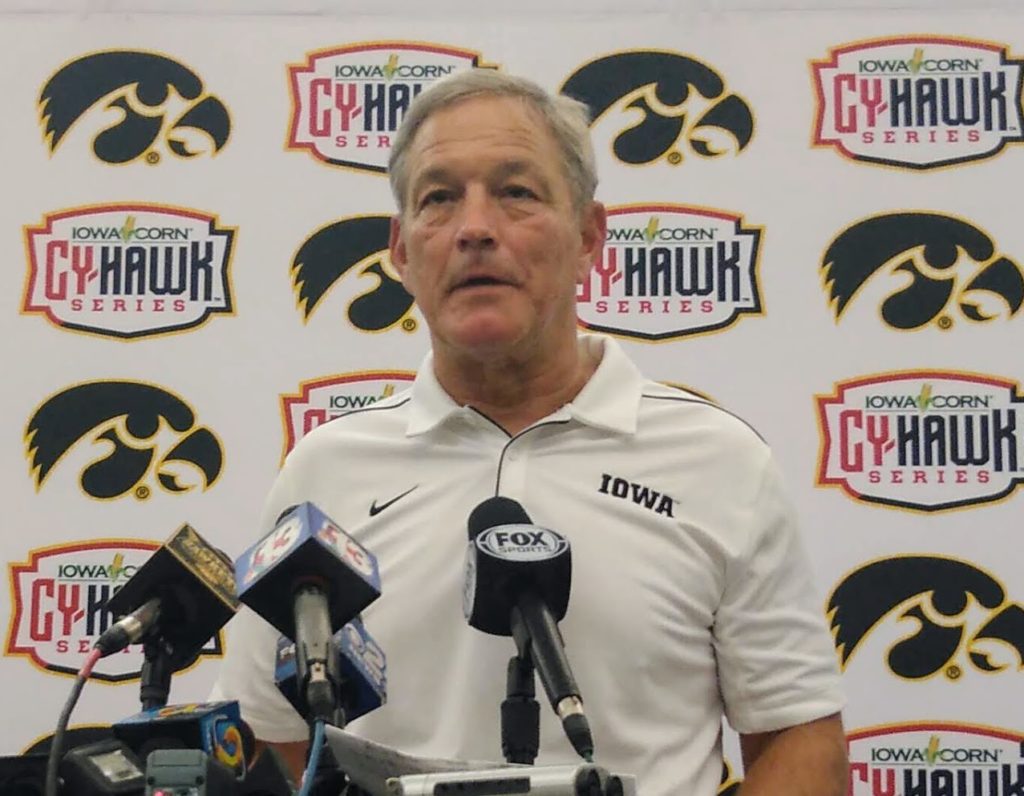 Iowa's defense has had the week off to prepare for arguably the nation's No. 1 running back.
Wisconsin's Jonathan Taylor is the best rusher Iowa will see all season and Coach Kirk Ferentz knows he's a handful to contain. After all, Taylor has surpassed the century mark in rushing each of the last two times the teams played and both were losses for Iowa.
Ferentz is undefeated against rivals Iowa State, Minnesota and Nebraska over the past four seasons, but has lost three-straight to Wisconsin. The Badgers are the only team in the Big Ten West that has had his number and the Hawkeyes haven't won at Camp Randall since 2015.
Saturday's matchup will be a pivotal game for Ferentz' squad if they want to stay in contention in the West Division and it all starts with Taylor. Slowing down Wisconsin's rushing attack will be priority No. 1 for the nation's eight-best defense against the run. Iowa's defense has allowed just two rushing touchdowns all season long and a mere 87.8 yards per game on the ground.
Taylor has already surpassed a 1,000 yards on the season, which is his third-straight and he's fourth in the Power Five with 126 on the ground per game. Something has to give and Ferentz knows his defense can't just focus on one aspect when preparing for Wisconsin's ground game.
"When you play a guy as good as Taylor, you might be stopping him for a while, but it's that threat that he can take it and then go the distance," Ferentz said. "The big thing is you're on edge the entire game as long as he's out there, you have to respect his ability to finish plays and it's really a significant factor."
Ferentz doesn't feel the Badgers offense is one-dimension and must also be prepared for the passing-attack. Wisconsin always have possession receivers that are great blockers in the running game. Which is why Ferentz knows his defense need to remain fundamentally sound and disciplined.
"I mentioned the receivers and their tight ends are really good players, so you can't play the run because they have guys that can throw it to," Ferentz said. "They're deep at the receiver position, four guys that seem like they've been there quite a while and the tight ends have always been good for them."
In hindsight the game seems like it will be a defensive battle, considering both units are among the nation's elite. Still, Ferentz wants his offense to get off to a fast start and time of possession will be key. With four divisional clashes looming, Ferentz feels the extra time off was beneficial for his players.
"You play the game in pads, you practice in pads," he said. "We try to be smart when we get into November, but we just came off a week where we were really trying to pull back and let the guys get recharged."
The Badgers and Hawkeyes are like mirror programs. Ferentz and Wisconsin Athletic Director Barry Alavarez come from the Hayden Fry coaching tree. You expect a physical ground game and hard-nosed defense. Ferentz downplays the two teams being identical with their style of play.
"I think in some ways there's a lot of parallels, but schematically we're probably different," Ferentz said. "Like our offensive blocking systems are probably different, we're not near as big as they are, although we have two big tackles."
It remains to be seen if having strong history with key individuals on an opposing team is a gift or curse for a coach. Regardless of the matter Ferentz knows Saturday's game is going to be a dog fight and will come down to which team wants it more.
"The message there is if you're not ready to go, these guys know what to do with it, they're going to be ready to go," he said. "They've demonstrated that time and time again, not just this year but kind of historically these guys show up ready to play."